Sporting Kansas City didn't need to place the name of a prominent charity on its sparkling new stadium.
Like most sports teams, Sporting weighed a variety of alternative options. It could have struck the best deal it could find in short order for a quick million or two per year. It could have waited through this dismal economic spell for the right corporate partner to boost its coffers down the line. It could have moved money from one pocket to the other by working out a deal with Cerner, the large healthcare information technology corporation co-founded by two Sporting investors. It could have just stuck with Sporting Park to bolster its new brand.
Instead of opting for one of those conventional choices for the naming rights to its $200 million palace, Sporting decided to break new ground by partnering with LIVESTRONG to raise money for its fight against cancer.
Over the course of six years, Sporting hopes to donate $7.5 million to the non-profit organization by giving away a portion of all revenues generated at LIVESTRONG Sporting Park, according to the Kansas City Star.
"We're proud of Kansas City's history as a philanthropic leader and we believe that this innovative partnership continues that legacy," Sporting president Robb Heineman said in a statement. "The fight against cancer is being waged around the world, every hour of every day. So while the fight doesn't take time out for entertainment, LIVESTRONG Sporting Park provides each of us with the opportunity to stay involved in the cause and celebrate many of those things worth fighting for – the support of community, the thrill of victory and events that bring us all together."
Community remains the operative word as Heineman and the Sporting brass cultivate a club without parallel in the United States. Other franchises may generate more revenue or watch more fans come through the turnstiles, but no club in MLS has done more to create a communal culture through its structural underpinnings.
Sporting Kansas City represents more than a brand or a soccer team. It espouses an ethos for the club and its supporters.
The Sporting world encompasses more than just picking up a ticket on matchday. Between the affinity program designed to inspire loyalty to the club, the perks – such as free tickets for fans willing to travel to away matches – offered for relatively minimal levels of engagement and the relationship forged between sponsors and supporters, Sporting has formed a community designed to procure emotional and financial investment from its members.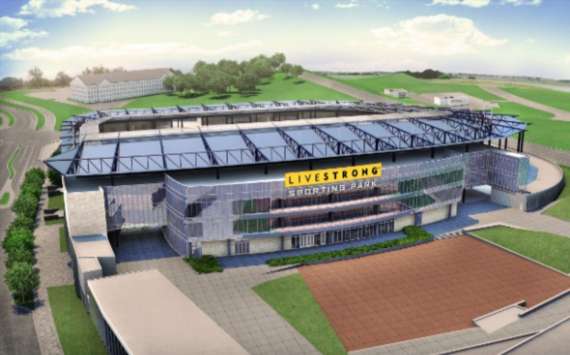 With a long-term blueprint already in place to develop a core group of patrons to fill its 18,500 seat facility on Saturdays and keep the complex active on other days, Sporting naturally decided to take an unorthodox approach to naming its new stadium. No other major American sports franchise has entered a similar agreement. Few others would contemplate ignoring a traditional revenue stream in the hopes of creating a greater one through the positive links inspired by charitable contribution.
For Sporting, this move feels like a natural progression for its core tenets rather than a departure from normal operations.
Innovation remains the hallmark of this club and its leaders. In an industry filled with copycats, Sporting willingly diverges from standard operating practices by employing fresh ideas to meet and exceed the same old financial objectives in a less craven manner.
"I'd never bet against these guys," LIVESTRONG CEO Doug Ulman told the Star regarding Sporting KC's group of investor/operators. "We're counting on them hitting $7.5 million over the next (six) years. We think the upside is massive."
Departing from accepted norms often inspires such ambitious statements, but Sporting's fundamental approach is both simple and unproven in this field. By doing good to inspire its growing community, Sporting Kansas City believes it can do well with its bottom line. As the past few months have revealed and this bold and commendable move has reinforced, this innovative ideal constitutes the Sporting way.
Kyle McCarthy writes the Monday MLS Breakdown and frequently writes opinion pieces during the week for Goal.com. He also covers the New England Revolution for the Boston Herald and MLSsoccer.com. Contact him with your questions or comments at kyle.mccarthy@goal.com and follow him on Twitter by clicking here.
Follow Goal.com on

to get the latest soccer news directly. Check out Goal.com's

page; be part of the best soccer fan community in the world!