Andrea Canales: So, with MLS right around the corner, who has the prophetic gift to spot a Chris Wondolowski season for a player before it even starts? Come on, who do you see winning the Golden Boot?
Shane Evans
: Carlos Ruiz, obviously.
Eric Gomez
: Oh, gosh. That's a statement and a half. Ol' Carlos hasn't seen the back of the next since the first Bush administration.
Evans
: He'll be in the top 5. Mark my words.
Seth Vertelney
: I could see it being another of your boys, Shane, Danny Mwanga
Canales: It'd be a repeat for Ruiz - and a near-miracle. He's dropped a long way from his heyday. I do see a rennaisance for another golden oldie, though - Juan Pablo Angel on the receiving end of David Beckham's passes for the LA Galaxy.

Luis Bueno
: I don't see Angel scoring a ton of goals for LA. I don't think their offense is produce that much more than last season.
Zac Lee Rigg
: The LA offense doesn't need to produce much more than last year. JPA has scored the most goals in MLS over the past four years. Give him minimal service and he'll bring back goals.
Bueno
: I'd say we could see Omar Cummings and/or Conor Casey compete for the Golden Boot. They have something they didnt' have last season - the confidence that being MLS champions brings.
Gomez
: I'd like to think that Thierry Henry still has a bit of fire in him. Competitive nature, even. Agudelo, Rodgers and Ibrahim will be nipping at his heels - a big season could ward them off for a while longer.
Canales: Kenny Cooper is back in MLS, anyone going to call the Boot for him?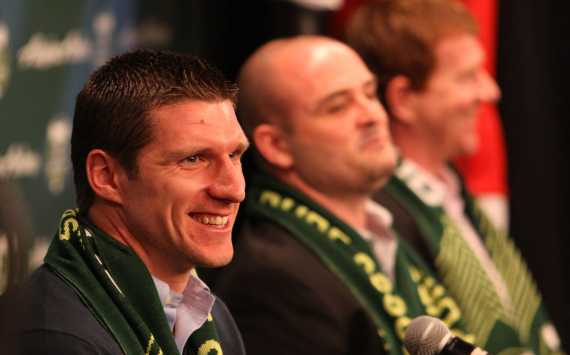 Gomez:
Well, I don't know... he'll have easier access to McDonald's in Portland.

Rigg
: At this point, a week away from the season, neither expansion side looks competitive. I don't see a Golden Boot winner coming from a dysfunctional squad.
Canales: If neither expansion side looks competitve, but they're both beating Seattle, the shudders for the Sounders have to start.
Bueno
: They both beat the Sounders in absolutely meaningless games. You can take all the preseason results and flush them down the toilet as far as I'm concerned.
Canales: It's the Northwest rivalry. That's never meaningless.
Bueno
: Still has no bearing on the regular season.

Rigg
: The game against Vancouver, Seattle got 3,100 people to attend. I've seen more at an open training for the Sounders. Pretty meaningless if you ask me.
Canales: What about goalkeepers - they're an interesting group this year, as the projected starters include the youngest and the oldest ever.
Gomez
: Maybe Chivas USA can coax Jorge Campos out of retirement. He's probably better than any of their starting strikers, at this point.
Vertelney
: Who is the youngest ever? I'm assuming Onstad is the oldest
Gomez
: If Dallas starts Sánchez, he'd be the youngest.
Canales: Wouldn't Sean Johnson be the youngest regular starter? Even Brad Guzan wasn't supposed to start in 2005, but Martin Zuniga got injured. Johnson is the Fire's #1.
Bueno
: Johnson turns 22 in May.
Canales: That's what I mean, the youngest first-choice.
Rigg
: One interesting note to me is that we finally have enough teams so that not everyone has a great goalkeeper. Usually the U.S. can fill those spots, but there are a few gaps. And for guys who might make it in Europe, there's really only Stefan Frei, Sean Johnson, and Bill Hamid.
Vertelney
: Stefan Frei is going to have plenty of chances to impress European scouts this season, because Toronto is going to be terrible
Bueno
: Yeah, the American stranglehold on 'keepers in MLS is all but over, especially given that a foreigner not named Pat Onstad won MLS Goalkeeper of the Year in 2010 for the first time. The Galaxy's Donovan Ricketts, who is Jamaican, won it.
Canales: Although Real Salt Lake's Nick Rimando and Dallas' Kevin Hartman, both American, had banner years in 2010.
Allen Ramsey
: I wouldn't judge too quickly. The New England Revolution's Matt Reis could be back in form and don't be shocked when a few others come home to get jobs. There are still plenty of good American keepers for MLS.
Canales: Portland's Adin Brown, back from Europe, for example? Moving on, early picks for Rookie of the Year? I call Perry Kitchen.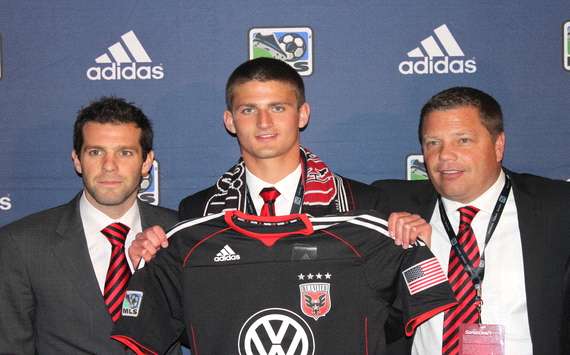 Ramsey
: Tough one. I don't see a clear frontrunner.
Vertelney
: I think Jalil Anibaba could be this year's Tim Ream.
Rigg
: I've only seen a few of them play, but one I have seen and like is Perry Kitchen. If D.C.'s defense looks even remotely tolerable, he's going to get all sorts of credit for that. By the way, J.R. Eskilson, our noted youth expert, says Darlington Nagbe is his pick.
Gomez
: I like Nagbe for that award as well.
Canales: What about Defender of the Year? I say this is where New York Red Bull player Ream stakes his claim this season.
Rigg
: I find it interesting the praise Ream gets, given how clumsily he positions himself and how he still turns off at key moments. He's not even the best center back on his team. For me, he's the next Michael Parkhurst - a solid MLS defender, but too small to be anything more.
Canales: Parky won Defender of the Year, so that bodes well for Ream.
Ramsey
: I think George John may be the best defender in the league.

Bueno
: Given how terrible Chivas USA's defense was last year, if the team improves defensively you gotta figure Jimmy Conrad will have a lot to say in that, and if so then would make a good Defender of the Year candidate. I'd pencil Conrad in as a darkhorse candidate. Jamison Olave could repeat for Defender of the Year, though. RSL's stacked and figure to contend for Supporters' Shield.
Canales: What about Newcomer of the Year? Vancouver's Eric Hassli would be the tallest winner ever.
Vertelney
: Don't sleep on Omar Bravo in KC.
Gomez
: Bravo has been completely lost since coming back from Deportivo La Coruña a few seasons back. This is pretty much his last chance, and I say he takes it.
Vertelney
: Jan Gunnar Solli in New York sounds like he'll be a player, too.
Bueno
: What about Charlie Davies? He counts as a Newcomer, doesn't he? You gotta think he's the sentiminetal favorite before the year starts.

Ramsey
: He still plays for DC United right? I have to think about how he plays for what could be a very bad team and expectations for him are high.
Bueno
: Hey, he could win Comeback Player of the Year too... I mean, he doesn't fit the criteria but hey, that's never stopped MLS before. Seriously though, if he even scores like 5-7 goals and plays 20-25 games, he'll get votes.
Ramsey
: Yeah, you might be right. I still think one of the other players that people don't know as much about will grab people's attention, whereas they know what Charlie can be, and so him playing well won't be too much of a surprise.
Canales: Coach of the Year? Watch FC Dallas' Schellas Hyndman get it just three years after I called for him to be fired.

Ramsey
: The jacket alone makes him my choice.
Vertelney
: I would go with New York's Hans Backe...but then he had to go and piss MLS commisioner Don Garber off saying he'd rather win the Supporters Shield than the MLS Cup.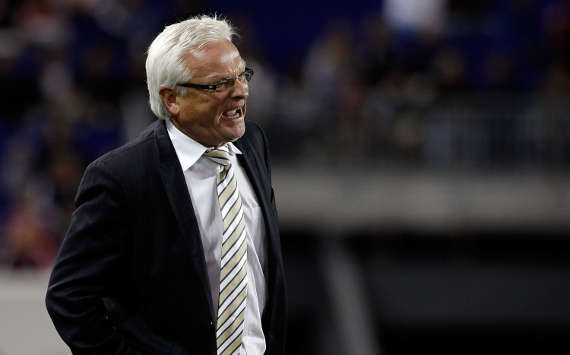 Rigg
: And then Backe fired his assistant and goalkeeper coach without any known reason.
Canales: Obviously, that was because they weren't European.
Rigg
: Still, another good season from Backe and he'll be the rare success story of a coach with no previous knowledge of MLS coming in and doing well.
Gomez
: Yeah, I think most coaches - except Ruud Gullit - would do well with players like Márquez, Henry, Angel and Lindpere shouldering the load.

Bueno:
If one of the expansion teams turns out to be good, their respective coach will (and should) get consideration. Or how about Aron Winter then, if Toronto are good this season? He could get some votes. I know that's a big IF but this might be their best chance of contending ever.
Vertelney
: Toronto is going to be AWFUL. Mark my words. No late collapse for them this year, just a full season collapse. Their only forward listed on their roster right now is Maicon Santos. Their best defender last year, Adrian Cann is now AWOL due to his contract situation.
Bueno
: For the first time, though, it seems there are competent and respected people in charge at BMO Field. Maybe that counts for something?
Vertelney
: Not unless 1991 Jurgen Klinsmann is playing for Toronto FC this season.
Canales: It doesn't matter how great of a staff you have, you need inmates in an asylum for the place to function. Maybe that wasn't the best metaphor, but whatever.
Bueno
: You need some thoroughbreds in your stable.
Canales: Much better.
Bueno
: You need some horsepower under the hood. You get the point.
Gomez
: You need some gin in your juice?
Ramsey
: Ha, ha... YES.


Follow Goal.com on

to get the latest soccer news directly. Check out Goal.com's

page; be part of the best soccer fan community in the world!