With the first pick in the 2011 MLS SuperDraft, the Vancouver Whitecaps thought of several options to meet the requirements for what be their choice. It had to be a man who not only gave the team an instant injection of talent but a player who would be the basis of the club for several years, given the opportunity to grow and achieve glory despite being integrated into a new team.
Several claimed that a more reliable selection would have been Perry Kitchen or Darlington Nagbe, but senior members of the Whitecaps wanted to take this future star. Quickly reviewing Omar Salgado's pedigree is an important factor that weighed in the decision.
The 17-year-old striker will not escape comparison with Javier Hernandez - a Latin attacker, trying his luck in an Anglo-American country, hoping to achieve great things. It is clear that he can score bucket-loads of goals, and Salgado is similar to the Manchester United player in many ways.
Possessing a formidable stature at 1.93 meters tall, he has enviable instincts and speed that you cannot teach. Salgado may even be an enhanced version of Hernandez. Logically, what he does on the pitch is the clearest indicator.
According to statements collected from
The Province
, the Canadian team recognize the potential of the Texan-born star to be a key man in the league from the start.
Tom Soehn, director of operations for the Whitecaps, says: "He's the one guy I think can be world class. He's got everything you can dream of that can be developed into a world-class striker."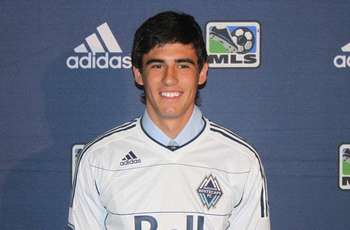 Club president Bob Lenarduzzi continued the praise, saying: "We're delighted that Omar was our first pick. I don't think we've seen anything yet. He's a player that is very gifted."
The idea that Salgado can become a star in MLS is very attractive not only for the Whitecaps but for the league itself, which seeks to attract Latino fans, and build a stronger base that will in turn create large opportunities for economic growth, so as not to depend entirely on the sale of players to secure financial gain.
Observers of the American league will be very attentive to the development of Salgado, who is expected to be fast and steady, but will not have the pressure from which other wonders of popular U.S. sports suffer, such as basketball star LeBron James, NFL's Reggie Bush, or Major League Baseball's Joe Mauer.
If the forecasts are correct, and Salgado breaks through in MLS, almost certainly there will be voices in Mexico lamenting that he could not be retained for their national team. But not everything is decided, and Mexico and United States have both unleashed a flurry of deals for Salgado to represent them in major tournaments.
This will culminate in one of two scenarios. Pairing with 'Chicharito' and terrorizing defenses, or he becomes a Chicharito for the gringos.
Follow Goal.com on

to get the latest soccer news directly. Check out Goal.com's

page; be part of the best soccer fan community in the world!