Now that the SuperDraft is in the books, it is time to take a look at the clubs that did well with their selections and the ones planning to tank 2011 to join the Kelyn Rowe sweepstakes.
D.C. United: A
Perry Kitchen (3), Chris Korb (31), and Joe Willis (50)
Head coach Ben Olsen, on dcunited.com, called Kitchen "far and away the best player in the draft." Willis, a keeper, and Korb, an outside back, will help D.C.'s depleted roster as well.
Houston Dynamo: B+
Kofi Sarkodie (7), Will Bruin (11)
The Dyanmo made quick work of the 2011 draft with their only two picks in the first round. Sarkodie adds a different dimension to the Dynamo attack from the right back position. Bruin is a smart player who could thrive learning from Brian Ching.
Portland Timber – B+
Darlington Nagbe (2), Chris Taylor (22)
Timbers signed Kenny Cooper on Thursday, which was the best news for Timber fans on the day. Nagbe could be a very good partner for Cooper in the forward line with his combination of quickness and deft passes.
Los Angeles Galaxy: B+
Paolo Cardozo (16), Hector Jimenez (34)
With Galaxy's crowded schedule, they needed depth in the middle of the field. They found it in this draft: Cardozo will look like another incarnation of Juninho to Galaxy fans and Jimenez was an unheralded star for the Golden Bears.
Real Salt Lake: B
Jarad Van Schaik (52)
RSL GM Garth Lagerway, speaking to the Salt Lake Tribune, said it best: "It's not a sexy draft, but it's an efficient draft." Van Schaik, a left midfielder, had eight goals and three assists in his final college season. The piles of allocation money and trades earned for other picks will keep a strong core together.
Chivas USA: B
Zarek Valentin (4), Victor Estupinan (14), Jon Okafor (40)
New head coach Robin Fraser grabbed two defenders and a forward in his first draft. Valentin is a smart player who can fit in at right back or center back. Estupinan is one of the more polished forwards in this draft and could help immediately.
Chicago Fire: B-
Jalil Anibaba (9), Jason Herrick (45), Davis Paul (51)
Anibaba is the stud of this draft class and should be the starting center back for the Fire by the time the season kicks off.
FC Dallas: B
-
Bobby Warshaw (17), Charlie Campbell (35), Scott Gordon (53)
Schellas Hyndman knows how to work the draft, and he found the players he thought could work in his system. Warshaw offers a versatile player for defense or midfield, featuring good skill and smart decisions.
Sporting Kansas City: C+
CJ Sapong (10), J.T. Murray (32), Konrad Warzycha (46)
Sapong is a big, bruising forward who could really help Sporting's depth up top. Murray will fill in at outside back while KC look for center back help in the international market.
New England Revolution: C+
A.J. Soares (6), Stephen McCarthy (24), Steven Perry (39), Ryan Kinne (42)
Soares and McCarthy are pre-signed players who immediately add options to the Revolution roster. Perry is a hard worker who could latch on as a substitute striker. Kinne did well in college, but he may need to switch positions to find success in MLS against better defenders.
New York Red Bulls: C+
Corey Hertzog (13), John Rooney (25), Tyler Lassiter (30), Billy Cortes (38)
The RBNY U.S. Open Cup team is going to be good next year. I don't think Hertzog will see significant minutes in MLS untill later in the season.
Colorado Rapids: C+
Eddie Ababio (18), Colin Givens (36)
Ababio had a good combine and showed he could fit in at either right or center back. He was a nice addition for the last pick in the first round. Givens is a true center back fit for the Rapids' rugged style of play.
Philadelphia Union: C
Zac MacMath (5), Michael Farfan (23), Levi Houapeu (41)
Is MacMath the starter from day one? If not, a top five pick spending a season on the bench is a waste. Farfan is too similar to Kyle Nakazawa while Union could have addressed other needs at that pick. Houapeu was a good player in college, but it is rare to see a player with his stature make the leap to MLS successfully.
Seattle Sounders: C
Michael Tetteh (20), Juan Cruz (21), Servando Carrasco (27), Bryan Meredith (29), Alex Caskey (47)
I'm not convinced any of the Sounders draft picks will see significant minutes in 2011. If Tetteh can stay healthy on Qwest Field's turf, he could take over the left back spot by the end of the year.
Toronto FC: C
Demitrius Omphroy (26), Matt Gold (43), Junior Burgos (44), Joao Plata (49)
With no first round picks, TFC had to do extra homework to find talented players to immediately help the team. At the end of the day, Omphroy could be a really good locker room guy and right back for them.
Vancouver Whitecaps: C-
Omar Salgado (1), Michael Nanchoff (8), Jeb Brovsy (19), Bilal Duckett (37)
Salgado cannot play for the club until September. That is an awful long wait for the first overall pick in the draft. Nanchoff has a left foot, but some question his speed at the MLS level. Brovsky and Duckett are both capable of making the roster at outside back.
San Jose Earthquakes: D
Anthony Ampaipitakwong (33)
While I do believe Ampaipitakwong is a very good player, I don't think he is a good piece for Yallop's system. He doesn't fit any particular role for the Earthquakes; perhaps the reserve league will help San Jose find a role for him in their style.
Columbus Crew: D-
Rich Balchan (12), Justin Meram (15), Cole Grossman (28), Bernador Anor (48)
Balchan reminds me of the David Estrada pick from last year. Yes, he fits a need on that team, but did they need to grab him that early? And will he be able to fill that need immediately? I think the answer to both is no.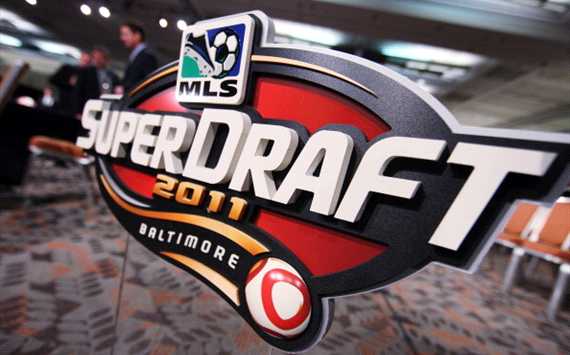 J.R. Eskilson is the Youth Soccer editor at Goal.com. You can follow him on Twitter at @NCAAsoccer


Follow Goal.com on

to get the latest soccer news directly. Check out Goal.com's

page; be part of the best soccer fan community in the world!