LAUDERHILL, Fla. – This weekend presents a scenario Perry Kitchen doesn't altogether like.
Kitchen, one of the top prospects in Thursday's MLS SuperDraft, is stuck on the proverbial sidelines as many of his fellow first-round hopefuls jockey for position at the MLS Player Combine.
The former fulcrum of the Akron midfield doesn't like to operate on the periphery of anything. He has no choice but to do so as he trains with the United States U-20 team this week. While the concurrent international camp isn't exactly Siberia given its proximity to the Combine, it isn't in the thick of the action during the week leading up to the SuperDraft either.
Kitchen and his international teammates may comprise a better and deeper group of professional prospects, but they enjoy fewer opportunities this week. There are only two chances to impress onlooking MLS coaches instead of three. There are only teammates to scrimmage instead of other draft hopefuls to combat.
The entire situation creates a peculiar proposition for a top prospect to endure, but Kitchen approaches the scenario rather philosophically.
"It's weird and different," Kitchen said after the U-20s offered up an intrasquad scrimmage to help fill up the Combine's off day on Sunday. "I talked to some other guys who were in the Combine last year, like Amobi (Okugo, Philadelphia and U.S. U-20 midfielder). He said it was fun, so I might miss out on a little bit. But it's pretty much the same thing. We're just playing for the U.S. The coaches are still coming out to watch us play."
Nearly all of them like what they see from the 18-year-old Indianapolis native. Kitchen's combination of composure and responsibility belies his youth, while his tidiness on the ball bodes well for a player who has featured as both a center back and a holding midfielder.
U.S. coach Thomas Rongen did his part to facilitate the evaluation process in Sunday's intrasquad scrimmage by featuring Kitchen for a half in both spots. His performances were similarly assured and complete in both halves, but his current size (6'0, 160 lbs.) likely makes his preferred holding midfield role the more plausible choice at the MLS level.
"At the end of the day, I'll play wherever the coach of the team wants me to play, but I think I like holding mid better," Kitchen said. "It suits me better. I think I do more. I'm more active pulling guys in, keeping the ball and trying to move it out. I think it's my strong suit."
Watching probably isn't. Fortunately for Kitchen, his game and, perhaps more importantly, his determined and precise approach to it assure that he won't have to wait very long to hear his name called on Thursday.
Scouting the U.S. U-20 team for Thursday's SuperDraft
Four players from Rongen's group have forfeited their college eligibility and signed a Generation adidas contract with MLS. After watching all four compete on Sunday, here is a deeper look at the available quartet:
Perry Kitchen (MF):
It'll be hard for Vancouver to pass up a sure thing like Kitchen with the first pick. … The best comparable for him from the past few drafts: San Jose midfielder Sam Cronin. … There isn't much fuss about how Kitchen plays – he's simple and effective in possession and he coordinates the players around him particularly well. … Most importantly, he appears calm and composed at all times. … With his demeanor and his mentality, Kitchen looks like a player who could log serious minutes from the first game of his professional career if placed in the right situation.
Zac MacMath (GK):
The former Maryland goalkeeper is the top number one available by quite some distance. … It remains to be seen how high he'll go – despite his considerable talent, he's probably not a Stefan Frei-type guy who will step in and start right away. … With that caveat in play, the 19-year-old would represent a significant upgrade as a number two for several teams from the moment he comes off the board. … He has the right size (6'2", 185 lbs.) for his position and consistently displays exemplary shot-stopping ability. … The other facets of his game – arranging his defenders, coping with crosses and distributing the ball out of the back – will continue to improve as he develops.

Omar Salgado (FW):
Of the four U-20 players available in the SuperDraft, the former Chivas Guadalajara striker probably needs the most polish. … His raw attributes – a powerful 6'2" frame and a healthy dose of speed – make him a tempting option for teams searching for a long-term scoring option. … Although he operated in a wide midfield role in Sunday's scrimmage and toiled earnestly on both sides of the ball, he really projects as a striker at the next level. … His movement and his touch are above average for a player of his size, but he will need to operate with more precision in the penalty area to succeed in MLS.
Zarek Valentin (RB):
The former Akron defender spent most of his time centrally during his college years, but his size (5'11", 155 lbs.) will turn him into a fullback in MLS. … His athleticism makes him a better professional prospect than his brother, former Los Angeles and current FC Tampa Bay defender Julian, was when he came out of school. … He can certainly operate as a right back, but the 19-year-old doesn't offer the attacking verve of former Zips teammate Kofi Sarkodie. … He may struggle when he runs up against quicker left wingers at the next level, but his defensive instincts are good. … His days in central defense should help him as he focuses on his primary duties at the back.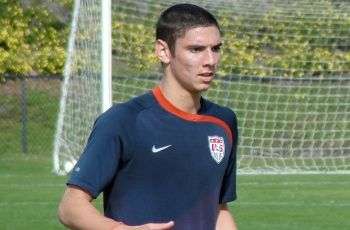 Kyle McCarthy writes the Monday MLS Breakdown and frequently writes opinion pieces during the week for Goal.com. He also covers the New England Revolution for the Boston Herald and MLSsoccer.com. Contact him with your questions or comments at kyle.mccarthy@goal.com and follow him on Twitter by clicking here.

For more on Major League Soccer visit Goal.com's MLS page and join Goal.com USA's Facebook fan page!