LAUDERHILL, Fla. – The players may change from year to year, but the overall tenor of the opening day of the MLS Player Combine remains relatively constant from year-to-year.
It is an exercise in survival.
A rather trying set of circumstances for the players dictates such a fundamental first-day approach. The Combine scenario basically asks the involved players to embark on a three-day job interview in concert with a group of other candidates they don't know particularly well. The expected pitfalls – fatigue, nervousness, selfishness and unfamiliarity, to name but four – afflict most players on this stage, particularly with the prying eyes of 18 potential employers camped along the sidelines.
Most players obtain a level of comfort as the Combine progresses, but nearly all of them take at least part of the first day to adjust to the rigors of the process. The speed and the success of that adjustment often plays a significant role in the final impression gleaned by the expectant talent evaluators.
Those same evaluators may offer a bit more flexibility given the rigors involved with the first day. The curve, however, diminishes significantly as the stakes increase, particularly with the all important second day beckoning on Monday.
Day one serves as the foundation for players and their prospective MLS teams. While collective passages of play are generally hard to find, most players can offer up glimpses of their abilities, their strengths and their weaknesses. Those positive moments can bolster a player's profile and entice more attention from intrigued observers heading into the second day. Similar sentiments apply if a player has a particularly poor opening day, though there are several cases – including Tim Ream's rebound last year – where players have shrugged off suspect first impressions.
As one might suspect given the intermittent nature of the personal contributions, the combined efforts often fall well below the desired standard. Saturday's offerings continued in that pattern, though the second match of the day provided considerably more entertainment than the dreadful opener. For much of the day, the Combine looked like an ineffectual, but earnest, exercise: combination play connected infrequently, passes diverted from their intended path and shots skewed high and wide.
Matters will no doubt improve as Monday arrives, but for most players involved, the important milestone on day one – getting to day two intact – arrived without much cause for celebration. Whether the mood changes for the better ultimately turns on a case-by-case basis if the player can build upon first day survival to transition into second day success.

Nuts and bolts
AdiPower (red) 0, AdiPure (white) 0
: These two sides opened the Combine with a dire stalemate befitting the nerves coursing through the participants. Chances were few and far between for both sides with John Rooney's second-half opportunity the best chance to break the deadlock.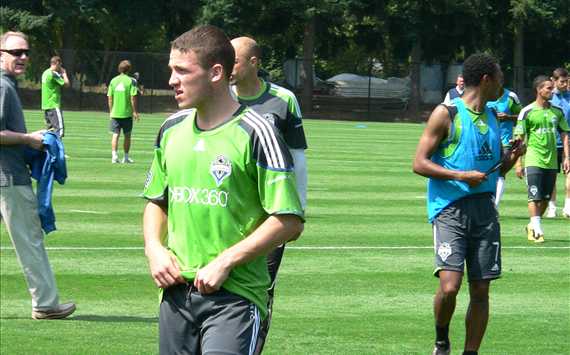 Jabulani (green) 2, AdiZero (blue) 1
: Paolo Cardozo (Uruguay) completed Jabulani's comeback seven minutes from time to give the green side top spot heading into day two. Joao Plata's (Ecuador) mazy run and precise finish gave AdiZero the lead after 11 minutes, but Konrad Warzycha's (Ohio State) swept home the remnants of Kofi Sarkodie's (Akron) stinging drive to equalize before the break. Cardozo tucked home a deft feed from Victor Estupinan (Ecuador) to complete a two-on-one break and seal the victory.
Stock report
Up
1. Victor Estupinan, forward – The lanky forward impressed observers with his commitment to getting in behind the back four at every possible opportunity. He isn't blindingly fast and his finishing may need some work, but the L.D.U. Quito forward intrigued scouts with his ability to make the smart run consistently.
2. Jalil Anibaba, North Carolina defender – One thing is certain after watching the hulking center back: he sure likes to hit a long diagonal ball out of the back. His serving proficiency accentuated perhaps the most impressive performance of any player on day one. This composed and dominant showing will do his chances of locating a spot in the middle of the first round no harm.
3. Kofi Sarkodie, Akron right back – Sarkodie's tempo of play really stood out during a languid day. He always looked to get forward from his station on the right and accomplished his goal with a combination of searing pace and quick thought. Most importantly to MLS personnel men, he occasionally showed a previously suspect desire to track back as well.
Down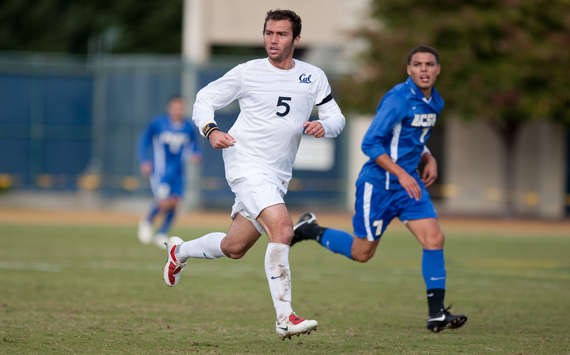 1. A.J. Soares, California defender – Soares clocked in as the third most impressive center back on the field with Anibaba and AdiPower teammate Michael Boxall (UC Santa Barbara) submitting polished displays. For a player with designs on being the first central defender off the board, it marked a relatively disappointing opening day.
2. Corey Hertzog, Penn State forward – Philadelphia wanted to make this local forward its first homegrown signing, but the former Nittany Lion didn't produce a corresponding performance on day one. Although he showed plenty of tidy touches, he struggled to offer anything more than endeavor in front of goal.
3. Marlon Ganchozo, left back – On a day where most of the foreign acquisitions impressed, Ganchozo did not. The L.D.U. Quito defender languished in an out-of-position berth on the left side of midfield. His pace may not mask his distinct and unyielding preference for his left foot or his wayward passing.
Kyle McCarthy writes the Monday MLS Breakdown and frequently writes opinion pieces during the week for Goal.com. He also covers the New England Revolution for the Boston Herald and MLSsoccer.com. Contact him with your questions or comments at kyle.mccarthy@goal.com and follow him on Twitter by clicking here.

For more on Major League Soccer visit Goal.com's MLS page and join Goal.com USA's Facebook fan page!