When the Los Angeles Galaxy last won Major League Soccer's championship match in 2005, they were a scruffy lot.
The superstition of playoff beards, - the pledge being that the players would not shave until the team reached the championship, or lost - has long been maintained in hockey. In 2005, it had just taken hold in soccer, and a large number of the MLS Cup-winning Galaxy players were holding to the tradition, sporting grizzled beards.
Or, in Landon Donovan's case, a rather patchy one.
Five years on, however, the playoff beard Donovan sports is more complete, much like the Galaxy's credentials this season. Rather than scraping into the final playoff spot like they did in 2005, the 2010 edition of the Galaxy led the league from start to finish during the regular season.
"Pretty happy with it," Donovan said of his playoff beard. "It's filled in nicer than it used to."
One of the players participating in the tradition may have been doing so over the protests of his fashionable wife.
"We're ready to shave them off, but hopefully they'll be staying on for another ten days," said David Beckham.
It may be that Beckham's English countrymen will be shocked by his heavily bearded appearance, as the playoff beard superstition is little known in Europe.
"No, never," Beckham responded when asked if he'd ever taken part in something similar with another squad.
Some may scoff at the idea of the unshaven look somehow bringing a team good luck, but Donovan pointed out the importance of the bonding ritual.
"It gives us a sense of unity and it gives you a common cause," Donovan explained. "As stupid and cheesy as it sounds, something like that does help bring you together. Every day you look at someone and say 'Okay, he's doing the same thing I'm doing. He's in it for the same reason.'"
Brazilian Juninho was trying to adapt to the style.
"They told me it was a good luck tradition here, so I wanted to take part," said the midfielder, who sported a dark, full beard.
Yet his look wasn't the most outrageous on the squad by quite a long shot.
"Dema (Kovalenko) looks like a Viking," Donovan observed.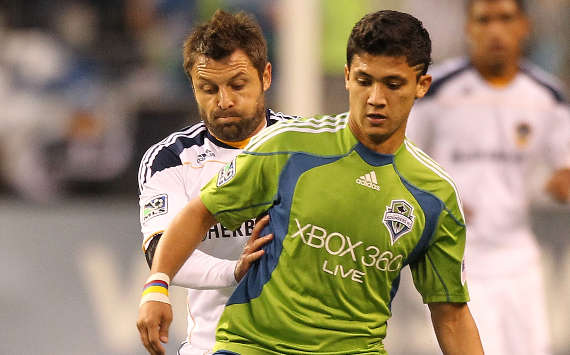 Kovalenko was just starting his playoff beard versus the Sounders |
The full beards, however, were a bit harder to manage than the light fuzz a few of the younger Galaxy players had.
"I'm quite jealous of the ones who haven't got quite that much because they're about 20 years old," Beckham stated.
Donovan chose to look at that situation differently.
"There are a few guys who are a little further past puberty than others on this team and I think it shows at this time."
Even as he acknowledged that going without a shave was a bit of a hassle, Beckham saw the value in getting all the players involved in a team project. The Galaxy have advanced to the Western Conference finals and with a win over FC Dallas on Sunday, would advance to the MLS Cup match for the second straight year.
"It's obviously something we've been doing as a team," Beckham said. "It's helped us so far."
For more on Major League Soccer, visit Goal.com's MLS page and join Goal.com USA's Facebook fan page!