Major League Soccer has long been a mixture of Americans and an array of internationals ranging from the traditional powers of South America to the most obscure nations in continental Europe. The league currently boasts a collection of Hispanic talent, but one surprising exporter of these players is not Argentina, Brazil, or even Mexico. Colombia – a country previously discussed in American soccer circles largely because of the shaggy, bleached curls of Carlos Valderrama and Andres Escobar's tragic death – has quickly emerged as a great reservoir of talent for the league.
The winner of the 2010 Most Valuable Player award with one week remaining in the season is yet to be named; a variety of legitimate candidates still have the opportunity to win this year's incarnation of the prize. While in years past Landon Donovan (2009) and Guillermo Barros Schelotto (2008) were relatively easy consensus choices, at least seven players – Fredy Montero, David Ferreira, Javier Morales, Sebastien Le Toux, Landon Donovan, Chris Wondolowski, and Omar Cummings – all have reasonable claims to the title in 2010.
The first two stars on that shortlist, Colombians plying their trade in the United States, are among the most electrifying attackers in MLS. They have the heightened vision and immense touch that sets them apart from the typical American athlete. The goals and assists this season from the pair have vaulted their respective clubs to playoff berths and may possibly propel one squad to an MLS title this November.
The strength of the Colombian influence in MLS, though, is not solely based on the playmakers setting the league alight. The players represented in the league from the most northern country in South America are diverse; the assortment is comprised of a range of ages, positions, and career aspirations.
Equally as impressive as the two attacking Colombians may be their country-mates who play centerback: Jamison Olave, Wilman Conde, and Jhon Keneddy Hurtado. The first two have already been named defenders of the year for their clubs while Hurtado was named an All-Star in 2009, like Conde and Olave in 2010. The experienced Juan Diego Gonzalez in Philadelphia and Jair Benitez of FC Dallas round out the cultivated group of defenders.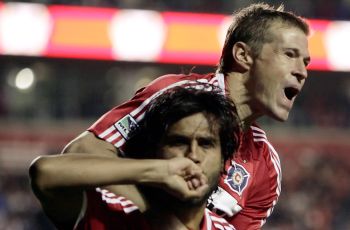 Wilman Conde | Part of a core of Colombian defenders
Roger Torres (Philadelphia Union) and Miguel Montano (Seattle Sounders), both born in the 90s, contrast with veteran Juan Pablo Ángel, yet illustrate the varied impact of the Colombians. Ángel, arguably the league's best-ever striker, immediately produced results for the Red Bulls, consistently scoring double-figure goals. The young duo of Montano and Torres are slowly acclimating themselves to MLS, but their emerging skills may combat the dilution of player quality even as the league expands to include more teams.
Since MLS is expected to grow to 20 teams in the coming years, it's important to find a way to keep the league's talent well stocked. South American players might be the best solution to this problem as the league can no longer rely just on those from the USA to provide the base for club rosters.
Although the league is abundant with Colombian players, Montero in early September shed some light on the opinion of MLS in his native country.
"Well, it's not viewed very well, unfortunately," said the striker exclusively to Goal.com. "But the U.S. national team's performance and the presentation that's been made there [in Colombia] is that, as much in the Confederation Cup as in the World Cup, it's obviously changing for the better."
This notion of MLS as being somewhat weak could account for why these stars that most likely would be called up by Bob Bradley if they were USA citizens are often ignored by the Colombian national team. Montero had a brief appearance with Los Cafeteros, but he has been the only MLS-based player called up to Colombia in recent years.
"Well, last year I had the opportunity, while playing here in MLS, to play there in a friendly game," said Montero. "But it hasn't happened that someone goes there to play in any elimination or cup game. I had the opportunity to play just one game with them, but the coach hasn't called me back since then."

Fredy Montero | Young player is an MLS star
Despite playing matches in the United States this past week, Colombian national team manager Hernán Darío Gómez did not select any of the previously discussed players. He did take the time to compliment the play of the country that was hosting him.
"With each day, [MLS] has evolved more and more and the style is getting more dynamic and more precise with its speed," Gómez said to
MLSsoccer.com
prior to Colombia's friendly in Harrison, New Jersey.
The kind words about MLS and the recent hints of possible recalls to David Ferriera and Juan Pablo Angel could lead to a change. If Colombians begin to see their national team littered with players from America or MLS-developed talent jaunting to Europe like Juan Carlos Toja, the league will become an even more attractive option. Even more importantly, league fans will be blessed with attractive players that may one day catch the eyes of those unwilling to watch MLS due to its supposed lack of quality.
For more on Major League Soccer, visit Goal.com's MLS page and join Goal.com USA's Facebook fan page!