BRIDGEVIEW, Ill. -- Saturday's game at Toyota Park will be a memorable one for Brian McBride. No, not in the same way that his 2002 World Cup quarterfinal performance again Mexico was memorable. Memorable because, surrounded by friends, family, teammates and fans, he had the chance to thank and say goodbye to soccer in his hometown.
The game as a whole was extremely forgettable. Two of the leagues typical powers played a rare meaningless game in October and the lack of importance resting on the game showed. However, for McBride and the 19,000 fans that came out to Toyota Park that did not really matter.
"It was humbling what the Fire did for me today," said McBride afterward. "That kind of pageantry I'm not used to."
The whole day was essentially an ode to McBride's career. He was honored before the game with a long standing ovation, and then once again when he was pulled from the game in the 87th minute. After the game McBride walked around the field with his wife and kids and thanked the large crowd that stuck around for his post game ceremony.
In addition to McBride receiving a thank you with gifts from the Fire, his teammates and also the Section 8 fans, several of his former national team comrades and Bruce Arena left video messages on the large screen thanking and congratulating McBride for his great career.
"I got choked up a few times. To have current and past teammates thanking you is something you are not used to seeing, so it is sinking in a little bit that it is my last game."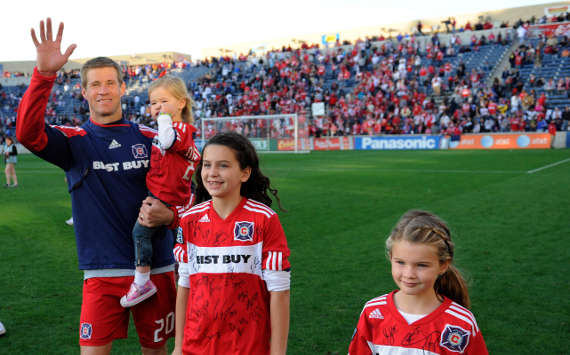 McBride nearly had a dream ending to his time with the Fire when he appeared to have received the ball in an onside position and then score in the first half, but the linesman raised his flag, nullifying the goal.
When asked about the play McBride asked the media jokingly, "I don't know, was I offside?"
McBride will be greatly missed by the Fire not only for his play but also for the type of person he is. Throughout his career he has always carried himself professionally, and in the Fire locker room he has been someone other players have looked up to.
"It is a real privilege to have had the opportunity to play with him (McBride)," said Patrick Nyarko. "I am really sad that he is leaving and I made sure I told him that. He was a great teammate and I appreciate all the time he spent to help me get better."
Nyarko is not the only one who has that sentiment towards McBride. CJ Brown was emotional and grateful to McBride when he presented him with a gift from the entire team on the field afterward and many of the other players voiced their respect for him on video and in the locker room.
So for now one of the all - time U.S. Soccer greats will hang up his boots after next Saturday's game, but McBride will be around the game in the future.
"I do plan on staying involved, but I don't know if it will be with the Fire. I love the game of soccer and think I have a lot of thoughts on it, but whether that (staying involved) is going to happen or not, I'm not sure."
For more on Major League Soccer, visit Goal.com's MLS page and join Goal.com USA's Facebook fan page!