Underneath a riveting match between the New York Red Bulls and Real Salt Lake this Saturday lay conflicting ideologies concerning one of MLS's most contentious issues: the Designated Player rule. The defending champions have - thus far - abstained from bringing a blockbuster signing to Sandy, Utah, while New York has splurged on some of the world's biggest names.
Both of the club's current locations within the top four of the MLS standings indicate that there is more than one method for succeeding in the league. Salt Lake has slowly built their way to their current position; shrewd deals allowed Real to acquire the talent needed to win the MLS Cup in Seattle last season. RSL's adversaries this weekend, though, couldn't have taken a more divergent path to first place in the Eastern Conference.
2009 will likely be considered the worst season of a Metro/Red Bull franchise whose existence has been a series of failings. Two Scandinavians, Erik Soler and Hans Backe, New York's sporting director and head coach respectively, have invigorated an organization accustomed to disappointment.
Nonetheless, Thierry Henry and Rafa Marquez, the two of the most expensive signings in league history, have been essential from transforming the club from a completive one in the first part of the season to a realistic title winner.
The case study of the results the DP yields is still inconclusive; while Los Angeles, Seattle, and New York have soared, Chicago and Toronto have failed despite the two designated players apiece on the pair's rosters. The cautious, inconspicuous accumulation of talent has proven a sound approach for teams, like Salt Lake or the Columbus Crew, who don't possess the same financial clout of the league's biggest markets.
Recent comments out of Utah reveal that RSL is on the verge of following the path of Crew, whose sole DP was Guillermo Barros Schelotto. The Argentine was signed as Columbus' only designated player after two brilliant seasons that included being coronated as both MLS Most Valuable Player and MLS Cup champion.
Alvaro Saborio, RSL's star Costa Rican and Newcomer of the Year frontrunner, has made a tremendous impact in his first MLS season. In order to ensure that the striker returns for a second year, Salt Lake may purchase the 28-year-old's rights from FC Sion.
"He's done a great job for us," RSL General Manager Gareth Lagerwey said to the Salt Lake Tribune, "and we're happy to hear him say that he wants to stay."
This statement comes after the franchise's owner Dave Checketts mentioned that Saborio might be worth a DP contract and the 16-goal scorer revealed his interest of remaining in MLS.
If Saborio were purchased, his signing would be a synthesis of Columbus' Schelotto deal and Seattle's low-cost designated players. Neither Alvaro Fernandez nor Blaise Nkufo cost close to nine figures, but both have been instrumental in the Sounders' fantastic second term.
MLS is transitioning from a league based around parity to one with tremendous gaps in payrolls. This will necessitate creative thinking on the part of front offices, already illustrated by the past two league champions, to keep pace with the league's monied teams.
When the Designated Player rule was first announced, the rule was seen as mainly a means to attract recognizable stars and increase attendance through advertising. Since the 2007 season, different signings have come and gone, revealing how the rule can be best implemented.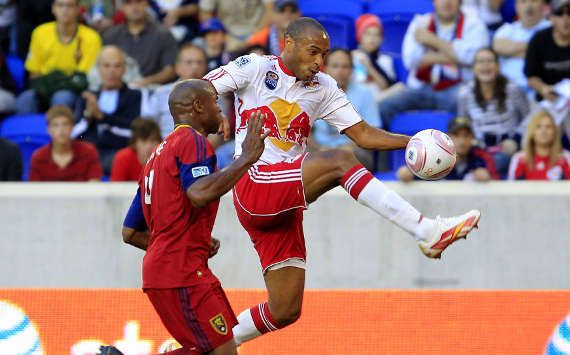 For the league's frugal clubs, low risk international signings are arguably the best way to remain with the Red Bulls and the Galaxy, while the success of DPs remains inconclusive. When players like Saborio, Schelotto, or Fredy Montero - whose contract Seattle will likely need an upgrade this off-season - emerge, then their owners can splash out money, knowing that they are safe investments.
Nery Castillo (Chicago Fire)
On bench, but did not play in 2-0 victory against the Columbus Crew.
Although Castillo returned to the Chicago's 18 for the first time in three match matches, the attacker didn't appear in the Fire's victory. With the club now out of playoff contention and Castillo's hamstring healed, keep an eye on how he plays in the club's final two matches of 2010.
Freddie Ljungberg (Chicago Fire)
Started, played 90 minutes in 2-0 victory against the Columbus Crew, assisted on Brian McBride's goal in the 53rd minute.
While Castillo is yet to register an MLS point, Ljungberg has quietly compiled a goal and five assists in his 12 appearances with the Windy City club. A combination involing the Swede set up the second goal in Chicago's upset of their Midwest rival.
Branko Boskovic (D.C. United)
Did not appear in 2-0 defeat against the San Jose Earthquakes after Boskovic played the first half of Montenegro's 1-0 victory over Switzerland in Euro 2012 qualifying.
Boskovic participated in one of the biggest results of the weekend - it just didn't take place in the United States. Montenegro's victory over the Swiss leaves the nascent national team undefeated and atop Group G.
David Beckham (Los Angeles Galaxy)
Started, played 76 minutes in 1-0 victory against the Philadelphia Union, assisted on Edson Buddle's goal in the 27th minute.
The kempt star's swerving corner - his first assist of the season - found the head of Edson Buddle, who drove his winning header past Brad Knighton. Beckham looks energized and poised to star in the playoffs for the Gals, who are close to securing the league's Supporters' Shield.
Landon Donovan (Los Angeles Galaxy)
Started, played 90 minutes in 1-0 victory against the Philadelphia Union.
Donovan had an opportunity to double the Galaxy's lead in the 78th minute when he was headed through on the Union goal, but Knighton stood strong and blocked LD's shot. The American was also noticeably absent in the USA's draw on Saturday as he elected to rest in California after a long international year.
Rafael Marquez (New York Red Bulls)
Started, played 90 minutes in 0-0 draw against Real Salt Lake.
After their unconvincing play last weekend against the Wizards, the New York midfield was stabilized by the return of Marquez. The effect of Marquez will be reiterated incessantly; it's just so easy to see his influence on his teammates.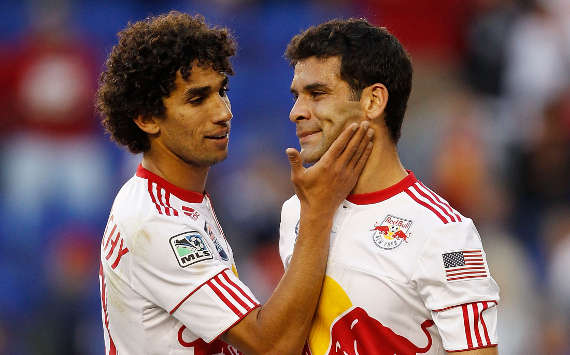 Juan Pablo Angel (New York Red Bulls)
Started, played 90 minutes in 0-0 draw against Real Salt Lake.
The striker was unable to really influence Saturday's match although his acrobatic volley did slam into Jamison Olave's arm at the end of the first half.
Thierry Henry (New York Red Bulls)
Started, played 90 minutes in 0-0 draw against Real Salt Lake.
Henry shifted to the left wing – a role he typically filled at Barcelona – and was able to trouble Robbie Russell by pressuring the flank; however, Titi was either too indecisive or self conscious on a few occasions, killing many of the Red Bull attacks.
Geovanni (San Jose Earthquakes)
Started, played 74 minutes in 2-0 victory against D.C. United.
Until this season, the reincarnated San Jose Earthquakes had struggled to regain their former prominence, finishing seventh in the West in consecutive years. Behind the work of Chris Wondolowski and Geo, SJ secured their first postseason berth since 2005.
Blaise Nkufo (Seattle Sounders FC)
Started, played 90 minutes in 2-1 victory against the Columbus Crew in the U.S. Open Cup final. Started, played 90 minutes in 2-1 victory against the Kansas City Wizards.
Nkufo may have not scored this week, but he played full minutes in matches that secured Seattle's second consecutive U.S. Open Cup and playoff berths - a pretty fantastic week for the striker and his club.
Alvaro Fernandez (Seattle Sounders FC)
Did not start, played final 11 minutes in 2-1 victory against the Columbus Crew in the U.S. Open Cup final. Did not start, played final 26 minutes in 2-1 victory against the Kansas City Wizards, scored in the 78th minute.
Fernandez secured a playoff spot for the Sounders when his goal put Seattle out of KC's reach. The Uruguayan masterfully cut through the heart of the Wizards before sliding his finish past a diving Jimmy Nielsen.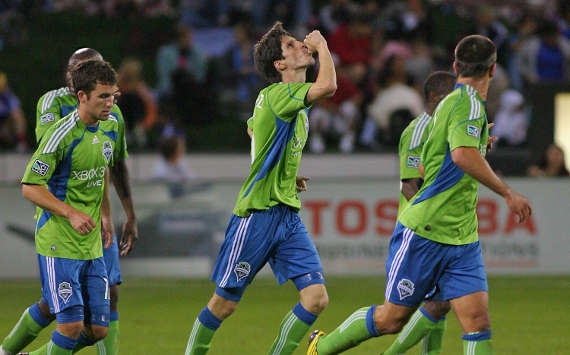 Julian de Guzman (Toronto FC)
Started, played 90 minutes in 3-0 defeat against Chivas USA.
Rodolfo Espinoza's goal, the third for Chivas, was a portrait of Toronto's season. The Mexican's cut froze de Guzman and opened space to further the wound created by the Reds' dismal year.
Mista (Toronto FC)
Did not play in 3-0 defeat against Chivas USA.
Let's just put it this way: even Denilson scored during his short stay in MLS. With two matches left in the season, Mista is close to obtaining the humiliating title of Worst Ever Designated Player.
For wry non sequiturs follow Goal.com correspondent Avery Raimondo on Twitter @averyraimondo
For more on Major League Soccer, visit Goal.com's MLS page and join Goal.com USA's Facebook fan page!