On Form
Seattle Sounders FC
: The Sounders extended their home MLS unbeaten streak to six with Saturday's victory over Toronto FC. On offense, Seattle is firing on all cylinders with Blaise Nkufo notching his fifth goal in three games. Wingers Steve Zakuani and Sanna Nyassi each tallied a strike in the win over the Canadians. Fredy Montero had several chances to break out of his month-long drought without a goal or assist. This quartet will be tough to keep in check, especially before a raucous home crowd at Qwest Field.
Columbus Crew
: The one consistent factor in the Crew's season has been the steady play of Eddie Gaven. Industrious and gritty didn't apply to the 17-year-old Gaven who wowed MLS with his attacking play, but those two adjectives sure stick to the 23-year-old Gaven who has taken over as the engine of this Columbus team. The midfielder is sure to provide another composed, willing display in Seattle. Elsewhere, Steven Lenhart and Andy Iro lead the Crew with two goals each in U.S. Open Cup play.
Off Target
Seattle
: Toronto broke Kasey Keller's three game shutout streak with a goal in each half. Head coach Sigi Schmid started backup 'keeper Terry Boss in the CONCACAF Champions League and will likely go with Keller for this final. The veteran gaffer will need to make sure that his defenders tighten up in this encounter against the Crew.
Columbus
: The Crew isn't in good form at all. No league wins in a month (the last was Sept. 4) has seen the team slip from top spot in the Eastern Conference and out of the Supporters' Shield discussion. Crucial to the rut has been a lack of quality fullbacks. Frankie Hejduk is (finally) starting to show his age, Shaun Francis' play makes the decision to release Jed Zayner puzzling, and Danny O'Rourke hasn't found his rhythm in any one position. Notably, the last time O'Rourke visited Seattle, he got himself sent off.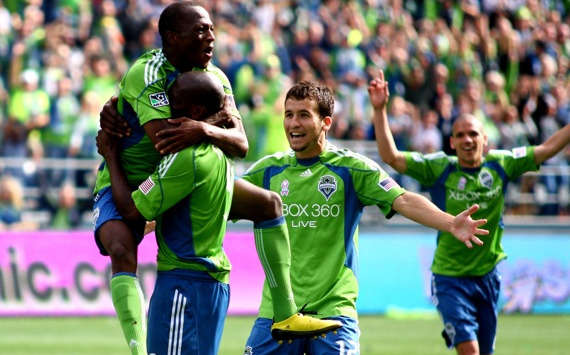 Tactics
Seattle
: Schmid will have some interesting lineup possibilities in preparation for this game. Does he go with the on-fire Nkufo? Or, will he insert Nate Jaqua as a starter to complement Montero? In the midfield, Zakuani and Nyassi have the stamina and pace to handle the mid-week matchup. Defensively, Seattle has depth on the bench with Tyrone Marshall and Zach Scott ready to step in if Schmid decides to rest any of defensive back four.
Columbus
: Look for Columbus to set out two firm banks of four to provide stiff resistance to Seattle's malleable attack. An eager and energetic, if blunt, striker will do the gritty work up top with Guillermo Barros Schelotto charged with recapturing the magic he showed frequently in 2008 and 2009 to unlock Seattle's defense.
Intangibles
Seattle
: The Sounders' management complained when last year's final was awarded to D.C. United rather than playing the match at Qwest Field. Look for a extra motivation from the home side to win before their Rave Green supporters. At the time of this writing, 28,800 tickets had been sold, good enough for a U.S. Open Cup record.
Columbus
: Robert Warzycha has yet to beat former boss Sigi Schmid and the Crew lost 4-0 in Columbus the last time these two sides meet. Also, nine of the last 12 times the U.S. Open Cup wasn't played on a neutral venue the home side has won. Looking purely at the past, Columbus is at a severe disadvantage here. It'll be up to the team to push that out of their minds and write a different bit of history.

Outcome
Seattle
: Sigi Schmid beats his former team for his second consecutive victory in the U.S. Open Cup finals. Seattle Sounders FC 3 (Montero, Alonso, Zakuani) - 1 Columbus (Schelotto)
Columbus
: Ultimately, Seattle will make history both with a record-setting crowd as well as becoming the first MLS team to win back-to-back U.S. Open Cups.
For more on Major League Soccer, visit Goal.com's MLS page and join Goal.com USA's Facebook fan page!