On Form:
FC Dallas:
Offense gets highlights, defense wins championships. If the cliche is true, Dallas stand a good chance of winning their first MLS Cup this year. Outside backs Heath Pearce and Jair Benitez have done well this year to get involved in the attack, with each ranking in the top four in assists on the team. Center backs George John, Ugo Ihemelu and Zach Loyd have all done their part. Loyd, a rookie, made a spectacular goal-line save to deny the Columbus Crew a goal in what eventually finished as a 0-0 draw. If the Dallas defense, which has allowed just six goals at home all year, continues to perform so well, there is reason to believe they'll be playing in November.
New York Red Bulls:
Rafa Marquez. His passing from very deep in the midfield was impressive last week versus the Colorado Rapids. It did not take Mexico's captain long to take the reins of the Red Bulls defense and midfield. He demands the ball and often he receives so deep in his own territory that his accurate long passes catch the opposing defense off guard. When you have the speed of Thierry Henry and Dane Richards on the end of those passes, the Red Bulls offense creates havoc by pulling defenders out of position to cover their compatriots.
Off Target:
Dallas:
No other team in MLS has more ties than FC Dallas. No other team has fewer losses either, but if Dallas could have managed to win just six of their 11 ties, they'd be sitting in first place with 48 points, instead of third with 41. Their current 14 game unbeaten streak includes 7 ties, which means a total of 14 dropped points all together. Dallas is all but guaranteed a playoff berth at this point, but if they want to challenge for the top spot they need to start getting wins. Unfortunately, they have the third hardest remaining schedule in MLS in terms of opponents winning percentage. If nothing else, they'll certainly be battle hardened heading into the post-season.
New York:
The Red Bulls rookies have had a rough couple of weeks. Tim Ream's service, which was overrated to begin with, has been dropping off as the season progresses and Tony Tchani really struggles when he gets into the attacking third. As far as Tchani is concerned, the trade for Mehdi Ballouchy will put his starting position under significant pressure.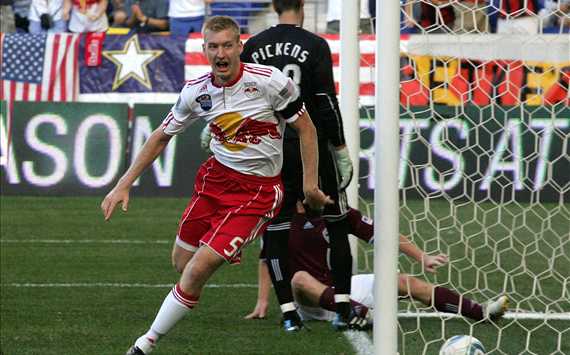 Tactics:
Dallas:
Midfielder Dax McCarty finally seems ready for action after a lengthy injury layoff. The former North Carolina man trained Tuesday and said he was ready to go. The decision is now up to Coach Schellas Hyndman whether or not McCarty will see the field Thursday. He will probably see some action, most likely later in the game as a replacement for Eric Alexander. Coach Hyndman will want to make sure the red-haired playmaker doesn't suffer a relapse of his quadriceps strain and have to miss even more time.
Center back George John is also cleared for the game after leaving the San Jose match in the 54th minute with a hamstring injury. John may once again pair up with Loyd in the back, though, Hyndman may opt to pair him with Jackson Goncalves in an attempt to match the Red Bulls' speed up front.
New York:
4-4-2 Diamond. The back four will remain the same, as will the Thierry Henry – Juan Pablo Angel strike partnership. The real question is whether Backe throws Mehdi Ballouchy into the mix immediately or eases him in from the bench. Backe has long been looking for a true attacking midfielder, and while Ballouchy may not be end of that quest, he definitely fits that role better than any other Red Bull. The fact that this is an away midweek game argues for him starting on the bench.
Intangibles:

Dallas:
Of the two defeats FCD have suffered this year was at the hands of the Red Bulls back in April. A 90th minute PK by Juan Pablo Angel sunk the Hoops in a game they deserved a better result in. Few Dallas players will need a motivational speech before the game, as they will all be out for revenge already.
New York:
FC Dallas is riding high on a fourteen-game unbeaten strike, which is tied for the longest in a single season. They are confident and they won't be overawed by the big names on the Red Bulls team sheet. If they can avoid conceding an early goal, Dallas should be able to win, or at least get a point.
Result:

Dallas:
Despite Thierry Henry and Rafa Marquez, FC Dallas will earn three points in front of what should be a rather large home crowd. FCD 2-0
New York:
2-1 Red Bulls. The Red Bulls are really starting to come together. They are organized in possession and they create a lot of chances. The game will be decided down the Red Bulls' right and FC Dallas' left. Dane Richards and Brek Shea won't be going directly head-to-head but they are pivotal to their teams and whoever shows up biggest Thursday night will lead his team to three points.
For more on Major League Soccer, visit Goal.com's MLS page and join Goal.com USA's Facebook fan page!