Los Angeles Galaxy veteran Eddie Lewis announced on team's web-based radio show
Cup of Joe
that he would be retiring from professional soccer at the end of the 2010 MLS season.
"This is going to be my last season, and it's been great," said Lewis.
One of the league's original players, Lewis was drafted out of UCLA. He played for the first incarnation of the MLS San Jose Earthquakes, and quickly became a standout on a struggling team. In fact, the winger impressed so much that he soon received an opportunity to play abroad and became one of the first transfers out of MLS to England.
It was Fulham who called for his services, but a coaching change there saw Lewis spend most of his time there on the bench. He became a more consistent starter for Preston North End and Leeds United, known for his steady wing play and quality crosses.
With the USA national team, Lewis was a key player for several years, compiling 82 international caps. Lewis had a knack for important contributions. It was his cross that provided the service for Landon Donovan's World Cup goal versus Mexico in 2002, and he also managed to score a goal versus Mexico in the famed Azteca stadium.
In 2008, Lewis returned to MLS, this time to play for the Los Angeles Galaxy, helping the team reach the final of the MLS championship last season. However, his playing time decreased somewhat, and that may have contributed to his decision to retire this year. Lewis also seems to feel that the squad is in good hands.
"I feel like this will be a great transition year," the 36-year-old said of the Galaxy. "We have a lot of good young players coming through – the foundation is set in the team now."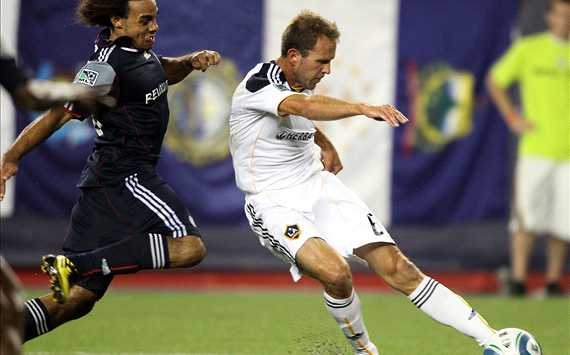 A quiet leader on the field, Lewis could well be inclined to continue his soccer career through coaching. He hinted as much.
"I'm very interested in pursuing how to continue to make the game better in America," Lewis said.
Of course, his ideal farewell season would culminate in helping the Galaxy win what eluded them last year - the MLS Cup.
For more on Major League Soccer, visit Goal.com's MLS page and join Goal.com USA's Facebook fan page!