In many ways, the New York Red Bulls signing of Mexican international Rafael Marquez represents an uncertain gamble for a franchise trying to win its first MLS title.
Whereas his former Barcelona teammate Thierry Henry was a long-awaited arrival to MLS, Marquez's move was unforeseen until a few weeks ago. He joins the Red Bulls as a midfielder after spending the majority of his career at central defense. Finally, he is the captain of America's largest soccer rival and has had his share of controversy, physically punishing U.S. national team favorites Tim Howard and Cobi Jones.
As risky as the move was, Marquez wants to show that his impact will result in success for the New York Red Bulls. The 31-year-old was still a wanted commodity in Europe as Italian giants Juventus were rumored to have made a six million euro offer to Barcelona for him. Despite having close contact with both Henry and iconic Mexican international Cuauhtémoc Blanco (recently of the Chicago Fire), Marquez stressed that his decision was based on having an opportunity to experience a new challenge and be a link between MLS and its Hispanic fan base.
"It was something new and different. I have spent a lot of time in Europe," Marquez said exclusively through an interpreter to
Goal.com
. "I've won every title with Barcelona and I wanted to come to this league because it's growing."
He added: "I'm happy that I get to play again with Titi [Thierry Henry]. It's great, but he didn't have any influence in my decision. I always knew that MLS was an option for me and there's a big Hispanic community in the U.S."
Marquez intends to continue his international career despite concerns that his move to MLS might hinder his chances to receive caps and retain the captaincy he has held onto since 2002. Several Mexican clubs offered Marquez an opportunity to return to his native country, but he hinted that the country's overall instability factored against it.
"There were some opportunities, but due to the situation in Mexico in general, I felt that the MLS was the best option," said Marquez to
Goal.com
.
Marquez compared MLS's level of talent to France's Ligue 1 and Holland's Eredivisie and has no concerns about his involvement with the national team.
"I am happy to be here and I have a goal to continue playing at the highest level," Marquez told
Goal.com
. "Playing in MLS won't affect my opportunities with the national team."
Three months ago, it was a simple conversation between Red Bulls Salzburg sporting director Dietmar Beiersdorfer and Rafa Marquez that would eventually land the New York Red Bulls its third designated player. At that time, Beiersdorfer admits exclusively to
Goal.com
that he wasn't quite sure of Marquez's interest in playing in MLS but he wanted to sell the 31-year-old on having a new challenge by being able to reinvent himself as midfielder. Marquez's former team, Barcelona, extensively emphasizes fluid precise passing from every position and Beiersdorfer believes that spending seven years in the system will greatly benefit him in his transition.
"We told Rafa that it would be a good opportunity [to join the Red Bulls] if he decided to move away from Barcelona," said Beiersdorfer exclusively to
Goal.com
. "We knew for sure that he could play central midfielder or defensive midfielder. He has great touch and vision. He has outstanding technical skill and instincts. We hope that he can give us a big impact in the midfield. The fact that he makes 99 percent right decisions in passing [shows that fact]."
Once the ink dried from Henry's signature on his MLS contract, Beiersdorfer acknowledged to reporters that he did ask the 32-year-old forward to assist the team in recruiting Marquez. The former Atlas and Monaco defender's move finally became a reality around the 2010 World Cup according to Beiersdorfer. For a team that has struggled to sell out games in its brand new 220 million dollar stadium, MLS commissioner Don Garber believes that the addition of Marquez will not only boost ticket sales, but greatly assist MLS in reaching a fan base in Latinos that are essential to the league's growth.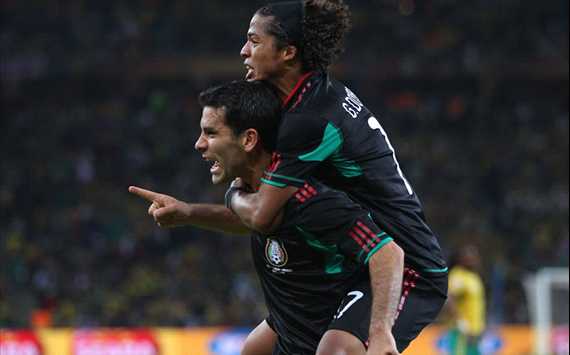 As popular as the El Tri captain is with Hispanics, he will have his work cut out for him in connecting with passionate fans of the Red, White and Blue. Marquez believes that if he shows the same level of commitment to his club as he does for his country, American fans will support him regardless of whether or not he plays for their country's biggest soccer foe.
"Rivalries are natural all over the world," said Marquez exclusively to
Goal.com
when addressing those concerns. "What has happened before happened in the past. In those moments in the past, I don't normally like to lose my cool, but it can happen."
A winner of every competition in Spain's league, Marquez insists to fans of his newest club that his intensity and desire to win will be very apparent.
"My expectations are the same in MLS, I want to win everything possible," said Marquez. "I have a winning mentality and I want to help this team win titles."
Alex Labidou, a Goal.com contributor, is based in New York city. Follow him on Twitter @SportsLab
For more on Major League Soccer, visit Goal.com's MLS page and join Goal.com USA's Facebook fan page!