America is a nation of immigrants -- people who risked everything for the opportunity for a piece of the American dream. So it should come as no surprise that in a country home to immigrants from all over the globe, the national team should reflect that.
The majority of the U.S. national team which participated in the 2010 World Cup was comprised of players whose parents or grandparents were immigrants the the United States. Some U.S. internationals are themselves immigrants, including Stuart Holden, a native of Scotland, and Benny Feilhaber, who was born in Brazil.
And perhaps someday, they may be joined by Danny Mwanga.
Born in the Democratic Republic of the Congo, Mwanga's family fled the Civil War that claimed his father's life in 2006. After arriving in America, he was a star at Oregon State University, scoring 18 goals and winning PAC-10 Freshman of the Year and Player of the Year honors in his two seasons there. In January of 2010, he was selected as the first overall pick and the first ever SuperDraft pick for the Philadelphia Union.
This season, the rookie stumbled early on, but in the past few weeks embarked on a scoring tear, picking up five goals in the last seven games. The only matches where he failed to find the net was away to Kansas City, where coach Peter Nowak removed Mwanga in a tactical decision after Michael Orozco's ejection, and home to the San Jose Earthquakes, when he picked up an assist. Mwanga's eyebrow-raising run of form is made even more impressive by the fact that he won't reach his 19th birthday for another week.
The striker's play has earned him rave reviews from fans, coaches, and the media across the country, including whispered mentions of his eligibility to play for the United States. It was with this in mind that Goal.com talked with him about MLS, rookie life, and his international prospects.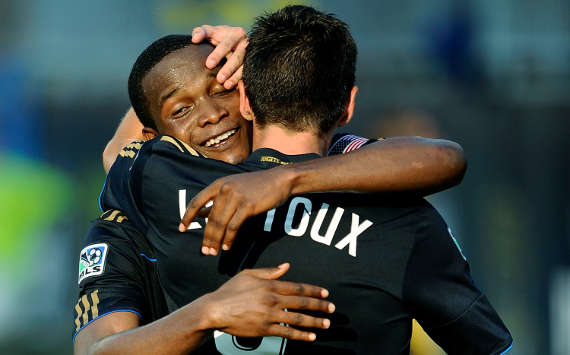 Before being drafted by the Union, Mwanga was a coveted prospect with a number of opportunities, and it wasn't a certainty that he would pursue his career in the United States. It took the experienced head and silver tongue of Nowak to convince Mwanga that his best option lay within MLS. Nowak, whose playing reputation and background as a foreign player in American soccer impressed Mwanga, offered him advice on the smartest way to pursue his career.
"I have a lot of respect for [Nowak]. He was one of the best midfielders in the Bundesliga as a player, and he gave me a lot of advice on my career," Mwanga told Goal.com by phone.
Nowak has plenty of faith in Mwanga's abilities, and their relationship seems to go further than that of just player and coach, but closer to mentor and protege. At the press conference following Mwanga's first MLS goal, an injury-time equalizer against FC Dallas, Nowak put a friendly arm around the shoulders of his young striker, his face beaming with pride.
When Goal.com inquired about any future European ambitions, Mwanga insisted that he was happy in Philadelphia and excited about his future with the Union. Any thoughts of jumping ship seemed far off, and his current focus is geared towards improving himself and the Philadelphia club, where he is quickly becoming a fan favorite.
"I'm excited to be in Philadelphia," Mwanga asserted. "I'm working hard at the moment with the Union, and I'm happy here."
Although the Union is a very young squad, on average, there are some experienced veterans on the roster. Mwanga says playing against U.S. international Danny Califf in practice has been an invaluable learning opportunity. And lining up alongside experienced striker Alejandro Moreno has helped Mwanga improve his mental readiness and develop the physical aspect of his game, a jump many players fresh out of college find difficult.
But perhaps most encouragingly for American soccer fans is Mwanga's excitement at the prospect of playing for the USA. When asked about playing for the nation of his birth, he was somewhat apprehensive, understandably so. Although he has yet to be fully naturalized, and hasn't spoken with anyone from the U.S. Soccer Federation, he was much more upbeat on the subject of the U.S. national team, saying it would be "an honor" and a "wonderful opportunity" to represent the country his family has come to call home.
"Yes, (playing for the U.S.) is something I've thought about," Mwanga admitted. "My family lives here. It would be an honor to represent the United States. Playing for the U.S. in a World Cup would be a wonderful opportunity."
His respect for the Philadelphia coaching tandem of Peter Nowak and John Hackworth, two of the most influential youth coaches in U.S. soccer in recent years, could also play a part in his ultimate decision, as could the presence of some of his Union teammates, like U-20 internationals Amobi Okugo and Jack McInerny, in the American youth system, or the fact the the United States is more likely to qualify for the World Cup during Mwanga's career than the DRC.
For a player as young as Mwanga, finding comfort in the right situation can be a key component of success. It seems that in Philadelphia, he has a setup that will serve him well, and could help him develop his gifts enough to represent the United States someday.
For now, Danny Mwanaga isn't yet an American citizen. But he does have a U.S. refugee travel document, a U.S. green card, and resident alien card. Coupled with the unlikeliness of a reconciliation with the DRC and being surrounded by American players and coaches at the Union, and it looks probable that Mwanga will suit up for the Yanks someday.
If he keeps up his goalscoring exploits, that could be sooner rather than later.
Keith Hickey covers Philadelphia for Goal.com. You can follow him on Twitter @usarsnl.


For more on Major League Soccer, visit Goal.com's MLS page and join Goal.com USA's Facebook fan page!