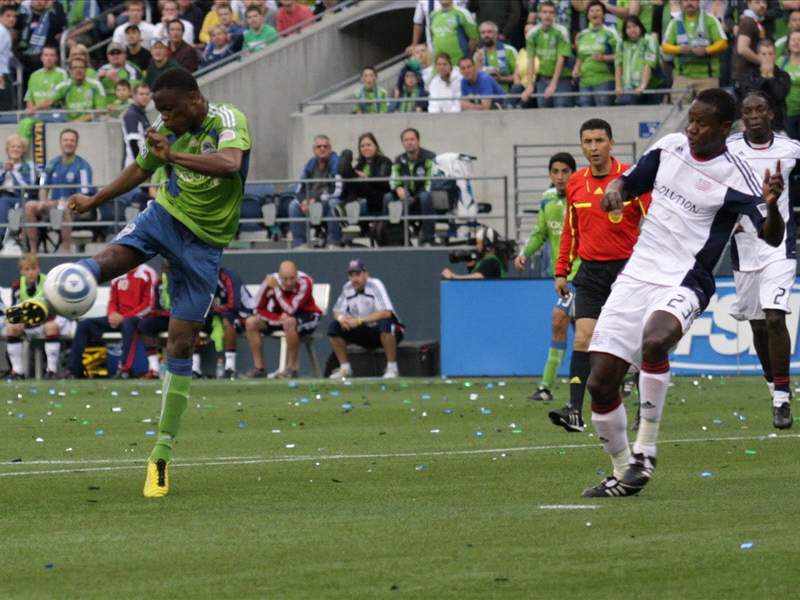 SEATTLE – Droughts aren't particularly common in Seattle.
Seattle sports fans may wonder whether championships are included within the expansive statement, but the principle still generally holds. In a city where moisture seemingly permeates every crevice, little room exists for barrenness.
Except, as fate would have it, in front of goal for Sounders FC over the past month.
Two goals in six games isn't quite the middle of the Sahara, but it isn't exactly acceptable either with the plethora of attacking talent at Sigi Schmid's disposal. A group including Brad Evans, Freddie Ljungberg, Fredy Montero, Pat Noonan and Steve Zakuani should probably threaten to score two goals in most games, not convert twice per month. Inevitably for the most scrutinized club located outside of Toronto, the offensive shortcomings turned into a frequent conversation topic in the pubs and on the training ground.
"We've talked about it," Noonan said after Friday's training session. "Inside the 18, we're a great team, but offensively and defensively, we need to be sharp. We're just a little bit off in that area right now. Once we get to where we need to be, then it's going to be a complete 90 minutes and we're going to get the results."
The particular nature of the dry spell only prompted further questions about why Sounders FC couldn't find the back of the net. On most occasions this season, Seattle managed well enough with its buildup play, according to Schmid. All of the constructive work to create chances frittered away when it mattered most, perhaps as a result of a lack of confidence or sharpness, as Noonan suggested, or perhaps just as a matter of having too many players focused on the buildup and too few players designed to ruthlessly complete it.
"If, as a coach, you knew what that magic formula was or that potion or those magic words or the exercise in training that breaks that, then nobody would go through a slump," Schmid said prior to the match against New England.
It often takes one break, one moment of brilliance, one explosion to end a dismal run in front of goal. Schmid said he thought the moment may have arrived when Sounders FC pasted Boca Juniors 3-0 in a friendly at Qwest Field on May 26, but his charges then fell 1-0 at Colorado four days later to continue their MLS scoring misery and placed that assumption into question.
Fortunately for the loyal fanbase and the expectant franchise, the slump-busting strike probably arrived just five minutes into Sounders FC's 3-0 rout of New England on Saturday night. The improbable source and the manner of the goal all but assure it.
The move looked like another one of those decent forays into the attacking third destined for incompletion after Steve Zakuani's loose first touch skittered away from him inside the penalty area. Destiny soon intervened as Leo Gonzalez reacted quickly and lashed home a first-time volley New England coach Steve Nicol subsequently labeled a wonder strike.
"Sometimes, it takes a special goal and Leo gave us that," Zakuani said. "Once he did that, we were more open and we could have had five or six."
The boast didn't constitute an exaggeration on the evening as Seattle noticeably grew in confidence after Gonzalez's opener. Zakuani could have snagged a hat trick by himself, but he settled for a stunning volley of his own to double the lead after 24 minutes. Fredy Montero weaved through the Revolution defense and slotted home three minutes before the break to cap the scoring despite Seattle's best efforts to extend the lead in the second half.
Even without the additional goals in the second stanza, the cathartic nature of the performance persevered. All of the traits endemic to the in-form version of Sounders FC – clever touches in tight spaces, incisive movement with speed on and off the ball and miserly work on the defensive end – appeared consistently throughout the match. The home side even addressed Schmid's primary concern by launching a club-record 19 shots toward goal and landing eight of them on or in the goal. While the timid effort from the visitors certainly played some part in the complete and utter dominance, this impressive showing owed much to Seattle's ability and zeal to impose its will on the match from the opening whistle.
Displays like the one offered against New England provide ample evidence for those believers who think Sounders FC can mount a serious MLS Cup challenge. An expected home victory over improving D.C. United on Thursday night would send Seattle into the World Cup break with a .500 record after 13 matches and lay the groundwork for the anticipated second-half revival.
Such lofty aspirations presently fall somewhere below dismissing these scoring problems for good in the pecking order. The post-World Cup arrival of Swiss striker Blaise N'Kufo – the target man desperately required to add a blunt and ruthless element to the Sounders FC attack – will certainly help, but Schmid's side can't afford to wait for his July arrival to score consistently.
Only time will tell whether Gonzalez's volley will end the uncharacteristic drought. At the very least, the goal laid the foundation for an uptick in confidence and optimism about the potency of the Sounders FC attack.
"I sure hope so," Noonan said as he pondered whether the outburst ended the dry spell. "That was a complete effort for 90 minutes. We got the early lead, we built on it and we had a nice lead going into half. We didn't let up and we continued to create chances. We didn't get another one, but our defense kept them off the board, which was great to see. It was an all-around team effort."

Week Eleven – Questions, Thoughts and Answers
Star Man – Leo Gonzalez, Seattle left back
In addition to scoring the critical opener in stunning fashion, he contributed considerably to Montero's killer third, offered an engaging option in support of Zakuani and silenced New England winger Sainey Nyassi. All after Schmid told him to hold back his attacking runs to provide extra help on Nyassi. Not bad for a day's work.
The Weekend XI
1. Toronto FC defender Nick Garcia should have no complaints about his 27th minute red card in the Reds' 0-0 draw with Kansas City. Set aside the controversy about the call – it looked like a valid dismissal in this observer's view with the exposed studs and the height of the challenge, though many red-clad supporters dissented from that view vehemently at BMO Field – for a moment and place the challenge in its context. Whether the dismissal is warranted or not, Garcia placed himself in serious jeopardy of drawing a red card given the particular referee in charge of the match (Baldomero Toledo has the reputation of being a bit quick on the draw in these sorts of matters) and the nature of his lunge for the ball. Considering the tackle occurred near midfield, Garcia's decision to tackle with such vigor seemed a bit impetuous and ill-advised, all things considered.
2. Garcia's ejection may have taken its toll on TFC later in the match. Once Craig Rocastle picked up his inevitable second yellow card after 57 minutes to reduce the Wizards to ten men, the Reds should have pushed forward with some urgency in search of the winner. The charge never quite materialized with a lack of energy and a dearth of endeavor as the primary culprits.
3. New York midfielder Seth Stammler told the Red Bulls media corps after Saturday night's 1-0 victory over Chivas USA about how assistant coach Goran Aral has encouraged him to shoot more from distance recently. The beleaguered visitors (now losers of five straight matches) didn't quite grasp the new approach when Stammler nearly fired home from distance with his right foot when presented with some space on 21 minutes, so the veteran Red Bulls midfielder enjoyed enough room to drill home a low left-footed drive six minutes later to decide a rather lackluster affair.
4. By collecting three points against Chivas USA, New York has now matched its 2009 point total (21) in just 12 matches. The Red Bulls have also collected seven wins, two more than they notched in last year's dismal campaign.
5. "We're making good progress and we're going to build on it," D.C. United coach Curt Onalfo told The Washington Post after his side's 0-0 draw with Real Salt Lake. "That's the way I look at it, that's all we can do. It's a missed opportunity, but if we can play that way the way we've been over the last four games or five games we're going to get points. We just have to stay positive, stay the course and just keep improving."
6. It will take something quite special indeed to knock Jovan Kirovski's goal in Los Angeles' 4-1 victory over Houston from the ranks of Goal of the Year contenders. Unlikely most nominees for the award, Kirovski's offering is an exquisite team goal. The reserve-laden Galaxy displayed its considerable quality in depth by stringing together at least ten sequential passes to move the ball from the left to the right wing. Kirovski completed the move with a simple, tidy finish from Sean Franklin's inch-perfect feed from the right flank. Beautiful football, indeed.
7. "This is the deepest team I've been on," Kirovski told the Los Angeles Times in the aftermath of yet another impressive Galaxy performance against the fatigued Dynamo, though he presumably limited his evaluation to his MLS teams. "Landon and Edson aren't here, so other guys just step up. There's great quality on the team."
8. San Jose will forget about its 2-0 defeat at FC Dallas – courtesy of a quick-fire double from Brek Shea early in the second half – as quickly as possible, but the impact of the match could linger for quite some time after Andre Luiz went down injured in the first half. The former Brazilian international left halfway through the first half with – you guessed it – a left knee complaint and the Earthquakes can only hope the influential Luiz won't miss substantial time. There should probably be a question or two asked of Frank Yallop as to why he fielded the aging midfielder for a second time in four days, but Luiz is tough to leave out given his importance to the side and the utter lack of viable options to fill his role as the conduit in central midfield.
9. "In this game, it was tough because we give up an early goal, certainly against the run of play, and now we have to take the game and figure out how to break them down," Philadelphia assistant coach John Hackworth told MLSsoccer.com after a 2-1 defeat in Chicago. "We didn't do a great job of that tonight. Despite having the ball a huge amount of that game, we didn't create enough true goal scoring opportunities and we didn't finish the chances we had."
10. Two uncharacteristic occurrences undid Columbus in its 1-0 defeat at Colorado: Guillermo Barros Schelotto skied a gilt-edged chance to open the scoring with just over a quarter of an hour to play and Drew Moor wriggled free from Jed Zayner on a free kick to head home the winner for the ten-man Rapids.
11. "I mean, we said at halftime that we left our balls and our brains in the dressing room," New England coach Steve Nicol said after the Revolution's lifeless display at Qwest Field. "Pure and simple."
Kyle McCarthy writes the Monday MLS Breakdown and frequently writes opinion pieces during the week for Goal.com. He also covers the New England Revolution for the Boston Herald and MLSnet.com. Contact him with your questions or comments at kyle.mccarthy@goal.com and follow him on Twitter by clicking here.
For more on Major League Soccer, visit Goal.com's MLS page.