On Form
New York Red Bulls, by Terence Steed
: The New York Red Bulls are still sitting on top of the East but the Columbus Crew are right behind them at 15 and 14 points respectively. The Red Bulls defense still looks solid enough but it's the rest of the team that has to step it up.
Columbus Crew, by Nick Rosano
: After a performance as listless as the one against Chivas USA, it would be hard to say anyone is in truly outstanding form. Nonetheless, Guillermo Barros Schelotto once again saved the Columbus Crew against New England, taking his total to four on the season with a well taken penalty that allowed Columbus to preserve their perfect home record. Chad Marshall also had a solid game on defense and did well to earn the decisive penalty. But the Crew will have to do without both now that Marshall is training with the national team and Schelotto is suspended.
Off Target
New York
: The midfield is giving up possession far too easily and the team overall has been settling for ineffective long balls. When they do control the game, the final pass either misses its intended target or the touch or pace of Juan Pablo Angel and Ibrahim Salou has let the Bulls down. And it doesn't help that Dane Richards has entered his trademark dormant stage of the season again.
Columbus
: The defense and midfield were both quite sloppy in their passing during the Chivas game. Luckily the Crew defense was solid enough to keep these mistakes from translating into goals, but what we saw on Saturday was not the kind of passing that wins championships. Gino Padula in particular was constantly beaten on the left side, though made up for it with two crucial goal line clearances in the space of two minutes. Adam Moffat was also responsible for a lot of the poor midfield play.
Tactics
New York
: 4-4-2. The back four will stay the same with Danleigh Borman keeping Roy Miller out at left back. If Miller is fully fit it may be time to try him at left midfield. Sinisa Ubiparipovic, who looked great in the U.S. Open Cup victory, will slot into the center, with Carl Robinson's knee limiting him to every other game. Finally, either Conor Chinn or John Wolyniec will get their first start as Ibrahim is out for several weeks with an injury.
Columbus
: With Robbie Rogers and Chad Marshall away in Princeton training with the national team, Robert Warzycha will have to make some adjustments. Furthermore, Guillermo Barros Schelotto was handed a one game suspension for an elbow on Michael Umaña last Saturday, meaning the Crew will be without their talismanic attacker for the first time this season. All this means we will probably see Emmanuel Ekpo on the wing in place of Rogers, Andy Iro taking Marshall's place in defense and Jason Garey starting up front in place of Schelotto. Also, it is possible that Robert Warzycha will opt for Danny O'Rourke instead of Gino Padula at left back.
Predicted Lineups
Coundoul
Hall - Petke - Ream - Borman
Richards - Stammler - Lindpere - Ubiparipovic
Angel - Wolyniec

Lenhart - Garey
Ekpo - Moffat - Carroll - Gaven
O'Rourke - Iro - Brunner - Hejduk
Hesmer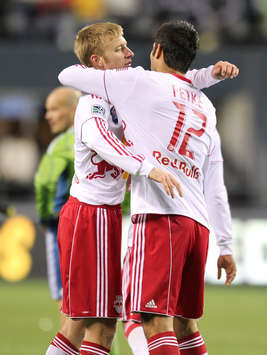 Intangibles
New York
: The "suspicious package" at the Harrison PATH station, the subsequent 45 minute delay and a Thursday night game will hurt the 12th man factor. Despite a smaller crowd, the Red Bulls know what it's like to lose and they will fight very hard to return to winning ways.
Columbus
: The obvious one here is how the Crew will do without Schelotto. The Argentine has been responsible for most of the team's offensive success this season and in this game we will see what kind of strength there is on the Crew bench.
Outcome
New York
: The Red Bulls will fight hard but mistakes on both ends of the field will be enough for the Crew to take the game. With three consecutive losses some of the media and casual fans will say the sky is falling but it's really just the normal growing pains of a new coach and so many new players. 1-0 to the Crew.
Columbus
: The Crew will remain unbeaten, but will keep up the trend of winning at home and tying on the road. Expect a dull 0-0 or 1-1 draw.
For more on Major League Soccer, visit Goal.com's MLS page and join Goal.com USA's Facebook fan page!