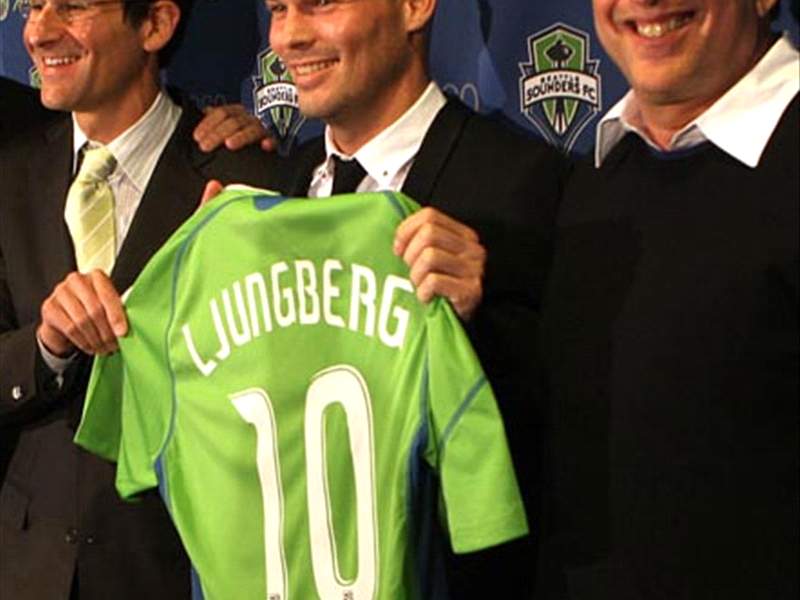 By Kyle McCarthy
MLS reaffirmed its commitment to the Designated Player model yesterday by instituting a series of changes designed to soften the salary budget blow of acquiring a prominent player.
The new rules offer three primary alterations: (1) each club now possesses two permanent, non-transfrable DP slots; (2) each club now has the option to purchase a third DP slot for $250,000 – the fee will be distributed as allocation money in equal shares to all teams without three DPs; and (3) the salary budget charge for the first DP drops from $415,000 to $335,000 and all subsequent DPs are charged at the same rate.
Before we delve into this week's abbreviated Forecast, here are a few notes on how the revised DP model could impact MLS:

The DP budget charge is considerably more palatable
: A five percent decrease on the budget charge of a Designated Player (18 percent in 2009 to 13 percent in 2010) might not seem like a lot, but it could make all the difference as clubs ponder whether to add a first or second DP to their squad. The new hit places a DP well within the range of a normal salary carried on the salary budget, particularly if the club is able to use allocation money to buy down the charge toward the $150,000 minimum charge. In other words, the DP can now function more easily as part of a squad rather than as a centerpiece that ultimately inhibits building a complete team.
Expect this move to encourage interested teams to add a second DP
: By saving $80,000 against the salary budget in a two-DP scenario, a club can now keep two minimum salary players or one reasonably compensated veteran. In other words, the change ensures two-DP sides have a greater ability to build a squad.

By making the budget charge more palatable, MLS may have limited its DP markets
: Investors are responsible for covering the portion of a DP's salary not counted against the salary budget. While picking up the tab for an extra $80,000 isn't a considerable sum in the scheme of an overall deal at $1-2 million per season, it might be enough to inspire some second thoughts for investors on the fence.
MLS wanted to make it difficult – but not impossible – to obtain a third DP
: The tariff attached to acquiring a third DP slot won't bother those investors who will consider it, but the overall budget charge of 39 percent (barring any allocation money used to buy down the charge) appears too steep to build a complete squad. In addition to the salary budget concerns, clubs weighing a third DP will also have to consider the competitive impact the extra allocation money will have on other clubs around the league.
If the move inspires the DP growth MLS seeks, middle class players could feel the squeeze
: As teams add more salaries at the higher end of their salary budgets, they may have to cut costs – particularly on guaranteed veteran players – to compensate. The extent of the impact will depend on how many clubs dip into the DP pool and how many DP players ultimately arrive as a result of these changes.
Last week
: 3/8 (38%)

Season record
: 3/8 (38%)
Saturday
Chicago @ Colorado – 4:00p.m. (Telefutura) – Goal.com Preview
Colorado stifled its way to a 1-0 away win at Chivas USA last weekend, but the Rapids will have to open up a bit more to earn the three points at home against the Fire. Colorado has the tools to thrive with a more ambitious outlook, particularly if Gary Smith urges Omar Cummings to drift out to the right wing to exploit the out-of-position Mike Banner at left back. If Jamie Smith (questionable – right hamstring strain) is fit enough to balance out the team by adding a true right winger to challenge Banner as well, all the better.
Chicago submitted a fine defensive performance – led by a stellar night from Wilman Conde – against New York, but they're going to have to find a way to do more in possession in Commerce City. The attacking movements felt a bit off, as if the Fire missed an orchestrator in the center of the park to facilitate possession and provide plenty of service to wingers Julio Martinez and Marco Pappa. Brian McBride can certainly keep things moving if Chicago uses him more frequently this week, especially if Julien Baudet (probable – right calf strain) can't go and Marvell Wynne plays in central defense once again.
Given the Fire's offensive struggles in New York last week and the likelihood that Jeff Larentowicz and Pablo Mastroeni will dominate in the center of the park with John Thorrington (left quad strain) still sidelined, the Rapids hold the edge here.

Prediction
: Colorado win.
New England @ D.C. United – 7:30p.m. – Goal.com Preview
Embarrassing only scrapes the surface of describing United's 4-0 defeat at Kansas City last weekend. Credit the soggy conditions and the tight field for some of D.C.'s issues on the evening, but United never really got started in the match and never really looked they could keep the Wizards out defensively. Juan Manuel Pena should help cure two defensive ills in one fell swoop as he makes his MLS debut after receiving his P-1 work visa this week. By stepping into central defense, Pena should add cohesiveness to the back four and permit Carey Talley to slide over to fill the problematic gap at right back.
The visitors may have to cope with a Shalrie Joseph-sized hole in central midfield once again this week as Joseph is questionable with a strained right hip flexor. With Joseph absent, the Revs faltered in possession against the Galaxy, though they did set out a compact and effective defensive shape that will make life hard on United this week. Finding a way through the organized, but offensively limited, Revolution to collect a goal or two should be enough for United to earn the three points here and wash away the stench of opening weekend.
Prediction
: D.C. United win.
New York @ Seattle – 10:30p.m. (Fox Soccer Channel) – Goal.com Preview
Sounders FC should be pleased to see New York travel to town. Seattle pasted the Red Bulls 3-0 in the franchise's inaugural game last March, so this game should bring back fond memories. In addition to the trip down memory lane, Hans Backe's technical side won't set out to kick Freddie Ljungberg (questionable – lower back contusion) and Fredy Montero up and down the park like Philadelphia did last Thursday.
Those two facts do not necessarily translate to an easy day at Qwest Field for the home side. New York's defensive shape isn't easy to break down these days, so Seattle will have to conjure up something special to breach the Red Bulls' back line. Carl Robinson's first start as a Red Bull should also help New York gain and maintain possession better than it did against Chicago. The central midfield battle – Robinson and Joel Lindpere v. Osvaldo Alonso and Brad Evans – should prove both interesting and influential in this one.
One factor tips the scales toward the home side: recent Seattle signing Pat Noonan absolutely kills the Red Bulls. If Noonan earns the start on the right side of midfield or arrives as a second-half substitute, hide the women and children. Noonan has scored 12 goals in 19 career appearances against the Red Bulls, according to Big Apple Soccer.
Prediction
: Seattle win.
Kyle McCarthy writes the Monday MLS Breakdown and frequently writes opinion pieces during the week for Goal.com. He also covers the New England Revolution for the Boston Herald and MLSsoccer.com. Contact him with your questions or comments at kyle.mccarthy@goal.com and follow him on Twitter by clicking here.
For more on Major League Soccer, visit Goal.com's MLS page.