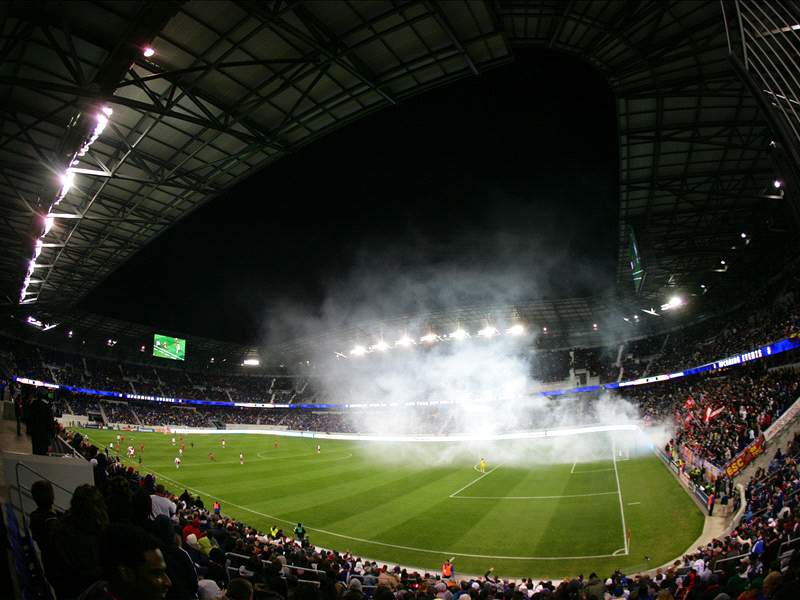 By Kyle McCarthy
HARRISON, N.J. – New York fans waited patiently for a soccer stadium to call their own.
They slogged through 14 years of commuting to Giants Stadium to watch a mediocre team play in a crumbling concrete edifice with little atmosphere and few amenities. They listened time and again as talks of a new stadium filtered through the media and through the backrooms and groaned as the timeline extended far longer than the 60-to-90 days once promised. They breathed a sigh of relief when Red Bull assumed complete control of the project, forked over $200 million and ensured the delays would end once and for all.
New York fans watched as the Red Bulls played their first MLS game in the stunning Red Bull Arena on Saturday night and discovered their new home was well worth the wait.
From the Michelin Man exterior to the proximity of the stands, this stadium reeks of soccer, not of a ground hoping to provide many different things to many different people. The minute details – the roof to corral the generated noise, the intricate Red Bull logos painted across the seats and sprinkled throughout the catacombs, the location of the Empire Supporters Club and the emphasis on public transport – reveal a thought process designed to foster a bond between the club and its supporters. A few temporary problems – the clumpy pitch and the traffic snarls – present minor hindrances, but those minor kinks will work themselves out as time progresses and do not detract from the inevitable conclusion.
Red Bull Arena stands alone as the country's finest soccer stadium.
The first MLS match drew an announced crowd of 24,572 to Red Bull Arena, though more than a few of those patrons disguised themselves as empty seats on a chilly March night. The hearty souls in attendance turned the new stadium into a cauldron of sound at points during the match, though the engaging and rugged midfield battle provided few reasons to cheer aside from Joel Lindpere's stellar matchwinner to secure New York's 1-0 win over Chicago.
"There aren't words to describe it, to be honest with you," Red Bulls defender Tim Ream said. "Coming into the league, I didn't expect to be playing in front of crowds like this. The fans are unbelievable. They push us. We want to play our best for these fans so they can enjoy the experience."
Lost amid the buzz surrounding the new ground is the practical advantage New York should reap by moving to its new palace. For the first time since the Metrostars took the field back in 1996, the Red Bulls may generate an honest-to-goodness home-field advantage that doesn't include a dodgy artificial surface.
"It's unbelievable," New York defender Mike Petke said as he marveled at the atmosphere generated at the club's new home. "It's the way a sporting event should be. If we keep winning, hopefully, it continues like this."
In addition to providing the players with an additional source of motivation, an engaged citizenry offers tangible benefits on and off the field. Consistent support could lead to renewed interest in the New York metropolitan area and improved home results, according to New York coach Hans Backe.
"This stadium should sell itself a way with the atmosphere and the noise," Backe said. "It's so loud. Every time you have these kind of fans behind you, it's worth six or seven points a season."
Grabbing those points will require a more fluid attacking performance than the one New York submitted on this night. Backed by a composed and sturdy rearguard, New York couldn't propel its way through the midfield glut imposed by its general lack of effective wide play. Although the home side enjoyed the majority of the possession, it too often couldn't combine in its movements and struggled to generate the requisite scoring chances for Juan Pablo Angel. It was, in other words, a night to witness a result rather than enjoy a spectacle worthy of the opulent surroundings.
Even with those opening day kinks, this Red Bulls side remains a promising work in progress. For a team short on results in 2009, collecting three points against an organized Fire side represents a step in the right direction. Carl Robinson will eliminate some of the midfield issues encountered on Saturday night by playing simply through the center of the park upon his return from a right knee sprain. Other improvements will require the addition of players not yet in the squad. Backe said in the post-game press conference that he hoped to bring in a left-sided player to balance out the team, while Ibrahim Salou could provide the required competition for Mac Kandji up front when he receives his P-1 work visa. The prospect of a second Designated Player arriving in the summer still looms large as well.
On this night, those concerns frittered away as New York showcased its grit and submitted an excellent defensive performance to send the crowd home happy. In order to keep the fans coming back time and again nto their new home, the Red Bulls will have to perform well and rise to the expectations set forth by their new surroundings, according to Angel.
"We want to have the people keep coming and keep supporting us," Angel said. "Hopefully, we'll get the job done."
New York fans will once again wait patiently for hope to turn into reality. At least this time, they will bide their time in a stadium they can call home.

Week One – Questions, Thoughts and Answers
Star Man – Javier Morales, Real Salt Lake
Two highlight-reel worthy goals in Real Salt Lake's 3-0 win in San Jose will rightly draw plenty of attention, but Morales earns praise here for one defensive play he made in central midfield. The Argentine midfielder tracked back to poke a timid Javier Robles pass away from Andre Luiz inside the center circle to regain possession for his side. Morales earned his due reward at the end of the sequence as he volleyed home superbly to conclude the play he started with his own defensive initiative.
Biggest Disappointment of the Weekend – The empty seats at Pizza Hut Park
Plenty of competition for this award with two heavy defeats this weekend, but the gong goes to FCD for attracting a mere 8,016 to its home opener against Houston. MLS announced the pairing in September – though it subsequently changed the time to accommodate Telefutura – and handed FCD a match with its Texas rival to help sell the game. And the Hoops still couldn't sell it.
The Inevitable Opening Weekend Caveat – Avoid drawing firm conclusions
With such a small sample size, it's easy to reach drastic and emotional responses. The season may have started this weekend, but it didn't end. No champions were crowned and no wooden spoons were distributed. In other words, take a breath and wait for more information before deciding the fate of your team.
The Weekend XI
1. Colorado loves its width going forward, but Jamie Smith's hamstring troubles presented Rapids coach Gary Smith with a selection poser ahead of Friday night's 1-0 win over Chivas USA. Instead of playing natural winger Wells Thompson from the start, the Rapids boss opted to play Mehdi Ballouchy in a nominal role on the right side of midfield. As the Rapids moved forward, Ballouchy tucked in consistently to allow Kosuke Kimura plenty of space to surge up the right wing to provide the required width. When the Rapids were sucked in defensively, Ballouchy slid into a wider position to offer cover when required and moved inside when more bodies were needed centrally. As a stopgap measure, the move worked out just fine, particularly because...
2. ...Chivas USA still doesn't have nearly enough width in its team. Colorado packs the midfield tightly away from Dick's Sporting Goods Park, so the Red-and-White desperately needed some quality play down the flanks in order to stretch the Rapids' shape. It didn't happen. Jorge Flores lasted 45 minutes before Martin Vasquez pulled him, while Michael Lahoud and Jesus Padilla didn't provide much on the right, either. The lack of width in midfield played into the Rapids' hands because it allowed them to crowd the middle and restrict the space allotted to Sacha Kljestan and the disappointing Osael Romero.
3. Better decisions when coming off your line, Stefan Frei. Toronto FC's young shotstopper was all over the shop on a couple of occasions – including Guillermo Barros Schelotto's clincher – in the Reds' 2-0 loss in Columbus.
4. In another week, Atiba Harris' darting dash inside and tidy finish to the far post might earn serious consideration for goal of the week honors. In this particular week filled with top-notch strikes, Harris will have to settle for notching the 38th minute equalizer in Saturday's 1-1 draw between FC Dallas and Houston.
5. Dave van den Bergh visited Red Bull Arena on Saturday night and promptly declared his availability to any interested MLS side. Don't expect New York to join the potential suitors – Red Bulls head coach Hans Backe said earlier in the week that he hadn't seen van den Bergh play and noted in his postgame press conference that he wanted a player with some pace to complement Dane Richards' speed down the right wing. Van den Bergh remains a crafty player who should find a home somewhere in the league, but his lack of pace suggests a return to New York doesn't offer the right fit.
6. "I was just telling Mac (Kandji), actually, that I was surprised they weren't playing it into him more," New York defender Tim Ream said after the Fire spent most of the night working its attack through any avenue but Brian McBride. "Maybe it's a product of their new coach trying to instill a more technical style. I was very surprised that they didn't try to pump more balls into his head because he's unbelievable in the air."
7. D.C. needs to address its gaping chasm at right back quickly. Injuries deprived Curt Onalfo of his two best options in Bryan Namoff (concussion symptoms) and Devon McTavish (right hamstring strain), so he chose to plug Clyde Simms to fill the hole with Julius James (stomach) struggling for most of the week. The switched destabilized the entire side with Kurt Morsink struggling in Simms' typical holding midfield role and Simms failing to do much of anything to slow down the active and incisive Ryan Smith. When Simms pulled his hamstring after a half an hour, James arrived without really eliminating the issues. United didn't lose 4-0 to a rampant Wizards side because it didn't have a proper right back, but the shuffling required to fill the void certainly didn't help.
8. If Kansas City is going to make this 4-3-3 formation work over the long haul, it will need Stephane Auvray to show the type of motor he displayed against United in every single match. The Guadeloupe international showed up just about everywhere (though the same can be said for most of Wizards as the they interchanged consistently) and dominated the proceedings against an overmatched United midfield.
9. Fabian Espindola performs when confronted with a threat to his place. Back when RSL experimented with a 4-3-3 last season, Espindola produced perhaps his best form of the season once Dutch winger Rachid El-Khalifi arrived as his likely replacement. With Costa Rican forward Alvaro Saborio cooling his heels on the sidelines in San Jose, Espindola scored a looping goal and contributed to both of Morales' tallies during his 72 minutes on the field. The test for Espindola lies in reproducing that form consistently to ensure Saborio spends more time on the bench.
10. San Jose has to make it harder for teams to score. RSL's first goal started with slack play in midfield and ended with Morales in acres of space to shoot, while the subsequent tallies involved poor work off of goal kicks and missed opportunities to head or hook clear. Easy to see why the Earthquakes were the league's worst defensive team last year when they are giving away opportunities without making teams truly work for them.
11. New England doesn't have a ton of cover on the right wing, but Sainey Nyassi has to start making better decisions if he wants to remain in the starting XI. The 21-year-old Gambian international showed his impetuousness frequently in the Revolution's 1-0 defeat in Los Angeles. The most important of those youthful indiscretions: a needless challenge on Todd Dunivant while the Galaxy fullback looked trapped on the left wing. Edson Buddle nodded home from Landon Donovan's subsequent free kick to provide the difference between the two sides.
Kyle McCarthy writes the Monday MLS Breakdown and frequently writes opinion pieces during the week for Goal.com. He also covers the New England Revolution for the Boston Herald and MLSsoccer.com. Contact him with your questions or comments at kyle.mccarthy@goal.com and follow him on Twitter by clicking here.
For more on Major League Soccer, visit Goal.com's MLS page.