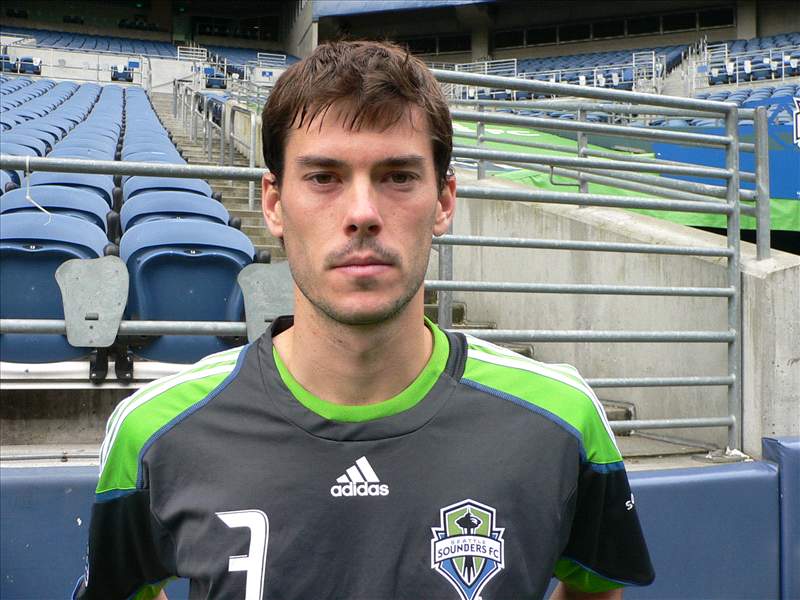 By Kyle McCarthy
Before we delve into the first Forecast of the season, here are a few quick notes on Seattle's season-opening 2-0 win over Philadelphia on Thursday night.
Suspect tactical selections hindered Philadelphia's chances of a shock result
: Peter Nowak protected his starting XI as if it were some precious and rare artifact prior to his side's inaugural game. Considering the rather shocking selection of Danny Mwanga in central midfield and the somewhat less surprising choice of Toni Stahl in central defense, it made sense for Nowak to keep his cards close. It doesn't mean those choices were correct, however. A youthful looking lineup with veterans Stefani Miglioranzi and Shavar Thomas parked on the bench presented serious questions considering how much the big occasion and the dismal conditions cried out for a couple of extra wise heads to guide the young bucks through. In particular, Nowak's decision to leave seasoned holding midfielder Miglioranzi out and feed Mwanga to Seattle's accomplished central midfield pairing of Osvaldo Alonso and Brad Evans reeked of a gamble far too risky to take in the context of this game. By the time Miglioranzi replaced Mwanga at the start of the second half, it was too late to save the Union.
Opposing teams still travel to Qwest Field wanting to kick the stuffing out of Sounders FC
: Danny Califf picked up a yellow card for whacking Fredy Montero inside the first minute of the game, setting the physical tone from the outset. The rough stuff saw Stahl sent off for two bookable offenses in the first 40 minutes, though his first yellow card looked a bit soft. Philadelphia's five bookings, however, didn't knock Seattle off its stride once it recovered from a poor opening spell to grab hold of the game with Evans' early goal on a trademark late run.

Fredy Montero deserves appreciation...even with the theatrics
: The Colombian forward draws the ire of pundits and spectators alike because he goes to ground far too easily on most occasions, but his tendency to stop, drop and roll shouldn't distract from his status as perhaps the most opportunistic striker in MLS. Montero's quick reactions from corner kicks nearly yielded results on a couple of occasions before he adroitly stooped to head home Alonso's bouncing long-range effort. The strike offers yet another reason why Montero is destined for a higher level sooner rather than later.
A great night for a pair of young wingers
: Seattle left winger Steve Zakuani ran riot on beleaguered right back David Myrie for most of the night. At one point during the second half, he even used his searing pace to force the former Chicago man to bodyblock him to the ground. When he wasn't tormenting the Costa Rican, Zakuani switched to the other flank and created havoc there, too. Leaving the match with only an assist on Evans' opener hardly seemed proportionate to his contribution. While most of Philadelphia's youthful lineup struggled to make an impact given the adverse circumstances, Roger Torres caught the eye with his considerable technical skill on the right flank. If given the proper support and some help from Fred's expected return from a one-match ban next week, the diminutive Colombian midfielder could play an integral role in kickstarting the Union's attack.
With the First Kick preliminaries out of the way, it's time to turn the Forecast's focus to a full slate of seven league matches this weekend.
Last week
: n/a
Final tally for the 2009 season
: 88/195 (45%)

Friday

Colorado @ Chivas USA – 10:30p.m. – Goal.com Preview
In a rather notable move prior to this contest, the Rapids
dished reliable midfielder Nick LaBrocca
and a third-round draft pick to Toronto FC on Thursday in exchange for Marvell Wynne. Wynne is slated to join Colorado prior to the match, though it would be somewhat of a surprise to see Rapids coach Gary Smith drop Kosuke Kimura on short notice to start Wynne without a training session or two behind him. As for the match itself, the opener will likely see Colorado keep it tight – relying on central midfielders Jeff Larentowicz (if fit enough after recovering from a right knee scope) and Pablo Mastroeni to do most of the dirty work – to stem the flow of Chivas USA's creative juices through the center of the park. It may just work if Omar Cummings can wriggle free once or twice behind Chivas USA's back four.
Prediction
: Draw.
Saturday
Toronto FC @ Columbus – 4:00p.m. – Goal.com Preview
TFC pulled a fast one by sending an overpriced and unwanted fullback to a fullback-needy team for a useful player in midfield. Preki would do well to throw LaBrocca straight into the mix with Julian de Guzman and Sam Cronin and ask the three of them to close down the Columbus midfielders as quickly as possible. Guillermo Barros Schelotto usually drives the Crew attack, but Columbus may find most of its joy in the wide areas as wingers Eddie Gaven and Robbie Rogers will likely have plenty of space to isolate and run at Jim Brennan and Nana Attakora with the Reds' usually narrow midfield play. Columbus regularly defeats far stronger teams than this undermanned TFC outfit at Crew Stadium, so chalk the first leg of the Trillium Cup up as a home banker.
Prediction
: Columbus win.

Houston @ FC Dallas – 4:00p.m. (Telefutura) – Goal.com Preview
The two-legged battle for El Capitan begins in Frisco with the two sides swapping their traditional roles ahead of this campaign. Houston normally stays the course, while FCD often switches its roster around considerably during the offseason. The departures of Ricardo Clark and Stuart Holden forced forcin Dominic Kinnear to shuffle his pack in the center of the park. All eyes will focus on Geoff Cameron as he moves into midfield and battling with the wily Daniel Hernandez should provide a nice opening day test for the Best XI defender. Houston generally struggles at the start of the season and the pattern will likely continue here if FCD can consistently isolate Jeff Cunningham's speed over the top against Eddie Robinson. One stat to ponder: all three of Houston's losses in this series have come at Pizza Hut Park by a 1-0 scoreline.
Prediction
: FC Dallas win.
Chicago @ New York – 7:00p.m. (ESPN) – Goal.com Preview
Tricky game for the Red Bulls here after they raised expectations by thumping Santos 3-1 in a friendly at Red Bull Arena last Saturday. How can New York conjure up a proper encore? Chicago certainly won't make it easy on the home side with its organization and its ability to surge forward on the counter. Roy Miller and Jeremy Hall must have good nights in order to limit Julio Martinez and Marco Pappa from providing the type of service they can deliver with some regularity. Then again, if the Red Bulls can possess the ball and dictate the tempo, they can negate the counter and test new Fire goalkeeper Andrew Dykstra early and often. Much will hinge on Juan Pablo Angel's fitness as he battles a right knee sprain, but the Colombian striker trained fully on Thursday and hopes to play from the start. With Angel in the lineup and a raucous crowd in the stands at the first MLS match at RBA, give the edge to home side.
Prediction
: New York win.
D.C. United @ Kansas City – 8:30p.m. – Goal.com Preview
Shrewd signing by D.C. on Thursday, picking up Carey Talley on short money after Chivas USA waived him earlier in the week. Curt Onalfo could just throw the veteran straight into the side at CommunityAmerica Ballpark with Juan Manuel Pena in Spain to pick up his visa and Devon McTavish unlikely to play with a right hamstring strain, according to the
Washington Post
. Kansas City won't have newly signed Sunil Chhetri available as he awaits his work visa and ITC, but Peter Vermes can lean on a whole host of other fresh signings to fill the void. A new captain, Davy Arnaud, will lead them out, to boot. Changes are everywhere for the home side, but one wonders whether Onalfo and his charges have something sneaky up their sleeves to atone for his departure from K.C. last August and D.C.'s playoff demise at CAB to end last season.
Prediction
: D.C. United win.

Real Salt Lake @ San Jose – 9:00p.m. (Fox Soccer Channel) – Goal.com Preview
The reigning MLS Cup holders probably would have liked an opportunity to open up at home and collect a likely three points, but instead they face a trip to Northern California to confront their road demons (2-11-2 in 2009). The Earthquakes could field first-round draft pick Ike Opara in central defense, though Bobby Burling provides another option. On the balance of things, Opara might represent the better fit this match because he's more likely to keep pace with the speedy Robbie Findley. As for RSL, Jason Kreis must wrestle with one selection poser up front (Alvaro Saborio v. Fabian Espindola, with the Argentine holdover the slight favorite) and rely on his tightknit group of players to produce on the road. If RSL can't secure points in a matches like this one, it could be another long, hard slog outside Utah this season. The champs, however, deserve the benefit of the doubt here.

Prediction
: Draw.

New England @ Los Angeles – 10:30p.m. – Goal.com Preview
Landon Donovan returns to the Galaxy fold as the Revolution come to town. Donovan spent most of the winter playing for Everton, so it'll be interesting to see how he adjusts upon his return to this level and the attentive treatement he will undoubtedly receive. His job probably became a bit easier with the news that Shalrie Joseph (right hip flexor strain) won't be available for the contest, freeing up considerable space for the American international to roam in and through central midfield. The banged-up Revs have fared pretty well at the Home Depot Center in recent years – four results in the past five attempts (3-1-1) – but this group will have to keep it tight and counterattack judiciously in order to obtain the desired result. Don't expect Donovan to let it happen.
Prediction
: Los Angeles win.
Kyle McCarthy writes the Monday MLS Breakdown and frequently writes opinion pieces during the week for Goal.com. He also covers the New England Revolution for the Boston Herald and MLSsoccer.com. Contact him with your questions or comments at kyle.mccarthy@goal.com and follow him on Twitter by clicking here.
For more on Major League Soccer, visit Goal.com's MLS page.