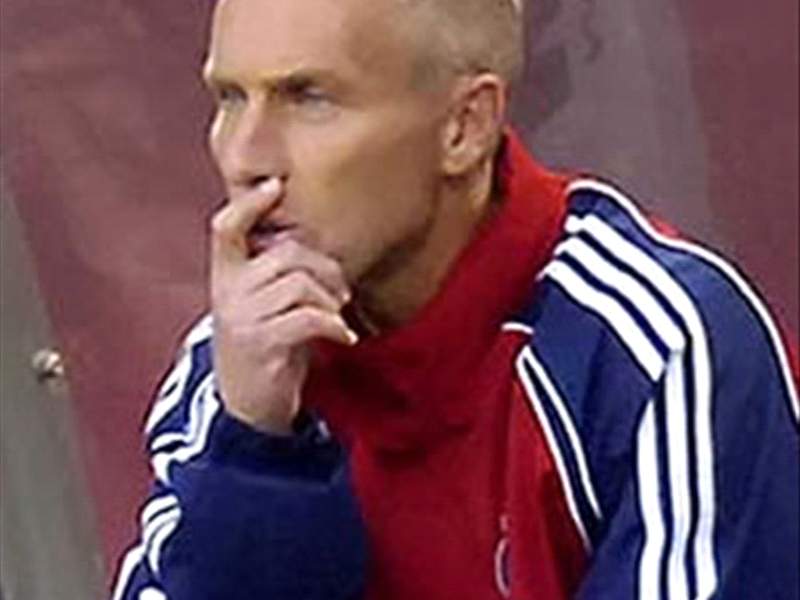 By Kyle McCarthy
United States national team manager Bob Bradley spent nine years as a MLS coach. In recent weeks, Bradley has forgotten the primary lesson the American top flight teaches time and again.
A well-drilled, motivated and cohesive unit with consistent player selection and strong leadership conquers all.
Over the course of the past four matches, Bradley hasn't put out a lineup embodying that time-honored tenet. The players aren't playing towards a common goal and appear confused as to what that goal should be. The tactics have vacillated from game to game and situation to situation; these adjustments often leave the players confused and the shape tattered. Cohesion has fallen by the wayside, leaving the collective to degenerate into limp starts, staggeringly poor decision making, pervasive indiscipline and on-field sniping.
The situation bears some of the blame. Key injuries – particularly to fullbacks Frankie Hejduk and Steve Cherundolo and striker Brian Ching – have revealed a startling lack of depth and have deprived the starting XI of a few reliable performers. A staggering number of players in the squad are either out of form, out of season or out of practice. Too many of those players are given a free pass because Bradley is unable or unwilling to drop them and because the leadership within the ranks appears too frail.
Those hindrances should not and must not excuse these significant setbacks. As David Beckham would surely argue, top-class international football and MLS are worlds apart. Despite that gulf, the lessons learned in the American top flight still hold true at the international level. The collective – especially considering the current talent level in the pool – must be greater than the sum of its parts. Right now, it is not. Important decisions must be made imminently to challenge those already in the pool and introduce fresh blood to restore that lost balance.
The big question in the next few weeks and months is whether Bradley can eschew the Tinkerman mentality he has recently acquired and recall the lessons that made him successful in MLS. It might be the only way he retains his job ahead of next summer's World Cup.
The Forecast is operating at less than full strength this week with four teams peeled away to compete in the SuperLiga group stages. Nevertheless, the Forecast hopes to conjure up an effort similar to the gargantuan show of character displayed by Toronto FC in its 6-1 win in Montreal on Thursday night to seal a date with Puerto Rico Islanders in the CONCACAF Champions League preliminary round.
Last week
: 4/7 (57%)
For the season
: 37/84 (44%)
Saturday
Los Angeles @ San Jose – 4:30p.m. (ESPN2)
What exactly was that limp performance the Galaxy put together in a 2-0 home loss to Real Salt Lake last weekend? Talk about retrograde movement. Eddie Lewis will miss the trip up I-5 through suspension, which is a problem given the Galaxy's lack of cover on the left side. Bruce Arena has to scheme a way to avoid consistently placing Gregg Berhalter in one-versus-one situations; Berhalter can still hack it at this level, but he can't match even moderately quick players for pace at this point. Heaven help him if he gets isolated against Darren Huckerby or Arturo Alvarez. Huckerby scored on his return to the starting lineup in a 2-1 loss in Seattle and gave his team a significant morale boost in doing so. Alvarez has the skill to tear up MLS consistently, but fades in and out of form from game to game. The Quakes will need more consistency from him if they want to push for the playoffs. Cornell Glen might miss this one for the Quakes due to visa issues; that's a blow because they need someone of his caliber in the attacking third. Even without Glen, the Quakes can send the Oakland fans home happy in this one with Huckerby back in the saddle.

Prediction
: San Jose win.

Seattle @ New York – 7:30p.m.
Surprisingly for a team with the rugged duo of Jhon Kennedy Hurtado and Tyrone Marshall running things in the back, Seattle appears to have a marshmallow center. Those players are still hard, but their mentality hasn't permeated as much as expected. Sounders FC gets thrown off far too easily by adverse refereeing decisions and struggles to close out matches. Kasey Keller was right after his side's 3-3 draw midweek against D.C. United: his side needs to possess the killer instinct to see out a 3-1 lead at home instead of allowing two goals and coughing up two points. Seattle has Osvaldo Alonso (idle query: can he play two games on two coasts in four days so soon after returning from injury?) back in the lineup and could benefit from the premature withdrawals of Fredy Montero, Freddie Ljungberg and Nate Jaqua in midweek. New York hasn't looked good in quite a few weeks, aside from Danny Cepero's impressive return to the side and a late surge in Toronto last weekend. Some choice post-match words earned Mike Petke a belated red card, so he won't be an option in defense. This is a rare home date (four of the next six are away from Giants Stadium) for the Red Bulls, so they need to take advantage. Can they do it? I'm not so sure.
Prediction
: Draw.
Real Salt Lake @ Houston – 8:30p.m.
Full credit to RSL for breaking its lengthy road duck in Los Angeles last weekend. Javier Morales returned to form against the Galaxy and RSL appears more organized in the 4-3-3 formation Jason Kreis has used over the past few weeks. Yura Movsisyan's breakthrough – two goals in two games – has helped as well. Although RSL should benefit from a bounce after last weekend, it's hard to see them doing much against the Dynamo. Houston's midfield four – Brad Davis and Brian Mullan on the wings and Stuart Holden and Richard Mulrooney in the middle – should over-run RSL's midfield three (or five, if the outside players up front tuck in). Tough to see Houston – with five wins on the trot (part of a ten-match unbeaten streak) and a miserly defensive record (three goals conceded in the past ten games) – halting its impressive run with a home match against RSL.
(Note to those readers confused on Wednesday by my allusion to Chris Seitz's shoulder injury: Seitz suffered a separated shoulder in mid-May. He has recovered to the point where he is back in full training and was on the bench in Los Angeles. He didn't suffer a recurrence of the injury. This writer scuffed it completely by forgetting his earlier writings on Seitz's injury and somehow reading an article about it recently without looking at the dateline.)
Prediction
: Houston win.

Columbus @ FC Dallas – 8:30p.m. (Fox Soccer Channel)
The first, second and third task for FCD this week involves finding a way to limit Guillermo Barros Schelotto. The 2008 MVP has added something at the sharp end – or at least that's what can be divined from his league-leading ten goals – while still doing the business in keeping the attack flowing. GBS has excelled to the point where it doesn't matter that he's getting scant support – Emmanuel Ekpo and Eddie Gaven have been the best secondary options and the Crew only has nine non-GBS converted goals – from his teammates. That leaves FCD – fresh off a 3-1 home thumping by Houston – to find a way to derail a Crew side that has won four of six and hasn't lost in nine. Asking the Hoops to come up with a defensive solution isn't a particularly wise course of action.
Prediction
: Columbus win.
D.C. United @ Colorado – 9:30p.m.
Tough to know what to expect from this one. Colorado had last weekend off and will be bolstered by Pat Noonan's arrival from Columbus and Pablo Mastroeni's omission from the Confederations Cup debacle. Conor Casey's absence is a blow; Noonan should slot in up top alongside Omar Cummings, but his game – as discussed on Wednesday – presents a whole different look and requires a bit of adaptation from his teammates. United pulled off another late show in Seattle on Wednesday. How much will they have left to tackle the altitude in Colorado? Expect to see some squad rotation with most of United's roster on the trip. Ben Olsen could feature at some point after he wasn't risked in Seattle; his return – even with Fred (groin) and Jaime Moreno (hamstring) ruled out – could be the boost a tired team needs to ensure Wednesday's win isn't followed by Saturday's loss.
Prediction
: Draw.
Kyle McCarthy writes the Monday MLS Breakdown and frequently writes opinion pieces during the week for Goal.com. He also covers the New England Revolution for the Boston Herald and MLSnet.com. Contact him with your questions or comments at kyle.mccarthy@goal.com and follow him on Twitter by clicking here.


For more on Major League Soccer, visit Goal.com's MLS page.