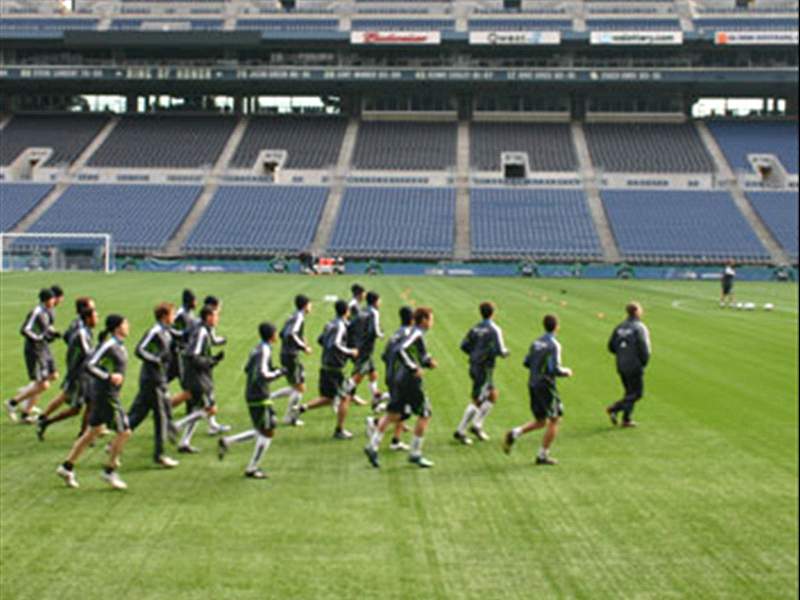 By Andrea Canales
Ah, Seattle! So close to heaven, and yet so far from grass.
The news that Major League Soccer's championship game will be played at Seattle's Qwest Field created instant consternation, at least for me.
Never mind that as the newest expansion team, Seattle has no league history of its own to stake a claim as having waited patiently for a chance to host.
The area deserves some reward for producing such an ideal set of elements to buoy the league in these tough times. It has a committed, yet glamorous ownership group, name-brand sponsorship, has poached an excellent coach, and has assembled a team with contributors both from Europe and the USL past of the Sounders. Most of all, Seattle boasts an impressively diverse fan following right off the bat.
These circumstances more than justify the brushing aside of some minor traditions like waiting for a turn to host.
Other traditions, however, should simply be non-negotiable.
Even in the days when Major League Soccer monkeyed around with the beautiful game by experimenting with a countdown clock, extra-time and shootouts to settle ties, it never put a championship final on anything but a grass field.
Built in 2002, Qwest is a lovely stadium, with downtown views, and a convenient location. It has served as host for a number of soccer matches in the past, although those were mostly exhibition games.
There's a crucial difference here.
For example, while I was somewhat dismayed that BMO Field hosted the MLS All-Star game on its artificial turf, ultimately, that game doesn't count for anything except a few prestige points, if that. If any games are appropriate to play on those fields, those would seem to qualify - though it's doubtful that the most prestigious international clubs would then agree to participate.
However, the championship final to settle the MLS title does count for something. If the league wants to act as if winning the Cup actually matters, it needs to behave accordingly, and not treat the game as simply a crass opportunity to fill more seats.
Putting aside the idea that playing at Qwest would give an unfair advantage to a team accustomed to playing on a synthetic surface - there's a reason why the tradition of playing on grass exists.
No false field can ever completely replicate the feel and bounce of grass. No matter how advanced the technology behind the plastic, rubber and sand designed to mimic a lawn, it simply changes the roll and reaction of the ball. Players move differently on grass. They run, change directions and slide into tackles in ways that they don't on a synthetic turf field.
Fans are cheated of watching the game the way it should be and was meant to be played.
Top-level players can have their games affected by slight differences in surfaces. The Brazilian national team played a friendly versus Canada in Seattle last year and insisted on natural grass, so it was duly brought in and laid down over the turf of Qwest. Yet Brazil's coach, Dunga, complained to the media that the result was unstable and "wasn't very helpful for our speed."
There's clear reasons for the fact that the World Cup final has never been played on anything other than grass.
If MLS aspires to world-class soccer, it should have taken care to maintain a similar standard for its championship game.
Andrea Canales is Chief Editor of Goal.com USA