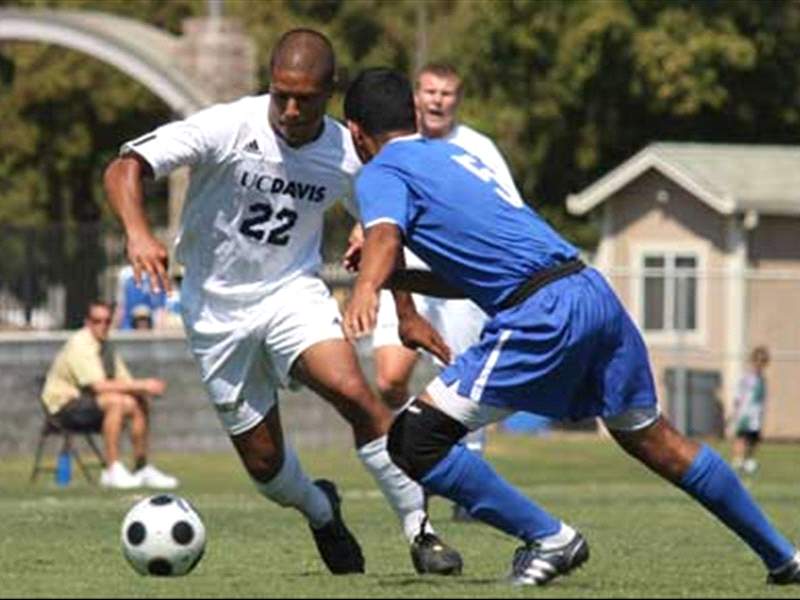 FORT LAUDERDALE, Fla. -- Once the nerves are worked out on the first day, players can finally settle down and play more on day two.
"I think it was good to finally get the first game under our belt yesterday," Wake Forest midfielder Sam Cronin said. "There were a lot of nerves and not too many of us knew each other well. We were a lot more comfortable today. The legs were a bit heavier because of two games in two days, but we were more comfortable and more confident as a group today."
That comfort showed in spurts on the field. There was more fluidity in the attack and more extended periods of possession in this pair of games, but the sweeping moves and consistently incisive attacks were hard to find. Better touches and sharper passing made the fare considerably easier on the eyes.
MLS coaches and technical directors will glean useful information from today's events. Those conclusions likely won't benefit attacking players. Any coach looking for an attacking midfielder had best look elsewhere to fill that void in his first team. The news isn't great for those seeking forwards either; the pool drops off dramatically here after the top three of Steve Zakuani, Chris Pontius and Peri Marosevic.

With tomorrow scheduled as an off day, teams will have a chance to assemble their draft boards and figure out what they need to specifically evaluate heading into the final set of games on Tuesday. Some players confirmed good first impressions today, while others may have planted further doubts about their ability to transition onto the next level.
Going up
1. Ryan Maxwell, Tampa midfielder
One observer compared him to Dane Richards and the comparison isn't so far off the mark. Maxwell is built low to the ground and whizzes by anyone placed in front of him. So long as he keeps his game confined to the wing, he looks dangerous. His combined performances over the past two days should vault him into third or fourth round consideration.
2. Quincy Amarikwa, UC Davis forward
Amarikwa (photo courtesy of Mark Honbo, UC Davis media relations) didn't show much yesterday, but more than made up for it with a pair of goals today. After entering as a halftime substitute, Amarikwa scored twice in the final fifteen minutes to liven up a rather drab second game. His mazy run confounded the opposing defense and led to his first goal. That should be enough to earn him a long look on Tuesday.
3. Kevin Alston, Indiana defender
There are quite a few things to like about this Generation adidas product besides his roster-exempt status. Alston displayed his engine while working in tandem with Maxwell down the right flank, but also showed his soccer IQ by knowing when to pick his spots. He's done enough here to cement his first round status.
Sliding down
1. Yohance Marshall, South Florida defender
Direct quote from my lineup sheet today: "first round size and speed, may not have first round ability." Marshall is widely touted as a first round pick because of his physical gifts, but his positioning and awareness tend to hamper his ability to defend consistently. Playing in tandem with the less physically gifted but tactically astute Omar Gonzalez provided a contrast that didn't necessarily reflect well on Marshall.
2. Graham Zusi, Maryland midfielder
Zusi was a standout at Maryland, but doesn't look to have the physical tools to succeed at the next level. Providence midfielder Ryan Maduro played alongside him today and looked the far brighter of the two players. Maduro doesn't project well to MLS because of his preferred playmaker role and lack of pace, but his success only served to highlight Zusi's shortcomings in a simpler role. Zusi just didn't cover the ground or fill the spaces he needed to fill.
3. Matt Poole, Virginia midfielder
Poole gets tarred with the same brush as Zusi. Poole has started the first two contests in defensive midfield for his team but hasn't done anything to distinguish himself as as a capable MLS player in that position. He isn't up to snuff physically and doesn't make up for it with his movement or his timing.
Stadium chatter
- "The field's very bouncy in the middle," Cal goalkeeper Stefan Frei said. "I think that's causing a little bit of trouble."
- Ezra Hendrickson was spotted around the stadium wearing a Seattle Sounders FC top. Seattle is rumored to be in the market for one more assistant coach and E-Z wouldn't be a bad choice to fill that role.
- Marosevic scored again today to join Amarikwa atop the goalscoring charts after two days. The Michigan striker won't wow you with his play, but he does the little things well and find space in behind defenders. A clever little through ball from Josh Boateng (Liberty) sent him through for a nice finish.
- Creighton midfielder Andrei Gotsmanov didn't play today after appearing hobbled yesterday. That may make yesterday's observations about him a moot point.

- One wish for Tuesday: a chance to watch Maryland defender A.J. Delagarza as a fullback. Delagarza played alongside Omar Gonzalez in central defense with the Terrapins, but doesn't have the stature to play centrally in the pros. With his pace and attentiveness, he should be able to play out wide, but we haven't had the chance to see him operate in that role as of yet.

Kyle McCarthy writes the Monday MLS Breakdown and frequently writes opinion pieces during the week for Goal.com. Contact him with your questions or comments at kylemccarthy@gmail.com.