Disappointed at the Asian Cup, the Taegeuk Warriors will try to bounce back in eastern Europe.
Happy Reunion
On Wednesday evening, Guus Hiddink, Turkey coach, will be reunited with the side who earned so much acclaim under his charge at the 2002 World Cup, South Korea. The Dutchman is hoping to reach the same heights he managed with the Taegeuk Warriors in his new position leading the Turks, and he will view Wednesday's encounter as an important stepping stone towards future success.
Qualifying for the European Championships in 2012 is Turkey's most immediate goal, but after four matches it no longer looks an obvious one. Earning an automatic place looks impossible as they trail a powerful Germany side by six points, and even winning second won't be especially easy after suffering a shock 1-0 reverse against Azerbaijan in October.
Like the South Koreans, the Crescent Stars have fond memories of 2002, which was the last time they reached a major championship finals. It was also their most successful campaign, finishing third during that World Cup, defeating the co-hosts 3-2 in an exciting third place play-off.
A repeat of that result would be welcome in Istanbul on Wednesday evening, as the Turks are a side badly in need of an injection of positivity going into 2011, which is a year that will likely be crucial to Hiddink's legacy in charge of the national side.

Cup Disappointment
While the Turkish players have all been busy in domestic action in Europe, the South Koreans have had a rather different experience over the course of the last couple of months, having been immersed in an Asian Cup competition in which they finished third.
Cho Kwang-Rae's side have played seven matches in little over six weeks, and results have largely been positive. Indeed, aside from the semi-final loss to Japan on penalties around a fortnight ago, South Korea have come through these fixtures unscathed, winning on five occasions.
There were a few signs of fatigue creeping in during the third place play-off against Uzbekistan, but a stirring first half performance, in which they were 3-0 up by 40 minutes, gave the Taeguk Warriors enough of a platform to see off an Uzbek rally.
Inevitably there have been a few alterations to the squad for this encounter, with several home-based players dropping out to enjoy their post-season break. A number of new faces will be involved in the squad for the first time, with no less than four players all chasing their debuts. Of these international virgins, only Lee Sang-Duk is older than 21, and even he is only 24.
With an eye to the future, the Red Devils will attempt to keep their positive momentum going against Turkey, though the journey to Europe may be an unwelcome one after such a grueling month in the heat of Qatar.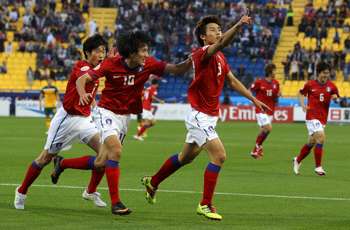 TEAM NEWS

Turkey
A squad almost wholly comprising of domestic-based players has been named by Guus Hiddink. Mehmet Ekici, Hamit Altintop and Tunay Torun are the exceptions; all three ply their trade in the Bundesliga.

South Korea
Yoon Suk-Young, Lee Sang-Duk, Hong Chul and Nam Tae-Hee all hope to make their international debuts.
Kim Yong-Dae, Kwak Tae-Hwi, Cho Yong-Hyung, Yeom Ki-Hun and Yoo Byung-Soo have all dropped out of the squad.
Follow Goal.com on

to get the latest soccer news directly. Check out Goal.com's

page; be part of the best soccer fan community in the world!