CARSON, Calif. - The Los Angeles Galaxy rode two set piece goals assisted by David Beckham in the first half to a comprehensive 2-1 win over Seattle Sounders FC. The 3-1 aggregate win pushes the Galaxy into the Western Conference final against FC Dallas.
There were some late heroics in the 86th minute by Seattle's Steve Zakuani who netted seeming through Donovan Ricketts' fingers, but a rally back was not on the menu.
First Half
The opening minute saw the early booking of David Beckham for a reckless tackle with the studs up.
The aggressive approach benefited the home team as LA had a clear edge on the visitors in the early going.
Just 19 minutes into the match, the Galaxy's tactics paid off and Edson Buddle scored the opening goal. The play started from a corner on the right edge. The usual suspect, Beckham, took the set piece. The cross sailed over a flying Omar Gonzalez in the six, but fortunately found the noggin of Edson Buddle for the redirect into the back of the net.
Eight minutes later, the Galaxy added to the lead. A free kick from 25 yards out to the left was on with Becks to take. The midfielder bent it like only Beckham can and it curled onto the head of the streaking Omar Gonzalez, who had lost marker Patrick Ianni with an early run.
The score on the night read 2-0, good for a three-goal aggregate lead.
Seattle tried to muster something up in the closing minutes of the first, but to no avail.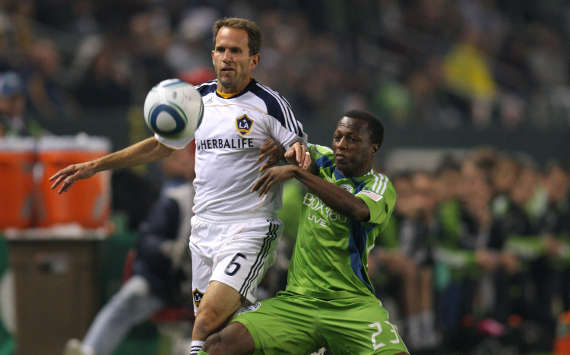 Second Half
The second 45 started with 27,000 fans (minus the Seattle supporters) holding their breath as Galaxy keeper Donovan Ricketts and Sounders FC midfielder Alvaro Fernandez collided with each other.
Backup net minder, Josh Saunders, readied himself, but he was not needed. Ricketts stumbled to his feet to complete the match.
In minute 67 the Sounders had a great scoring chance. A melee in the area left Steve Zakuani all by his lonesome in front of a bouncing ball. Zakuani blasted it on target but was parried away by the chest of Ricketts.
The Galaxy almost scored again in the 84th minute. Becks connected with a surging Landon Donovan, who sent a swerving shot inches above the crossbar.
Two minute later, crisp passing by the Sounders gave them the late goal. Nate Jaqua connected with Zakuani, who atoned for his early miss by blasting through the fingertips of Ricketts and in.
Seattle's efforts were valiant, but just a little too late. The Galaxy won with a 3-1 aggregate score and will host Dallas on Sunday.
Keep updated with Major League Soccer throughout the playoffs by visiting Goal.com's MLS page and joining Goal.com USA's Facebook fan page!