COLUMBUS, Ohio - In front of a season high crowd of 19,006, the Columbus Crew finished their regular season campaign with style, taking a 3-nil lead with goals by Guillermo Barros Schelotto, Emilio Renteria and Andres Mendoza, before an apparent chest injury to William Hesmer forced Robert Warzycha to use Eddie Gaven as a emergency keeper, as he had used all three allotted subs. Shortly thereafter, a fierce Sebastian Le Toux strike ended the clean sheet, but the Crew managed to hold on to the well earned victory on Fan Appreciation Night at Crew Stadium.
First Half
From the opening kick, the Crew looked the better side, and nearly took the lead twice within the first seven minutes, as long balls into no mans land asked questions of the back line of the Union, and they failed to answer with any real conviction, as Emilio Renteria looked to pounce on a possible Union mistake. A home side goal looked likely, and the Nordecke fans got their wish 14 minutes in.
After a throw in near side, Eddie Gaven played it to Guille, and he sent a excellent ball into space that Gaven latched onto and raced to the box, only to be brought down very close to the box by Philly defender Eduardo Coudet. The referee pointed to the spot, and up stepped the Crew's number seven, and the 37 year old made no mistake, burying it into the corner, his ninth tally of the year.
The Union back line continued to look vulnerable after conceding, and they could have conceded a second in the 20th, but a poor decision and a worse shot by Robbie Rogers wasted a golden chance when the Crew had a 3 on 1 advantage after a brilliant back heel by Schelotto.
The first real chance for the Union came in minute 37, as after a Le Toux corner had been partially cleared, it was lifted back into the box, where Danny Califf's header was too close to William Hesmer when he really should have made him work more.
That missed opportunity to level would haunt the visitors, as five minutes later the lead was doubled by Emilio Renteria when he was played into space by Eddie Gaven after a slick bit of quick passing. The Venezuelan striker showed his class by effortlessly side footing his shot into the far corner, giving Chris Sietz no chance. After his goal, Emilio ran to the corner to celebrate in unusual fashion by removing his shoe and pretending it was a phone, then hanging it up on the corner flag right in front of the Nordecke.
Renteria had a chance to get his second brace in 4 days just three minutes later, but he had no angle and no support, and his effort did not seriously test Sietz. That was the end of the action in the first 45, with the home side deservedly on top by two goals.

Second Half
At the break, Philadelphia made two offensive minded subs, bringing on Torres and Salinas to help bolster the attack which had not shown any real bite in half one, and they proved to balance the affair, as neither team could gain dominance in midfield for the first 15 minutes. Salinas showed his ability in the 59th when he made a dangerous run on the right side before laying off for Justin Mapp, who thought he had scored only to see William Hesmer make a spectacular diving save to rob the forward of a goal
Things got heated soon after, as after a counter by the Crew and another shot by Renteria, a altercation erupted after the chance, as Michael Orozco Fiscal and Renteria came together and a few shoves were traded in the scrum. Both Fiscal and Renteria were booked in the affair, and the Crew can count their blessing that Renteria was not booked for his first half antics.
Renteria is a fan favorite in Columbus, and he made a strong case to Robert Warzycha for playoff starting time, as the strong but small forward looked like scoring on every chance he was presented with, including another chance on the break in the 68th after being played through wonderfully by Schelotto. This time, the Philly defense did not allow a shot off, and that was the last action for Renteria, as he was subbed off on 70 minutes for Andres Mendoza.
Two minutes later, off a Philly corner cleared out wide, Le Toux whipped in a cross that the strong Columbus wind played with, forcing Hesmer to make a smart save. The Crew were content to sit back and soak up pressure and look for counter attack opportunities, and Philadelphia found the defense tough to crack for long stretches in the contest.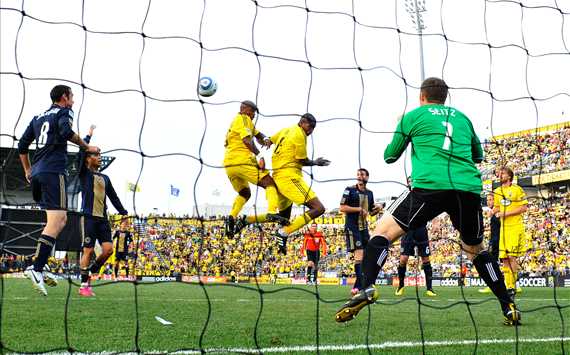 Crew defeated the Union
The back line took a hit in the 78th, as towering defender Andy Iro suffered a unknown injury, forcing Crew gaffer Warzycha to use his last substitution to replace Iro with Eric Brunner. This would play a large role later, but just one minute after the sub the Black and Gold made it three as yet another counter by Guillermo Barros Schelotto found Mendoza by a lucky deflection off a Philly defender, and the Peruvian's left footed blast swerved away from Sietz and into the back of the net, and all looked to be going the home sides way on the afternoon, but that would change as William Hesmer was injured in the 81st, after a Seba corner was well met by Hesmer, but he fumbled it slightly, and it appeared to nestle right into his ribs as he landed.
The Crew's #1 keeper was down for several minutes, and he had been taken to the hospital right after leaving. This was the worst possible news for the home side, as they had used all their permitted substitutions. Forced to lay with 10 men and a emergency keeper for the remained of the contest, Warzycha opted to put midfielder Eddie Gaven in goal. DC fans will remember that in 2003, a rule loophole allowed Gaven to come on as a 4th substitute, which could be only used for goalkeepers, and score a game winning overtime goal after replacing Tim Howard in goal for all of 30 seconds before he was placed up top as a extra attacker.
There was to be none such heroics on this day, however, as the Union threw everything forward, knowing that there was to be a significant portion of added time. Their efforts were rewarded in the 88th, as a Sebastian Le Toux drive beat the unlucky Gaven, who watched it fly right between his newly gloved hands, but all credit should be given to Le Toux.
A minute later Crew fan's heart collectively stopped as a Shea Salinas effort looked destined for goal, but Gaven made his first career save. It wasn't to be his last, as a 40 plus yard bomb from Le Toux was also goal bound, however the shot hung in the air long enough to make a simple catch for Gaven, but he showed his inexperience and tipped it slightly before securing it.
That would prove to be the last heart stopping chance of the match as a resilient Crew held on to the three points, their first league win in over a month and a half. The Crew looked like they had turned the corner on a rough month, which saw the Crew go win less in league play for six games, their worst run of form this season. Should this form continue, the Crew should be a tough team to deal with come playoff time.
For more on Major League Soccer, visit Goal.com's MLS page and join Goal.com USA's Facebook fan page!