Southeast Asian Games
Zeise targets top spot for Myanmar, aims to field best XI against Malaysia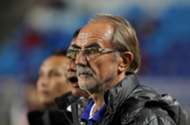 Myanmar may have already qualified for the semi-final stage but Gerd Zeise has little intention to change things around and is aiming for top spot in Group A.
Friday evening's win over Brunei adds to their earlier successes against Singapore and Laos which takes them to nine points - a total that is enough to secure one of the four spots in the next stage.
For Zeise, the advancement is crucial as it takes the pressure off his team but in order for them to maintain their momentum, will still persevere with his usual starting XI against Malaysia on Monday.
"I don't think so [on making changes to the team] because now we are in a good rhythm to play and I don't want to put too many reserve players. Partly because I don't have many good reserves as well. Not all eight you can  use from beginning to play, only substitution. It's a serious match that can decide first and second. We'll go for an almost full team."
"Malaysia deserve to see good football, not the reserve players.The only difference is that we don't have this pressure now. With this win, we have nine points and we are through. So there's no we must, we must, we must - it's a good feeling and not only for me," said Zeise after the match.
Against Brunei, with the match being lopsided, Zeise could even give his two star strikers in Aung Thu and Shwe Ko some breather ahead of the tougher assignment against the host country. The last time Malaysia played against Myanmar was in a friendly match prior to the start of the AFC Under-23 qualifiers which Malaysia won easily.
However, Zeise stressed that conditions were a little different then and he will not rely on the fringe players this time around. Aung Thu himself was only a substitute in that friendly last month and with four goals already scored, there will be no bigger threat for Malaysia than him.
"No injuries. Shwe Ko is not 100% fit to go 90 minutes. He's from 98' born, very young player. We must treat him step-by-step. And Aung Thu, I cannot give him six matches 90 minutes. He's our best player and it's better for him after this result to cool down," added Zeise on his substitution choices against Brunei.
Zeise also chipped in on the possible opponent in the next stage, perhaps not giving too much of a chance to Thailand. The German is anticipating Vietnam and Indonesia to qualify from the group but neither teams would be to his fancy.
"Frankly, I don't want to meet both Vietnam and Indonesia because they are brilliant. But if we have to face them, we have to see what we can do. But it is a different level, the match today is a group match and that is a semi-final. Vietnam is a top team while Indonesia have improved a lot," explained Zeise.
For the first time in the tournament, Zeise will have two days of recovery and planning before the crunch top-of-the-table decider against Malaysia on Aug 21.