Transfers
Why Real Madrid would be making a mistake signing ageing Lewandowski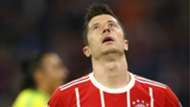 Ahead of Bayern Munich's Champions League semi-final second leg with Real Madrid, Jupp Heynckes was forced to do the unthinkable: respond to questions that Robert Lewandowski could be dropped.
The Poland international was far from his best during the first leg in Munich, which they lost 2-1, most notably missing a clear-cut chance with two minutes remaining which would have earned the Bavarians a draw and made their challenge easier this Tuesday.
Heynckes insisted that the Bundesliga's top scorer would definitely play in the second leg, amid calls for Sandro Wagner to get the nod ahead of the prolific Pole.
"For me, Robert Lewandowski is a world class player. You do not think I'll keep him out on Tuesday," Heycnkes told TZ.  "He has scored 39 goals this season, a dream of most strikers."
Resting Lewandowski seemed impossible before now, but with the former Borussia Dortmund forward now approaching 30 and his future at the Allianz Arena in doubt, calls for him to be dropped do not seem so surprising.
Long linked with a transfer to Real Madrid, the forward changed agents in late February, ending a 10-year relationship with Cezary Kucharski to partner with Pini Zahavi, the man behind Neymar's €222 million transfer from Barcelona to PSG.
That appointment looked like the prelude to Lewandowski changing clubs, finally getting his long-desired move to Madrid. However, if there are doubts creeping in about his ability to lead the Bayern Munich attack, is he really the man to replace the regularly-criticised 30-year-old Karim Benzema at Santiago Bernabeu?
Having called Lewandowski 'the best striker in the world' as recently as 2016, former Bayern Munich midfielder Dietmar Hamann questioned whether Real Madrid would still want to sign him after his disastrous display in the first leg of this season's semi-final.
In fact, Hamann went even further, wondering if Bayern needed to move on from Lewandowski if they are to challenge for Europe's most important competition in the next few years.
"I'm not sure if Real Madrid want Lewandowski any more after this game," Hamann told RTE. "Maybe this is a position Bayern Munich need to look at. Are we going to win the Champions League with this guy?"
Lewandowski has proven himself in big games in the past, most notably by scoring four goals for Dortmund against Real Madrid in the 2012-13 Champions League semi-final. But that was five years ago, and he ultimately fell short on that occasion as Heynckes' Bayern beat BVB in the final to leave the Pole with a runners-up medal.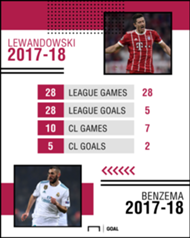 The price-tag bandied about for Lewandowski is €100 million, which even in today's market, seems excessive for a striker who will turn 30 in August. He is just four months younger than Benzema, and will have a short shelf-life at Madrid compared to some of the younger strikers that could be signed for a similar or even lower price.
His goalscoring record in Germany is phenomenal, and he could be set for a third successive 30-goal league campaign this season, sitting on 28 goals with two games remaining. But in Europe, his form has faltered. If he fails to score on Tuesday again, it will be his worst season in front of goal in the Champions League in six years.
Despite Bayern making it all the way to the semis, Lewandowski has not scored in his last four European games, with Thiago their only player to find the net in the quarter-final victory over Sevilla. An own goal from Jesus Navas helped give them a 2-1 win in Seville before they drew a blank at home to narrowly advance.
With the surprisingly profilic Sandro Wagner waiting in the wings for a chance to prove himself on the continent, Lewandowski will need to end his European drought on Tuesday. If he fails, not only might his dream of a move to Madrid be in ruins, but also his remaining chances of winning the Champions League.