Premier League
What do Chelsea need to do to win the Premier League title?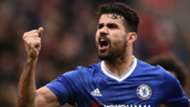 The finish line is in sight for Antonio Conte and Chelsea.
The Blues could be crowned Premier League champions on Friday night against West Brom, bringing to an end a title race they have dominated since their 13-game winning streak that began in October.
Hazard eyes Ballon d'Or at Chelsea
With Chelsea currently lying seven points ahead of Tottenham with three games remaining, here is the full lowdown on how they can seal the championship this weekend.
---
IF CHELSEA WIN
---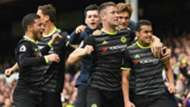 If Chelsea beat West Brom by any scoreline, they are champions. The Blues would hit 87 points and be 10 ahead of Spurs, who can only pick up a maximum of nine in their final three games of the season.
Victory would also give Chelsea a chance of finishing with the second-best points total in Premier League history, with 93 possible if they win their remaining three games. That has only been bettered by the Blues themselves in Jose Mourinho's first season in charge, when they amassed 95.
Chelsea face Watford and Sunderland, both at home, to conclude the league campaign after the trip to West Brom.
---
IF CHELSEA DRAW
---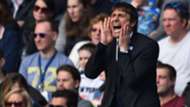 If Chelsea draw, they will need Tottenham to fail to beat Manchester United on Sunday to be confirmed as champions this weekend.
If the Blues are held and Spurs win, Mauricio Pochettino's men will remain in the race. Their chances of overtaking Chelsea will be remote, however; Conte's team would have to lose both of their final two matches - as mentioned, at home to Watford and Sunderland - while Spurs beat Leicester City and Hull City away.
Cesc better creator than Ozil & Silva
Essentially, a draw at West Brom would have to be the last point Chelsea collect this season for their title chances to be in doubt.
---
IF CHELSEA LOSE
---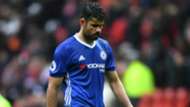 If West Brom beat Chelsea, the Blues can still be champions by the end of the weekend if United win at Tottenham.
If Chelsea lose and Spurs win, the north Londoners will be four points adrift and would need to win their final two matches while Chelsea fail to win either of theirs in order to mount an unlikely comeback.
Should Chelsea lose and Spurs draw, Chelsea's party would be delayed but they would require just one point from their final two games to be confirmed as champions.
The below table shows the outcomes of all potential scenarios. The points Tottenham could collect from their last three games are indicated in the first column, while Chelsea's are listed across the first row.
| Points | 0 | 1 | 2 | 3-9 |
| --- | --- | --- | --- | --- |
| 0-6 | Chelsea | Chelsea | Chelsea | Chelsea |
| 7 | Tottenham | Chelsea | Chelsea | Chelsea |
| 9 | Tottenham | Tottenham | Tottenham | Chelsea |