Kylian Mbappé
Wenger warns Mbappe: Be careful over next move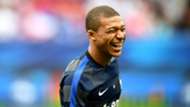 Arsene Wenger has warned Kylian Mbappe to be careful when considering his next move.
The Monaco striker, who only turned 18 last December, has been the subject of intense press speculation in recent months, with fresh reports suggesting that Real Madrid are readying a world-record €130 million bid for the forward. 
Arsenal tell PSG: Alexis going nowhere
Goal also understands that the Gunners hold an interest in the player but have yet to make an official bid, while the manager was spotted with chief executive Ivan Gazidis in Nice this week.
Wenger, though, has offered his compatriot some advice, echoing the calls of national team boss Didier Deschamps that Mbappe must concentrate on his development at this point.
Speaking to beIN Sport, he was asked where he feels the young player may end up at the conclusion of the summer transfer window: "Somewhere where he has a good chance to play and is sure to play. That is why I think Deschamps made that statement.
"I'm quite convinced that a team that is ready to spend €100 million for him is ready to roll out the red carpet.
"Nobody will buy a player for a €100 million and say: 'Come on, sit in the stands'."
Mbappe's next action may come on Friday, when France travel to Sweden for a World Cup qualifier. The Monaco ace has yet to find the net for the national side.