World Cup
We'd have preferred to be eliminated in another way, Senegal coach Cisse bemoans after cruel World Cup exit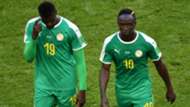 Senegal coach Aliou Cisse has lamented their painful elimination from the Fifa World Cup following a 1-0 loss to Colombia in their Group H decider.
The Teranga Lions, Africa's only survivors before the game, finished third in the group behind leaders Colombia and second-placed Japan. 
However, agonizing was the fact that the 2002 quarter-finalists were eliminated on fair-play rule, having tied the Samurai Blue on points, goal difference, goals scored and head-to-head.
A higher tally of yellow cards (six against four) proved utterly decisive for the first time in the history of the World Cup. 
"This is one of the rules. We have a number of rules which are established in the regulations and we have to respect that," Cisse said at the post-match presser. 
"We would have preferred to be eliminated in another way, it's a pity for us but this is how it works. 
"We knew these were the regulations."
For the second time in the tournament, Senegal conceded from a set-piece.
This time, it was Barcelona defender Yerry Mina who headed home the winner in the 74th minute from a corner.
"You don't want to concede goals but set pieces are there," Cisse remarked.
"It's not a question of spirit, tactics or size. The person who's more determined is the one who can stop the ball. 
"We worked a lot on set pieces from both offensive and defensive points of view and we lost to a set piece again."
Requiring just a draw to make the last 16, could the Teranga Lions have done more to control their own destiny?
"I think we could have scored a goal in the first half," Cisse added. 
"When it's working well in football, you have to convert and score. We were not able to do it unfortunately. 
"We were not able to score, which would have been better for us. In the second half, our team played somewhat better."