African All Stars
We won't rush Zaha back, insists Crystal Palace's Roy Hodgson
Crystal Palace manager Roy Hodgson has insisted that Wilfried Zaha will not be rushed back into action.
The Cote d'Ivoire international suffered a knee injury in Palace's 1-1 stalemate with Newcastle United on February 4 and it was thought that he would be sidelined for about four weeks or more.
However, having returned to training, the former Liverpool manager has maintained that the 25-year-old will not be hurried back to the pitch.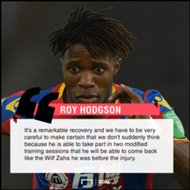 "It's a remarkable recovery and we have to be very careful to make certain that we don't suddenly think because he is able to take part in two modified training sessions that he will be able to come back like the Wilf Zaha he was before the injury," Hodgson said in a pre-match conference.
"It's very dangerous to ask football players 'what do you think' because they will give you the answer that suits them at the time and if they are the type of guys who want to play, they will say 'I am ok.'
"But sometimes you can do a lot of damage by accepting that answer if it doesn't tie in with what everyone else at the club thinks is right for them at this moment in time.
"I will be pleased to see him back as quickly as has happened so that is a major positive and it's all credit really to both him and the medical staff we have here because inititally people were talking about him being out until the end of the season rather than six weeks.
The winger is not likely to feature when struggling Palace take on Chelsea on Saturday but will be looking to help the side escape relegation when he is fully recovered.