Goal United
We Are Young Bafana: Sihle goes to Private School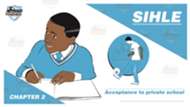 We are Young Bafana
Chapter 2 - Sihle goes to Private School
Jabulani stood at the side of the field waiting for Sihle to finish talking to John, their soccer coach. He knew the news that Sihle was hearing would possibly change the course of his life. Sihle had applied for a bursary, through Young Bafana Soccer Academy , to attend a local private school.
As Jabulani played around with a soccer ball he looked up to see Sihle turning around with the biggest smile on his face. He ran over cheering in exuberance, 'I got it! I'm in!' The boys surrounded Sihle and lifted him in the air, celebrating his fortune.
Jabulani and Sihle had been friends since they were toddlers. For many years they lived next door to each other in their township of Lwandle. Sadly, three years ago, Jabulani's parents had died in a minibus accident leaving him and his younger brother parentless. Fortunately, they were taken in by their Aunt and Uncle and had since lived with the family. Jabulani counted his blessings every day that he was cared for by adults who loved and treated him and his brother as their own children.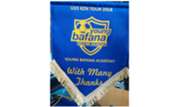 The Young Bafana Soccer Academy boys are headed to KZN this July. 
Jabulani certainly lived up to his name (his name means happy) despite the tough circumstances of his parent's deaths.  Always positive, he is a brilliant teammate who works his hardest to be a valuable player. Always on time for practice, he is committed to improving his soccer skills as well as his proficiency in English. Ultimately he knows his future will unfold depending on how he lives his present. Always a team player, he is encouraging of the younger players and always has time to help them with anything they are struggling with. It is this attitude that allowed Jabulani to celebrate alongside Sihle for this amazing opportunity.
Sihle was so excited to go home and share his news with his family. No one in his family had ever had this sort of opportunity before. All of  Sihle's school costs would be paid by a private sponsor organized by Young Bafana. All Sihle had to do was to continue to work hard at school. There would be regular feedback between his new school and Young Bafana who would not only monitor his school performance but also watch over his social interactions and general emotional well being. Sihle looked forward to this challenge. He knew that with the support of his Young Bafana family, he would be able to conquer anything which came across his path.
After the two hours of soccer practice and English tutoring the two boys, along with the rest of the team piled into the Young Bafana bus and headed home, singing as they went. They knew there would be much celebrating in Lwandle that night. Because, a step forward for one, was a step forward for all!
ICYMI: We are Young Bafana: Simba and Sihle (chapter 1)
We are Young Bafana is a collaborative project between Goal.com and the Young Bafana Soccer Academy. This is a fictional story loosely based on real life events and experiences of the Young Bafana staff and the community of Lwandle, a township in the Somerset West area in the Western Cape.