African All Stars
Fulham want to build on last season, says Sone Aluko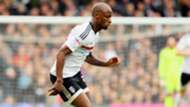 Sone Aluko disclosed that Fulham want to build on their performance when the 2017-18 English Championship season starts on August 5, after an unsatisfying display last term.
Fulham missed out of the place to gain promotion to the English topflight league after a disappointing defeat to Reading but the Nigeria international said he has his eyes set on the new campaign with the aim of getting one step further - promotion.
The 28-year-old forward reiterated that the Slavisa Jokanovic's men will carry on from where they stopped in the 2016-17 season when they welcome Norwich City to the Craven Cottage on Saturday for their first league game of the new season.
 "We want to build on last season. We're not satisfied with what we did last year," Aluko told City A.M.
"We're proud of what we did - at the start of last season we weren't tipped to be anywhere near the play-offs - but we want more.
"Every time you go out and play you have to earn the right. Whether we were tipped last season or not, whether we're tipped this year, it doesn't mean teams are going to come and go 'Fulham are a top team'.
"It's like Newcastle last year, they had to go out and win the league. No one gave it to them and we're no different. We know it's going to be tough this year but we fancy the challenge.''
"We want to strengthen, but the team we have now we're satisfied with. We're confident. Very confident," he continued.
"This season we're thinking one step further and that's getting promoted.
"Huddersfield beat Reading, they were up and that was closure.
"After that, you go on holiday, you move on and start looking forward to next season. It was pretty quick.
"Of course, there was a sense of disappointment but that's football. Every time you play, you've got to earn the right to win, you can't base it off what we did before — winning 5-0 [vs Reading], 5-0 and 4-1 [vs Huddersfield] - you have to go out there and keep doing it every time. They earned the right to be there."