WTF
Waterlooser! Courtois' awful ABBA penalty sends fans wild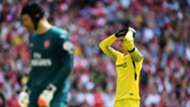 Chelsea's Thibaut Courtois had the misfortune to become the fall guy in a brave new world for penalty shoot-outs, as the ABBA system was used in the Community Shield. 
Chelsea 100/1 to go unbeaten in Premier League
The new format for the tie-breaker has nothing to do with Swedish pop, but instead emulates the order used in tennis tie-breaks to try and remove the advantage from kicking first. 
And after a 1-1 draw between the Blues and Arsenal, the Belgian keeper stepped up to fire his kick miles over the bar and send the Gunners on the way to victory. 
Needless to say, Sunday's shenanigans at Wembley did not escape the attention of fans on social media, and spawned infinite puns on the system's evocative name!
It's penalty shootout time in the new ABBA format. The winner takes it all. pic.twitter.com/yd2QkCCDTT

— Chris Wheatley (@ChrisWheatley_) 6 de agosto de 2017
So, reviewing those Chelsea ABBA penalties...
Cahill - Mamma Mia
Courtois - SOS
Morata - Money, Money, Money
At least there was no Fernando.

— Dan Levene (@danlevene) 6 de agosto de 2017
Watching the new ABBA penalty format and trying to figure out if we'd won pic.twitter.com/7xxiwCjP9o

— Laura Hand (@LauraLatarche) 6 de agosto de 2017
Imagine if FIFA 18 has that ABBA penalty system pic.twitter.com/smoJAx0QVa

— Bateson87 (@bateson87) 6 de agosto de 2017
Once again The Simpsons predicted it first...#CommunityShield #Courtois pic.twitter.com/5c7yTUYNf4

— betclever (@bet_clever) 6 de agosto de 2017
Careful to everyone driving down the A406 towards Hanger Lane. That Courtois penalty might land on your motor

— MIKE DELINQUENT (@mikedelinquent) 6 de agosto de 2017
Courtois thought he was taking a goal kick!

— Adam McKola (@AdamMcKola) 6 de agosto de 2017
Courtois converts the try.

— Miguel Delaney (@MiguelDelaney) 6 de agosto de 2017