European Championship
WATCH: Take our 360 degree tour of Euro 2016 host city Paris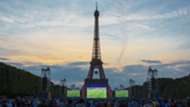 Europe's 24 finest footballing nations have gathered in France for Euro 2016 with the 51 matches being spread across nine host cities ahead of the final on July 10.
The Stade de France in Paris will be the venue for the final, with the city's numerous stunning landmarks providing the perfect backdrop to this summer's festival of football.
With the help of the Samsung Gear 360 you can now join us on a 360 degree tour of Paris, so click and drag on the video above for a fully immersive experience!
Goal journalists are powered by the Samsung Galaxy S7 and Gear 360