Tottenham Hotspur v Liverpool
Watch out, Harry Kane! Diego Maradona receives Spurs' No. 10 shirt on Wembley trip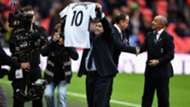 Harry Kane has been in sparkling form for Tottenham recently, but he has some way to go if he is to match the latest bearer of Spurs' No. 10 shirt - none other than Diego Maradona. 
The Argentina legend was invited to Wembley on Sunday to take in Tottenham's Premier League clash against Liverpool. 
He is an old friend of manager Mauricio Pochettino, with the pair sharing a dressing room during Diego's short stay at Newell's Old Boys in 1995, and he did not pass up the chance to see the likes of Kane in action on this latest visit to London.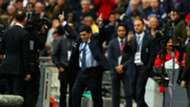 Maradona was paraded across the famous pitch prior to kick off, and received a jersey emblazoned with the number that made him famous in his playing days. 
Diego also posed for photos with fans in the stands, and was his usual exuberant self as he appeared to enjoy every minute of his visit.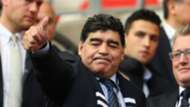 After Wembley, the football icon will stay in London to participate in FIFA's The Best award ceremony on Monday evening.