Bobby Wood
WATCH: Bobby Wood scores late winner for Hamburg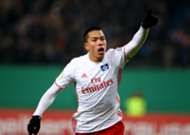 Bobby Wood sure looks ready for World Cup qualifying to resume.
WATCH: Villa leads NYCFC to victory
With crucial qualifiers against Honduras and Panama set for later this month, the U.S. national team striker scored the 80th-minute winner in Hamburg's 2-1 triumph over Borussia Monchengladbach on Sunday. The strike marked the third goal in Wood's past five appearances for Hamburg, and his fifth goal over a 10-match span.
Wood showed composure amid a goal-mouth scramble Sunday, taking a moment to bait a defender at the top of the 6-yard box before slamming his shot into the roof of the net.
¡Sangre fría! @BobbyS_Wood con un gran amague dentro del área pequeña y define para el gol del @HSV @aizquierdo10 @elgolgol #BundesligaEnFD pic.twitter.com/nsnrag0Jm2

— FOX Deportes (@FOXDeportes) March 12, 2017
In 16th place, Hamburg sits in the Bundesliga's relegation playoff slot but is now level on points with 15th-place Werder Bremen and 14th-place Wolfsburg.