Videos
VIDEO: Worst miss ever? Dutch amateur with shocking open goal fail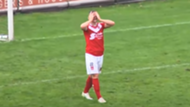 Dutch amateur footballer Dennis van Duinen has achieved notoriety with arguably the worst miss in football history.
The 20-year-old midfielder turns out in the Dutch lower leagues for Harkemase Boys.
His latest outing saw him take on Capelle in a mid-table battle, with a clear opportunity presenting itself for him to get his name on the scoresheet.
However, having latched onto a ball down the middle and bundled his way past the last defender and onrushing goalkeeper, Van Duinen somehow conspired to fire over the top of a gaping net (3:00 into the video below).
[VIDEO] De samenvatting van Harkemase Boys -
Capelle: https://t.co/jltQ1RWy1n #harcap

— Harkemase Boys (@HarkemaseBoys) October 7, 2017
It is not only the fact that Van Duinen fails to find the target from 10 yards out, it is the manner in which he goes about achieving the seemingly impossible.
Rather than roll the ball into the net, or walk it over the line and make absolutely sure, the youngster opts for power and loop — for no apparent reason.
At the time, with the match in the second half, it appeared as though he would get away with his moment of madness.
Van Duinen's afternoon was, however, to get a whole lot worse, as Harkemase went on to surrender their two-goal lead — with a dramatic 95th-minute effort seeing them lose 3-2.