Eredivisie
VIDEO: Feyenoord win in dramatic fashion over PSV thanks to goalline technology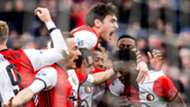 Feyenoord's late winner over title rivals PSV came in dramatic fashion as the referee deferred to goalline technology in the 2-1 victory on Sunday.
The hosts had taken the lead through Jens Toornstra in the ninth minute before Gaston Pereiro equalised midway through the second half.
Saints fume over disallowed goal vs Utd
When Feyenoord's Jan van der Heijden headed goalwards in the 82nd minute it looked like PSV goalkeeper Jeroen Zoet had prevented it from crossing the line. A few seconds of dramatic tension followed as both sets of players protested that the whole ball had or hadn't gone all the way over the goalline.
Finally the referee blew his whistle to confirm that a goal had in fact been scored - and replays suggested the technology got it right as the ball had gone over the line by just a millimetre.
PSV could have closed the gap on the Eredivisie leaders to eight points with a win in Rotterdam, but instead they're 11 points adrift.
Ajax are sandwiched between the Dutch giants - six points ahead of PSV and five points behind leaders Feyenoord, who are on 63 points with 10 games to play.