Antonio Conte
Vialli: Italy's defence the best at Euro 2016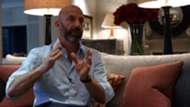 ---

EXCLUSIVE
---
Gianluca Vialli believes Italy have the strongest defence at Euro 2016, but is not confident in the country's attacking options.
Antonio Conte's men are looking to improve on their group stage exit at World Cup 2014 when they line up against Belgium, Republic of Ireland and Sweden in Group E.
And Vialli is happy to see the Azzurri led by next season's Chelsea coach Conte, adding that he is sure the likes of Gianluigi Buffon, Giorgio Chiellini and Leonardo Bonucci will do the country proud.
"I think we have a very good manager, which is a very good start," he told Goal. "We have a very united group of players. It's quite rare to be able to reproduce the same atmosphere and brotherhood and spirit at the national team, but they will pride and I'm sure they will play with humility.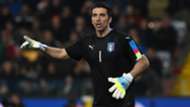 "On paper we don't look like a great side, but from the waist down we are probably the best team at the Euros. We've got Buffon, three formidable defenders and we will defend as a team, so I think we will concede very few goals."
However, the former Italy and Chelsea star is expecting a rather underwhelming showing from the strikers, insisting they lack world class options further up the field.
"Up front is where we need to step up to the next level," he said. "We've got a variety of goof players, but we need at least one of them to use this championship to establish himself as a champion and a top class player.
"So whether it's Simone Zaza, Graziano Pelle, or Eder, I think we need one striker to score a lot of goals and win games for us.
"We might suffer a bit from the fact that all the strikers in Serie A are foreigners. So, very few Italians get the possibility to play regularly for the top clubs, to make mistakes, to learn, improve, establish themselves and gain confidence to be able to play as well when they play for the national team."