Transfers
'I would've earned a lot more!' – Verratti reveals why he snubbed Barcelona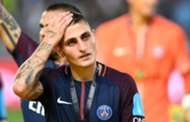 Marco Verratti has revealed that he cut short his summer holiday to talk with Paris Saint-Germain sporting director Antero Henrique, a discussion that ultimately led to him deciding to stay at the club.
After PSG were dumped out of the Champions League and failed to retain their Ligue 1 title, their project seemed to be wavering, yet during the summer they reinforced heavily, signing the likes of Dani Alves, Kylian Mbappe and Neymar.
There was a period, however, when it seemed they could lose their best players, with Verratti having considered leaving the club, with Barcelona ready to pounce.
He has now revealed he is glad to have stayed in Paris, however, and says that Neymar was similar in his thinking and that it wasn't about money, with the likes of Manchester City and Chelsea having been linked with moves.
"I'm honest, for the first time in five years I wondered if I should stay here," he told L'Equipe.
"People think that I play for PSG for the money, but I could get that elsewhere, too. If I had moved in the summer, there were clubs ready to pay €100m to sign me and I would have earned a lot more.
"Neymar, he could have earned as much with Manchester City or Chelsea. He didn't sign here for the money but the project. It's the same with me."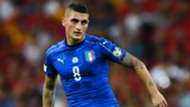 The 24-year-old Italy midfielder reiterated his frustration about the situation he found himself in, which led to him replacing agent Donato Di Campli with Mino Raiola.
"It was really complicated," he said. "I didn't expect a summer like that. A lot of things happened that I did not like, among them people from my side. They thought of themselves and not me. I never told PSG: 'I want to leave.'
"The only thing I did was explain to them some things I didn't understand. We went through some complicated times last season. We didn't live up to ourselves as a team that wants to win everything. We were asked to win everything and there were others a lot stronger than us."
While Verratti admitted that he had lost faith in the ambition of the club, the summer's big spending was not what convinced him to stay.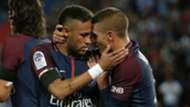 "I wasn't sure if we were a team with very big ambitions," he revealed.
"When new sporting director Antero Henrique arrived, the first thing I did was shorten my holidays to speak to him. As soon as we had our first talk, I told him: 'It's good, I'll stay here.'
"I didn't stay because Neymar and Mbappe arrived – at that time I didn't even know they were going to sign."
PSG, who face Marseille on Sunday, have won 12 of their 13 competitive fixtures so far this season.