United States
Weston McKennie's soccer dream was born in Germany, and is now set to thrive there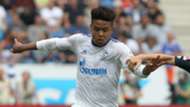 Weston McKennie was born 19 years ago on a summer day in Texas, but Weston McKennie the soccer player was born more than six years later, half a world away.
Unlike the host of young Americans who have made the jump from the United States to Germany in search of soccer stardom — from Landon Donovan to Christian Pulisic — McKennie's journey was a return trip. It was a journey that brought him back to the place where his earliest childhood memories took place, and where he first discovered, and quickly fell in love with, soccer.
McKennie, the son of an American serviceman, moved to Kaiserslautern at the age of six and lived there until the age of nine. That was long enough for McKennie to almost become fluent in German, and long enough for him to capture the same love for soccer that so many German children do.
Perhaps that is why McKennie looks right at home running around Bundesliga fields, where he has made three straight starts for Schalke. This despite still being a teenager, and having only recently graduated to Schalke's first team.
"I knew I wanted to come back at some point," McKennie told Goal. "Living in Germany when I was younger was an experience where I learned a lot of new things. I learned what soccer was, and you can see what a role that played in my life. The experiences that I had when I was younger stayed with me."
While Germany is where his love for the sport was born, McKennie's game was honed in the FC Dallas youth academy, where he spent seven years developing into one of the best prospects to emerge from the same talent factory that has produced the likes of Emerson Hyndman and Kellyn Acosta.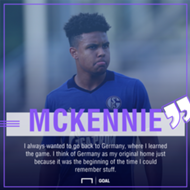 After so many years as a crown jewel of FCD's academy, McKennie was always expected to sign with his hometown team, which is why his decision to join Schalke led to plenty of backlash — and even comments from MLS commissioner Don Garber lamenting the choice.
"That one hurt. We had a lot of forces that we were working against on signing that player," Garber told reporters a year ago, before Dallas won the U.S. Open Cup. "That's the reality of how difficult it is with a player pool at the youth level that continues to attract the attention of very, very aggressive and well-funded international teams."
McKennie's move was painted in some circles as simply a case of a young player taking the biggest offer, but that notion was lazy and ill-informed. McKennie says he wrestled long and hard with his decision before choosing Schalke.
"It was really hard because I played for FC Dallas most of my career, seven or eight years, and grew up in their system," McKennie said. "I have so much to thank them for, and what they did, and a big part of me was thinking I owed it to them to sign with them.
"But in the end I had to think about what was best for me, and a lot of things played into the decision for me," McKennie added. "I always wanted to go back to Germany, where I learned the game. I think of Germany as my original home just because it was the beginning of the time I could remember stuff."
As for the negative reaction to his decision to pass on joining FCD? McKennie acknowledged that it caught him by surprise.
"It's a pretty common reaction, but I guess it was a little bit more than expected," McKennie said. "It was a little surprising how they reacted, but I get it. I was there for so long, but that's part of soccer and part of the business."
What has often gone overlooked in McKennie's decision to go to Germany is the possibility that Dallas could have signed McKennie to a deal a year earlier, but chose to wait until he was closer to his 18th birthday to make an offer. Multiple sources have told Goal it is very likely McKennie would be an FC Dallas player now if the team had stepped forward sooner.
"You never know. It's a high possibility that I would be (at FCD) if they had offered me a deal earlier," McKennie said. "But everything happens for a reason and everything has panned out the way it did."
It is hard to argue with McKennie's decision now. After a year starring for Schalke's Under-19 team, he earned his first-team debut late last season in a day he will never forget.
"It was an amazing experience," McKennie said. "I was on the sideline and Benjamin Stambouli got a red card. It was a 0-0 game and I didn't really think I would be called in because we still had Klaas-Jan Huntelaar and had all these big players on the bench, and thankfully (then-Schalke manager) Markus Weinzierl called me over and I looked and thought, 'Was that really my number?'"
That debut, and his time with the first team at the end of last season, helped justify the club's decision to keep him off the U.S. U-20 World Cup team — a move that left U.S. coach Tab Ramos publicly upset. In the end, though, the decision worked out for the young midfielder.
"Of course every kid wants to be able to represent their country and compete in a World Cup, but everything worked out," McKennie said. "I wasn't able to go to the World Cup but I was also able to make my Schalke debut. Either way, everything has gone well and missing that World Cup wasn't something that was for nothing."
McKennie hasn't missed a beat since that debut, even after Schalke changed managers last summer. New boss Domenico Tedesco gave him some minutes off the bench to start the season but has now called on McKennie to start three straight matches at defensive midfield. He has held his own in a stacked midfield that also features Leon Goretzka and Nabil Bentaleb — players who have been more than willing to work with the young American.
"I'm not really a shy player when it comes to asking questions and getting information from them because they've been there and done it and have become successful, so I try to ask questions as much as I can," McKennie said. "A guy like Goretzka and Nabil Bentaleb could just be like 'this kid's trying to take my position' or 'this kid plays my position, screw off.' But they don't have that type of personality. They help me out, telling me what's good and what's not, what things I can do better and what I'm doing right."
McKennie's smooth transition has no doubt been helped by his ability to reassimilate to the country he spent a chunk of his childhood living in. Despite having originally thought he had forgotten the German he was almost fluent in as a 9-year-old, McKennie picked the language back up quickly.
"I knew a little bit — it was trying to refresh it," he said. "I had forgotten a lot of it, but when people started talking around me everything just started coming back,"
Along with crediting Schalke's management with bringing him along quickly, and FCD with helping nurture his game, McKennie also points to the benefit of having spent the previous year with fellow U.S. youth national team standouts Haji Wright and Nick Taitague on the Schalke U-19 team.
"It was very helpful. It's not always easy moving to a new place by yourself, and learning a language that you might struggle at," McKennie said. "It's always nice to have people you can talk to, and relate to, and go through the process with."
These days, McKennie maintains close contact with the other American teenage sensation in the Bundesliga, Christian Pulisic. The two have known each other from their earliest U.S. youth national team days, and now that they play on club teams located just 30 minutes apart, they have forged a close friendship.
"He probably doesn't notice because we hang out and we're good friends, close friends, but it helped a lot to have someone my age breaking through at a high-level club in Germany," McKennie said. "It showed me that, 'Hey, it's possible.' Just seeing him take that opportunity and making the most of it has been great to see."
McKennie is following suit, and he already is developing his own hype train as American soccer fans begin to speculate about him as the next standout U.S. midfielder — and a player who could take the field at the 2018 World Cup. As much as he is staying patient about becoming a part of the U.S. setup, he firmly believes the national team is in his future.
"I think (playing in the 2018 World Cup) is a realistic opportunity for me," McKennie said. "I still have work to do to get there, and that means playing well for Schalke and taking advantage when the call comes from the national team."
Make no mistake, playing for the U.S. national team remains his dream. While he may be back playing professionally in the country where his love for soccer was born, he is still very much an American determined to continue on what has suddenly become a rapid rise in the soccer world.