A-League
Usain Bolt eyeing off massive A-League payday - report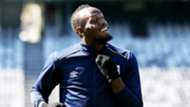 Should Usain Bolt successful earn a contract with Central Coast Mariners, he is set to become one of the highest paid players in A-League history.
According to The Daily Telegraph, the eight-time gold medalist is seeking a $3 million contract which is marginally more than the rumoured $2.9 million deal Keisuke Honda has signed with Melbourne Victory.
Mariners owner Mike Charlesworth will reportedly fund a large portion of the deal but Football Federation Australia will be required to chip in with some of their allocated marquee funds.
After putting money behind Honda's deal, the FFA's potential investment in Bolt could be priceless for the A-League and Central Coast with an estimated $16 million worth of publicity already generated for the region since his arrival.
The Jamaican arrived in Australia last Saturday and had his first training session on Tuesday as he embarks on an indefinite training period with the club in his attempt to become a professional footballer.
While a lucrative contract seemingly does await him should he impress Mariners coach Mike Mulvey, the club's CEO Shaun Mielekamp stressed Bolt isn't with the club because of it. 
"Usain isn't here because of the money," Mielekamp told The Daily Telegraph.
"I can assure you, if all this was just about the money he wouldn't be here with us on the Central Coast.
"FFA have given us their word that they're on this journey with us. So our expectation is that if Usain proves himself up to A-League level they will help out."
To put Bolt's rumoured contract in perspective, Sydney FC landed Alessandro Del Piero for $4 million over two seasons back in 2012.
The 32-year-old is expected to be involved in a Mariners trial match on August 31 in what will be an early test of his football credentials.