United States
The new Columbus? Orlando has the look of an emerging USMNT fortress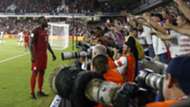 ORLANDO, Fla. — Dax McCarty didn't see it coming.
Growing up in suburban Orlando, the now 30-year-old couldn't sniff out much of a budding soccer culture. It wasn't until 2011 that the market even launched a lower-level side in the USL. When Orlando kicked off as an MLS expansion franchise in 2015, McCarty made a bet with a friend and set the over/under for the club's average attendance at 15,000.
The actual number? It ended up being 32,847. Over the past three years, Orlando has rapidly established itself as one of the most soccer-crazed fan bases American soccer has to offer.
Thus it became inevitable that U.S. Soccer would come calling with a World Cup qualifier. Tasked with hosting the U.S. national team's final home game of the Hexagonal, Orlando stepped up. As a sell-out crowd of 25,303 packed Orlando City Stadium, the U.S. fed off a pulsating atmosphere en route to a 4-0 thrashing of Panama on Friday.
To think: Just three years ago this was a minor league soccer city. Now it's an emerging U.S. national team stronghold.
"Never in a million years did I envision this," said McCarty, who played the final 33 minutes Friday. "To see so many people's dreams in Orlando come to fruition and see soccer be as big as it is here, my hope is that this can start to kind of be like Columbus for us and we'll come here every round of World Cup qualifying because it's going to become a fortress for us. The fans were unbelievable. I can't say enough about how loud they were."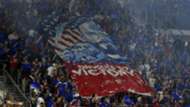 The buzz from Friday night's contest spilled out of the stadium onto Church Street as downtown Orlando became U.S. soccer central. The American Outlaws and Co. populated "The Wall" — Orlando's intimidating, steeply inclined north end — well before kickoff, infusing warm-ups with tangible energy.
Then came the bedlam of Christian Pulisic's stunning eighth-minute opener. Jozy Altidore tapped home the second strike 11 minutes later. With Orlando City Stadium shaking, the Americans found a second gear. The Panamanians wilted.
"It was a great place to play," Altidore said. "We hadn't played a national team game here so we were really excited about it, and I thought they came out to support us in a big way."
Pulisic added: "I thought it was great — honestly, even better than I expected. It was really good support."
While there were some Panama fans in attendance, the overwhelming majority turned out to support the U.S. side. In the wake of last month's 2-0 loss to Costa Rica at Red Bull Arena in Harrison, New Jersey — a match that saw a sizeable visiting contingent seize control of the atmosphere — a partisan crowd was a refreshing development for Bruce Arena's men.
"Even before the game when you're walking in and all of the fans are already here, it's a special moment," U.S. midfielder Paul Arriola said. "They didn't stop, it was always loud, obviously very pro-USA — which is great because sometimes you don't know what you're going to get in the United States. It was a great atmosphere, and I'm glad we gave them a game to remember."
You were amazing tonight, Orlando! pic.twitter.com/2Ny8pLagV6

— U.S. Soccer (@ussoccer) October 7, 2017
Only one U.S. venue earned the right to host qualifiers in both the semifinal and final rounds of CONCACAF qualifying this cycle: Mapfre Stadium in Columbus, Ohio. The site of every U.S.-Mexico qualifier since 2001, that stadium figures to remain a national team stronghold — even if El Tri managed their first win there in November.
Beyond Columbus, however, there are no sure bets. Children's Mercy Park in Kansas City, Kansas, has all the makings of a go-to choice. Seattle's CenturyLink Field has shined in limited opportunities, despite concerns about the playing surface and travel burden. And the altitude of Dick's Sporting Goods Park in Commerce City, Colorado, has proved to be a useful option.
Now we can add Central Florida to that conversation. When the time comes for the U.S. to pick its venues for the 2022 qualifying cycle, Orlando City Stadium should be toward the top of that list.
"I think when we play a home game in World Cup qualifying we should have a very strong supporting crowd on our side," Arena said. "Having a home-field advantage is huge. Every time we create a setting that supports our team in a tremendous manner like tonight, it helps us. I would recommend the next cycle that we closely scrutinize the venues we select in World Cup qualifying because it's important and it can make a difference in making a World Cup or not.
"From what I saw, I would come back to Orlando."