U17 World Cup
U17 World Cup: FIFA and LOC wary of poor ground conditions in Guwahati ahead of semi-final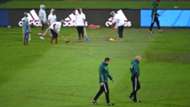 Consistent rainfall over the past 36 hours rendered the field at the Indira Gandhi Athletic Stadium in Guwahati almost unplayable ahead of the first 2017 FIFA U17 World Cup quarterfinal between Mali and Ghana on Saturday evening.

After an on-field analysis, referee Mehdi Abid Charef and his team of officials gave the green signal to go ahead with the game as planned even though there were no signs of the rain coming to a halt. The game ended in favour of Mali 2-1 and Samuel Kwesi Paa Fabin, the Ghanaian coach was taken by surprise that the match even took place amid murky conditions.

"We've not encountered anything like this before. I thought the game should have been abandoned and played at some another time but those who are organising said we have to play so we played," Fabin expressed.

FIFA and the Local Organising Committee (LOC) were then quick to address the issue and release a media statement. It read, "Following heavy rainfall ahead of the quarter-final between Mali and Ghana in Guwahati, the referee assessed the playability of the pitch upon arriving at the stadium and determined that the match could be played"

"Both teams were made aware of this decision. FIFA and LOC are closely monitoring the situation ahead of the semi-final."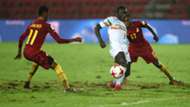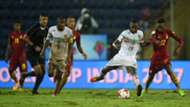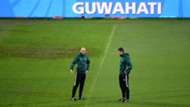 It rained 13.4 mm on Saturday and the downpour which began in the wee hours of Friday morning is expected to continue at least through Monday. The intensity of rain is expected to come down slowly from Tuesday onwards, according to the Meteorological Department.
With the semi-final, the final game of the tournament in the city, scheduled for a 5:00 PM kickoff on Wednesday, the organisers will be under immense pressure to repair the field which had mud patches and puddles after the game on Saturday.
"Even after we fill in the patches, it will require at least one day of bright sunshine to bring it back to normal again. But I would like to have two full days," said a member of the groundstaff who is employed by the stadium authorities.
The rainfall also hampered attendance figures as only 3,706 turned up for the game. A group game between Mexico and Chile had more than 15,000 in the 25,000-odd seater stadium, which remains the highest attended game at the venue so far. 
England are due to arrive in the city late on Sunday evening after confirming a spot in the semis with a 4-1 win over the United States in Goa. They would be up against the winners of the quarterfinal in Kolkata between Germany and three-time champions Brazil for a spot in the final.