Indian Super League
Twitter reacts to Indian Super League's expansion to ten teams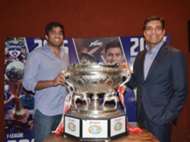 The Football Sports Development Limited (FSDL), organisers of the Indian Super League (ISL), on Monday announced the inclusion of two more franchises from the cities of Jamshedpur and Bangalore.
Tata Group, who have long been associated with the beautiful game in the country, have finally taken the plunge into the top division football while JSW already own Bengaluru FC who have now transitioned from the I-League into the ISL.
The All India Football Federation (AIFF) General Secretary, Kushal Das was pleased to see the interest shown in football by two of the biggest steel magnates.
"The interest shown by India's two large corporates to be part of ISL and Indian football's growth story is an indication of the growing popularity of the sport in the country. Their contribution to Indian football has been immense and will only set the high standards in ISL," he stated in a statement issued to the press.
Goal takes a look at the Twitter reaction to the announcement.
Which team will they play for? @ckvineeth @SandeshJhingan @KeralaBlasters @bengalurufc @IndSuperLeague #ISL

— Manu (@ManuVarghese_) June 12, 2017
Looking forward for the @KeralaBlasters Vs @bengalurufc at #Bangalore #ISL 2017-18 Season#KBFC #BFC @IndSuperLeague #YellowMeinKhelo

— മ്യായാവി™ (@myayaavi) June 12, 2017
Thank you @ILeagueOfficial. Now time'to win the @IndSuperLeague, come on @bengalurufc

— Navneet G (@navneetgooner17) June 12, 2017
Isl is buzzing in India but Legecy of indian football is present only In I Leauge !!

— Sunil Choudhary (@choudhary_Boy21) June 12, 2017
Confused which team to support @bengalurufc @keralablasters

— Mithunraj V R (@MithunrajVR) June 12, 2017
Welcome Bengaluru FC and TATA Steel to the @IndSuperLeague
See you on the pitch.
All the best.
Let the games begin!

— Indranil Das Blah (@indranildasblah) June 12, 2017
@IndSuperLeague expansion:delighted @TheJSWGroup & Tata Steel will partner in the growth of Indian football.ISL in Jamshedpur &@bengalurufc

— Sundar Raman (@ramansundar) June 12, 2017
It's not a big deal to make a football club nowadays with money power.North India should have one more team to add some flavour in #HeroISL

— Himanshu Kharkwal (@Hckharkwal123) June 12, 2017
So @bengalurufc make the switch from @ILeagueOfficial to @IndSuperLeague. An expected step, but is it the right one. What do you all think??

— Arunava Chaudhuri (@Arunfoot) June 12, 2017