Exclusive
'I love his sh*thousery!' - Watch Troy Deeney pick his best-ever team-mate and salutes the Emirates Stadium atmosphere
With over 580 professional appearances to his name, including 165 in the Premier League , it's fair to say that Troy Deeney has been around the block a bit, and shared a dressing room with hundreds of fellow pros, some of whom have spent time representing Europe's elite.
So when GOAL asked him to pick his best-ever team-mate, it would be someone renowned for their skill and ability on the ball, right?
Not for Deeney, even if his choice is far from being a bad footballer, but it was other attributes that stood out to the ex-Watford and current Birmingham City star.
"I'm gonna say the best player I've played with is Etienne Capoue," Deeney said during his appearance on Simply The Best. "Unbelievable player.
"A great athlete and just a workhorse. And I just love the fact that he's got a little bit of sh*thousery about him!"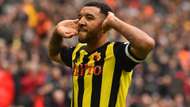 Deeney's outspoken nature meant that he was regularly a target for opposition supporters, and one such occasion led to him playing in the best atmosphere he has ever witnessed.
"The best atmosphere I've ever had, specifically aimed at me, this is a negative actually, was playing Arsenal away," he explained. "I missed a penalty and we lost the game, I think it was 2-1.
"But having 60,000 Arsenal fans who all said I was rubbish and meant nothing screaming 'Deeney, what's the score?' was really, really good! And then to see Ian Wright afterwards tell me that I've made it because they all know who I am was perfect."
Check out the full episode of Simply The Best with Troy Deeney on GOAL's YouTube channel.