Chelsea
Kane determined to overcome injury and rekindle his Chelsea dream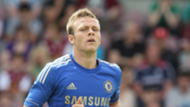 ---
EXCLUSIVE
---
It takes talent, hard work and discipline to become a player for one of the greatest clubs in the world - but it also takes luck. 
Todd Kane had agreed to return to Chelsea to fight for a place in Antonio Conte's starting line up after starring for NEC Nijmegen during the 2015-16 campaign, missing only one game through suspension, but then on the final day of the season against PEC Zwolle he was stretchered off. 
The scans came back and his fears were confirmed: he had torn the anterior cruciate ligament in his left knee. Kane has moved back to the Netherlands to play for Groningen but he admitted, as a Chelsea academy product and fan of the club, that missing out on his dream made last year extremely difficult to get through. 
"My development at NEC Nijmegen was good, I was going to be in the Chelsea first team," he told Goal. "I was told I was going to be in the squad and that I would go back for pre-season but obviously, in my last game of NEC's season, I injured my knee.
"That was very disappointing to me, very frustrating. It is what it is and coming here is a new chapter to kick back on and get myself back in the shop window and performing. Emotionally, having never really had an injury before, I was thrown in the deep end.
Results of scan. Thanks for all the support I'll come back stronger. pic.twitter.com/ulUZZZ2kXi

— Todd Kane (@Toddy_Kane) April 22, 2016
"I didn't know how to cope with it really, knowing I was inches away from my dream and having it taken away from me by an injury - I was gutted. I had treatment and operations. I started to train but it was hard being around the training ground with Chelsea's games going on.
"Other people were playing ahead of me and it was very tough. I got through it and that's the only way, but I admit that it was very difficult. It was good to see them winning as a fan of the club but inside I knew I should have been part of it. It really got to me some days but I was happy for the team.
"Inside it was hard, after working towards that for years. My family were there for me. I had people close to me getting me through it and the physiotherapists at Chelsea worked with me on a daily basis.
"Every day, I was down at Cobham with them and I was either p*ssed off that I was hurt or happy that I had made some progress. They went on the journey with me. It was hard for me and the people who were close to me."
Antonio Rudiger and Cesar Azpilicueta have both overcome ACL tears, an injury that used to be deemed so serious as to be potentially career ending, and Kane is hoping to follow their examples, having signed a new three-year deal in September of 2016.
He rejected offers from the Championship to play for Ernest Faber at Groningen, a manager he worked with while at NEC in his last loan spell. Indeed, he prefers playing in a more technical league after being told he was too small or attacking as a youngster in previous spells in his home country.
"Bigger clubs came in for me but I felt that this was the right one to develop at," he continued. "I had unfinished business in this league. It opens so many doors around Europe and not just in England. I am always open to playing abroad. I felt it was the right decision.
"I had opportunities to move on loan in January last year. I could have gone to Groningen or other clubs but I spoke to them and I felt I wasn't ready. I didn't want to push it, it was such a big injuries and I wanted to make sure I was right and ready for this season.
"I class myself as a technical right-back. I get up and down, like to put in crosses and like a tackle - a modern-day full-back really. My idol is Philip Lahm and to open doors abroad, the football here in the Netherlands is perfect to the way I play. 
"In England, when I played in the Championship, I was always held back and not selected. I was too attacking minded, I was too small. I heard all these excuses from managers. I don't believe in that my size is an issue. Abroad, if you can play football and have a good brain then you are good enough to play.
"I have had a hard 13-14 months on the sidelines but I have recharged my batteries, I have done a pre-season but the manager is looking after me really. He doesn't want to throw me straight in at the deep end. He knows how I am, I know my body also, I am just waiting for the right time to start a game. 
"I did 10 minutes on the opening day, got the buzz back from that. Maybe I will be ready to start against Ajax. The manager says I will be a massive part this season, he just wants to make sure that I am right. I feel right, I am ready to go and I am raring to go."
In his last loan spell, Kane got two assists away to Ajax for NEC, who Groningen face next after their 3-3 draw with Heerenveen. His stock is high in the Netherlands and he hopes to be starting games soon. 
Back at Chelsea last season, the 23-year-old credited his parent club's physiotherapist Stuart Sullivan with playing a huge role in his recovery. His parents Maxine and Michael also helped him but John Terry, who Kane describes as his role model, got straight on the phone after hearing about Kane's injury. 
"Yeah, Terry is a massive influence on me," Kane said. "JT was at the club at the time of my injury and I have always had a great relationship with him. The first day I was back in England, I had a call from him.
"He was sympathising with my situation and telling me to keep my head up and he said he would be there for me if I needed anything. I was seeing him around the training ground during my recovery, he was always there to help when I needed something.
"It was great to have someone there who I was close to and who is a role model for me and the rest of the people at the club. It was nice to have someone to talk to who understands the football life, the highs and the lows."
Kane was famously included on the bench, despite only being 18-years-old and having not made his debut, as Chelsea won the Champions League in 2011-12.
Roberto Di Matteo's side beat Bayern Munich on penalties and Kane admits that the experience was "surreal" for him as a youngster but that he hopes to one day go one step further and play in the prestigious competition.  
"Being in the Champions League final squad when I was 18-years-old was huge," He continued. "As a Chelsea fan as well, I couldn't believe it when I got told I was travelling and I would be involved. "
"I trained on the pitch on the night before the game, the press was bigger than I had seen. Arriving at the hotel, staying in Munich, it felt like I was in a movie. It was surreal.
"On the day of the game, I was told I was going to be on the bench. I could see my family from the balcony outside my room and I called them to tell them I'd be on the bench.
"From that moment in time, I felt to myself that my number one goal is to play in the Champions League final. I obviously hope it is with Chelsea but if it was with anyone else, it would still be a fantastic opportunity."