Opinion
Tigres attack is back, Tijuana finds its groove and more things we learned in Liga MX Round 3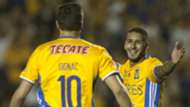 We knew heading into the weekend that we'd see an enthralling rematch of a final that had us glued to our TV screens a month ago. But we learned plenty outside of the weekend's marquee contest as well, including a bit about the team currently sitting No. 1 and a team that we didn't expect to talk much about at all that is holding serve at home.
Let's get straight into the lessons we were left with after Jornada 3 of the Liga MX Clausura: 
---
TIGRES ATTACK DOING JUST FINE
---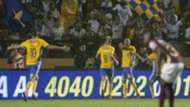 Tigres came into the week without a goal in their first two games. Despite an attack that features superstar Andre-Pierre Gignac and other proven attacking weapons, the scoreless streak for the year was at 180 minutes. That's just about where it ended. The official stats say Ismael Sosa's goal crossed the line in the second minute, but it took all of 57 seconds for the team to stop the skid.
Club America hit back in the rematch of last month's Apertura final, with Oribe Peralta wriggling through the Tigres back line to score his first goal since  but the reigning champion got big contributions from Sosa and Lucas Zelarayan, who both scored twice.
"Soccer is about forcefulness and you've got to convert your chances to score. We didn't finish off very clear opportunities and they did," America coach Ricardo La Volpe said after the match. "They scored two goals on us from set pieces. We've got to work on that more."
America's attack looked better this weekend than it did last, when it dropped its opener 2-1 to Toluca, but La Volpe may be more worried about his team's defending than he's letting on. Yes, Tigres got two of their goals from set pieces, but Tigres had other chances as well. 
Thanks to what, at the time, seemed to be a reprieve from the league, America has played just twice. Tigres can, in a strange way, be a bit of a role model, returning to last season's form this week after disappointing results in the first two weeks. But there are frustrations at the capital club. No player stopped to speak with the media, and the club's fans and directors aren't exactly known for their patience. 
Tigres, on the other hand, will be confident that its issues scoring can be put down to a slow start. Gignac, scoreless through three weeks, did the same thing last tournament before ending with a burst and scoring 11 between the regular season and the playoffs. Meanwhile, a fully fit Zelarayan clearly can make a difference as well. That's not even mentioning Jurgen Damm and Javier Aquino on the wings, Sosa's strong showing or Andy Delort off the bench. 
---
MONTERREY BACK TO FORM BUT STILL LACKING KILLER INSTINCT
---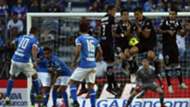 In addition to the major point, it looks like we've learned that games feature Monterrey or Cruz Azul might be weird this season. It's been tough to get a great gauge for either club this season because of various match circumstances — whether it be the opponent going down to nine men like Monterrey benefited from last week or having to deal with its own sending off like Cruz Azul did.
So we probably should've expected something weird to happen, and we got something weird. A week after coming back from 2-0 down for a 2-2 draw, this time it was Monterrey that scored two early and then saw Cruz Azul work its way back into the match after Walter Ayovi's sending off and then find a late equalizer. La Maquina had been in control for large portions of the game, but the first and last 10 minutes were particularly strong moments for Paco Jemez's side. Though Cruz Azul was pushing for an equalizer, the goal was weird, too.
Cruz Azul hit the crossbar but in an effort to keep the ball from danger, Nicolas Sanchez instead saw it bounce off him and in for the stoppage-time equalizer. Yet, for Monterrey this draw was a step in the right direction. After struggles defending in general — and especially defending set pieces — in the first two matches, Monterrey was better. Los Rayados currently sit in sixth with five points from its first three matches. If it can put together a full 90 minutes where things are clicking, it will be able to pick up three points again after consecutive draws. Monterrey missed the playoffs last tournament, but in this tournament, while there are still issues Antonio Mohamed needs to fix, there should be a Liguilla spot with his club's name on it. 
---
TIJUANA'S WEEK ONE LOSS WELL BEHIND IT
---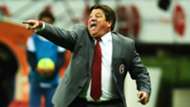 In Round 3, Tijuana coach Miguel Herrera watched his team get a second consecutive victory, following up a 6-2 smashing of Puebla at home with an impressive 1-0 road victory against Chivas. The former Mexico manager was happy with the result, but he has a surprising target in mind for his club.
"It's a result that was worked for on the field," he said after the match. "The story is being written each week. We won, but tomorrow we'll already be getting ready for the match that's coming up to keep getting points and to be able to stop thinking about the (relegation table)."
While relegation still is a possibility mathematically, Herrera's words sound like coach-speak. Getting every point possible is important to stay in the top division, and while that may be Herrera's priority he also can stop thinking about the bad loss the team suffered against Morelia in Round 1. While Chivas hit the crossbar and saw several other shots go as close as possible without going in, including a 39th-minute save off the line by defender Michael Orozco on an Alan Pulido shot that had beaten goalkeeper Gibran Lajud, Herrera's tactical plan and his team's execution of it merited a victory.
Xolos now sit on top of the league, in the same position where they finished the regular season in the Apertura. Avoiding relegation should be relatively easy for a team of this caliber. Soon enough, Herrera will have his team focused on avoiding another quarterfinal exit in the Liguilla.
---
TRIPS TO EAST COAST WILL BE TOUGHER THAN EXPECTED
---
Veracruz is one of Liga MX's afterthought clubs - the kind of team that doesn't move the needle at all. Part of that is geography, being one of the few clubs outside of central or northern Mexico, and part of it is that the team hasn't done anything recently to merit anyone's attention. That seems harsh, but it's candid. This offseason, the team brought in players from all sorts of places, with the number nearing two dozen. Two players aren't getting a salary for at least the opening portion of the season, and for all the maneuvering and transferring Veracruz has done, it was captain Leobardo Lopez, who joined the team in 2014, scoring the goal off a set piece. 
It's a strange way to build a team, but the group composed largely of Liga MX veterans is coming together, at least at home at the Luis "Pirata" Fuente. The Tiburones Rojos are now two for two at home with this weekend's victory over Atlas taking them up to fifth place in the table. Just one more home victory will match last tournament's total of three wins. The teams who have to make the trip out to the east coast and play in Veracruz's Friday night time slot will be up against a tougher task than the one they've faced in recent tournaments.
---
THERE IS SOME DEFENSE IN THIS LEAGUE
---
Defense in Liga MX generally gets a pretty bad rap, and its reputation for being less solid than its attacking counterparts is not without basis in fact. But this weekend showed us that there are some good defenses in the league, while some individual defenders are also showing that they have quality.
After seeing 23 goals in both of the opening rounds, that total fell to 17 in Round 3. A cynic might blame games like Puebla and Queretaro's scoreless draw, which didn't see a shot until well into the second half, on a lack of pop, but we frequently see attacking brilliance on display in the league. This weekend, it seems, there was something to be said for defending. 
Pumas kept Leon in check despite several chances, Tijuana was able to repel multiple attacks from Chivas in keeping a clean sheet, and even a team like Monterrey that conceded two was much improved at the back when compared with previous showings. The strength of the league doesn't seem to be in any danger of shifting, but the defending in the league isn't as poor as some have come to believe.
---
GOAL OF THE WEEK
---
With a respectful nod toward Jaguares' Jonathan Fabbro's nice free kick and Maxi Barreiro of Necaxa with his slick move to set up his finish, there's no goal it could be aside from this Lucas Zelarayan goal from what looked like an impossible goal that he blasts in.
---
WHIMSY OF THE WEEK
---
It's nothing new to see a flood of memes take over social media after Liga MX matches, but it's not every week that a government agency gets in the mix. While Nuevo Leon, the state that contains Monterrey, has seen its civil registry earn a reputation for responding to various events with a bit of tongue-in-cheek humor, this weekend's post still earned plenty of laughs. The message reminds parents that they can register their children for free for seven years — and makes clear that the agency thinks Tigres has been America's daddy as of late. While Tigres is now unbeaten in the last four meetings, it's was two years ago - not seven - that America last topped Tuca Ferretti's side in league play.